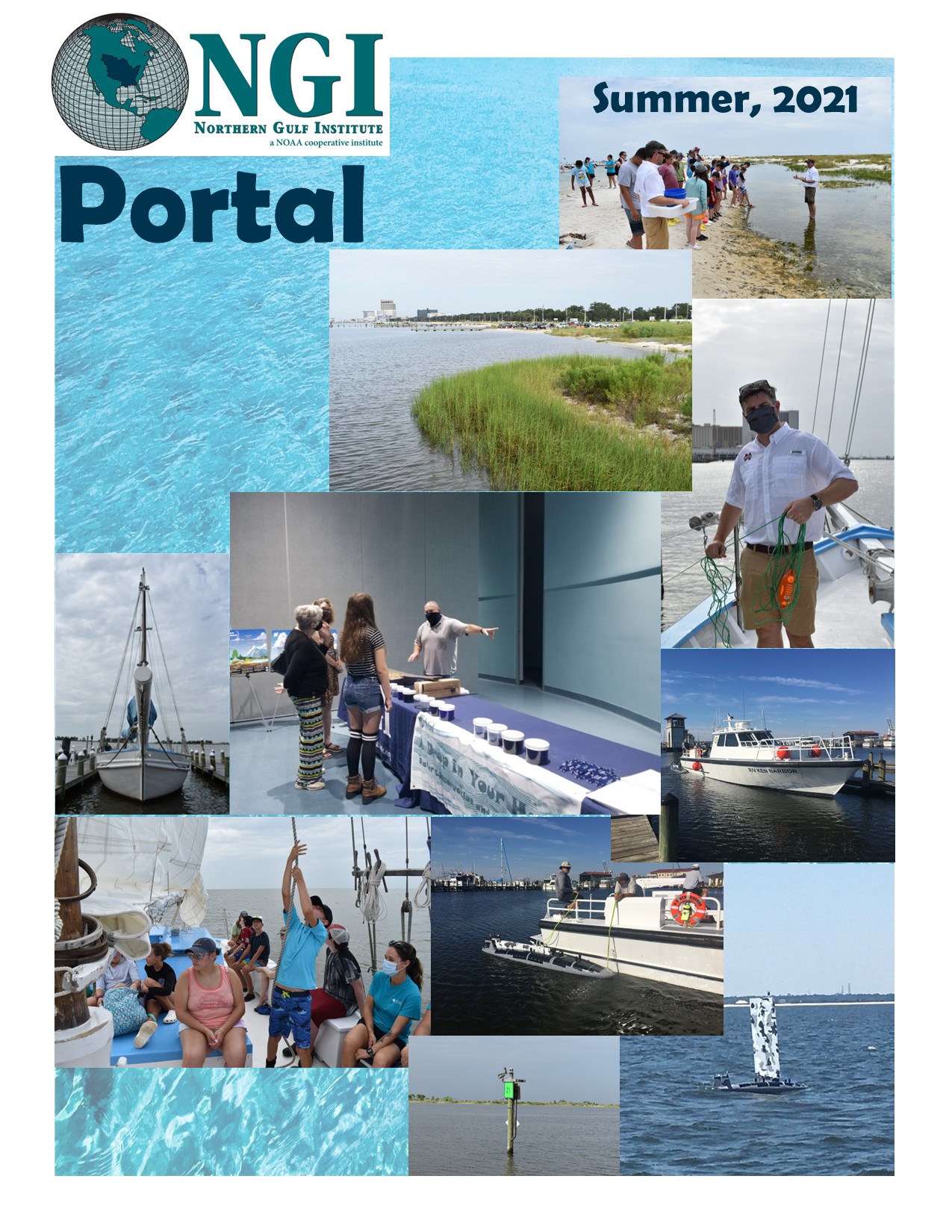 Summer 2021 Issue
September 30, 2021
Paper on Marine Environmental DNA (eDNA) Published by NGI Postdoctoral Associate Sean Anderson and NGI Associate Research Professor Luke Thompson
Sterivex eDNA Extraction Paper
A new paper on marine environmental DNA (eDNA) has been published by NGI Postdoctoral Associate Sean Anderson and NGI Associate Research Professor Luke Thompson. The paper, "Optimizing an enclosed bead beating extraction method for microbial and fish environmental DNA", was recently published in Environmental DNA. This study optimized an enclosed bead beating method for extracting eDNA from Sterivex filters, which are a popular filter type but notoriously tedious to process in the lab. Sean and Luke collected water samples from Bear Cut, Biscayne Bay (FL, USA) and performed enclosed Sterivex extractions at NOAA's Atlantic Oceanographic and Meteorological Laboratory (pictured), investigating how different bead sizes (small, large, no beads) and different commercial extraction kits (Zymo vs. NucleoMag) influenced eDNA recovery of bacteria, phytoplankton, and fish. This study took advantage of in-house robotic instruments at AOML, like the KingFisher Flex (pictured), which can scale up eDNA extractions using 96-well plate reactions.
Sean and Luke found that while bacteria communities were stable across bead treatments, several phytoplankton groups, like diatoms and chlorophytes, were absent when extracted without beads. Fish species richness was greatest when extracted with larger beads, however, there was more variability with fish data between treatments (and replicates), supporting the idea that eDNA from fish may be more patchy and less concentrated compared to microbes. For future enclosed Sterivex extractions, the authors recommend that larger (or multiple) beads be used to extract eDNA from a range of marine life and suggest increasing water filtration volumes (>2 liters per filter) to better capture fish eDNA. Finally, this study included expert-led poll results that verified the presence of non-native fish (salmon and herrings) and identified a nearby aquarium as the likely introduction of these fishes into the bay. A fitting conclusion to this mysterious side-story that was covered in the
NGI Portal's Winter 2021 issue
.
Citation:
Anderson, S. R. & Thompson, L. R. Optimizing an enclosed bead beating extraction method for microbial and fish environmental DNA. Environ DNA (2021) doi:10.1002/edn3.251.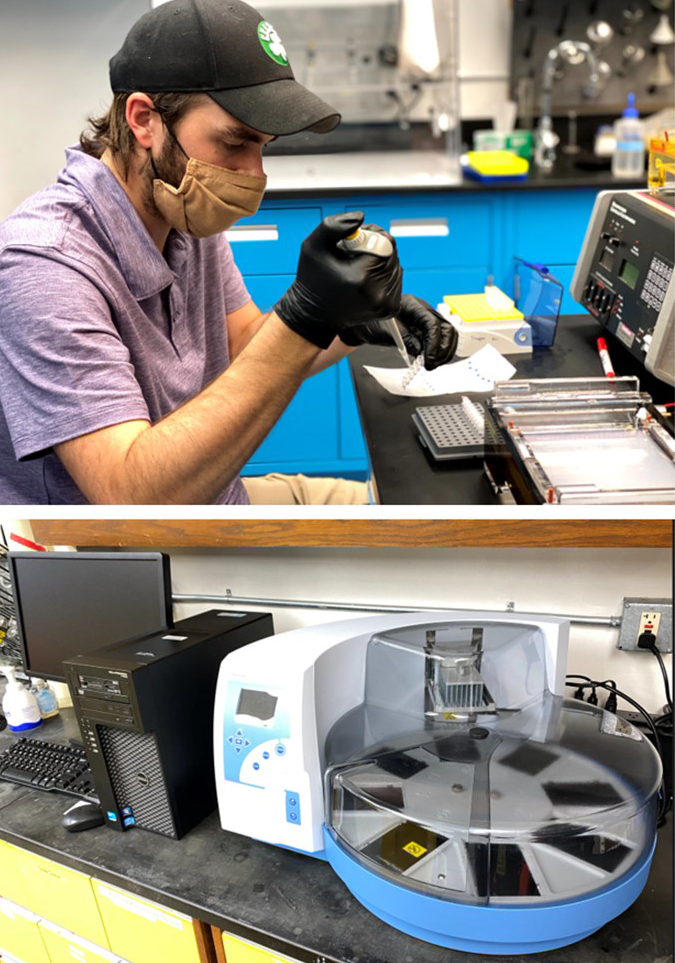 GOMECC-4 eDNA cruise
NGI Postdoctoral Associate Sean Anderson is aboard the NOAA ship Ronald Brown (pictured) for 40 days this fall (September to October), participating in the fourth iteration of the Gulf of Mexico Ecosystems and Carbon Cycle Cruise (GOMECC-4). Sean will be collecting and filtering environmental DNA (eDNA) from water samples (pictured), targeting different sites (open to coastal) and depths (shallow to deep) across the Gulf. The purpose of this sampling is to determine the biodiversity and composition of bacteria, phytoplankton, and fish communities. eDNA sampling will be coordinated with existing measurements that are taken on the cruise, such as temperature, salinity, oxygen, alkalinity, and pH. Identifying relationships between biodiversity and environmental measurements, especially those related to ocean acidification (pH, alkalinity, dissolved carbon), will allow for statistical predictions into how marine organisms respond to changing ocean conditions.
The overall objective of the cruise is to monitor ocean acidification in the Gulf of Mexico, determining trends in acidification and its impacts to coastal systems. The cruise is part of AOML's Ocean Acidification work and is led by Dr. Leticia Barbero (CIMAS/AOML) and Dr. Andrew Stefanick (NOAA/AOML). The cruise is multidisciplinary, with a variety of chemical, physical, and biological parameters being measured from many different lab groups from within NOAA and partner institutions. The addition of eDNA sampling to GOMECC-4 was funded as a NOAA Ocean Acidification Program project and is led by NGI Associate Research Professor Luke Thompson. Other scientists on the project include Dr. Chris Kelble (NOAA/AOML) and Dr. Leticia Barbero (NOAA/CIMAS).