Thursday, March 31, 2022
Education & Outreach Opportunities at NGI - Mississippi State
STEAM: Science Through the Arts
STEAM programs add art to the STEM curriculum by drawing on design principles and encouraging creative solutions. In 2013, a joint resolution was introduced in the United States House of Representatives expressing the sense that adding art and design into Federal programs that target the STEM fields encourages innovation and economic growth in the United States.

The Travelling Trunk Education & Outreach Program
NGI has developed loanable "Travelling Trunk Shows" which include Art and Science-based curriculum designed to support the national college and career readiness standards. We typically include the "science, literature and arts behind the scenes" that includes targeted classwork and lessons of discovery for oceanography, marine and fisheries science, and weather. These trunks provide STEAM-focused interaction with large numbers of schoolchildren, their parents, teachers, and administrators.

NGI Art and Design Competition
The Northern Gulf Institute (NGI) at Mississippi State University is proud to announce a STEAM art competition, where original drawings, paintings, photography, or other renderings, depicting the natural environment, marine, avian, or aquatic species, the ocean, or weather, as related to the Mississippi River, The Gulf Coast, or the Gulf of Mexico Basin, are to be submitted for review. The winner of the competition will have their art featured in the "Portal" Newsletter.

Continuing Education Opportunities
Computational Thinking with 3D Weather Teacher Workshop (Summer 2022). This Workshop is part of the 3D Weather project funded by the National Science Foundation (NSF) to develop instructional materials for teaching computational thinking to K-12 students through explorations of atmospheric science and weather data using Unidata's Integrated Data Viewer (IDV). We will use IDV to create 3D weather visualizations from freely available, real-world weather data.

The objective of the 3D Weather project is to use meteorology and IDV to enable teachers to teach computational thinking skills to K-12. During the online portion of this workshop (July 5-11), you will learn background information for computational thinking and the meteorology topics we will discuss during the in-person workshop. During the in-person portion of this workshop (July 12-16), you will learn how to use IDV to visualize data for different meteorology topics and how to analyze the data using 11 computational thinking skills. Then, you will modify an existing lesson plans in order to incorporate computational thinking skills into the lesson.

This Workshop provides the requisite background information on computational thinking, meteorology topics, and IDV so that you can use 3D Weather visualizations to teach computational thinking to your students. (Earn up to 8 CEUs).

The Northern Gulf Institute (NGI) has joined with the Department of Geosciences and the Center for Distance Education at Mississippi State University to provide Continuing Education and/or 4 hours of Graduate College Credit to teachers and professionals wishing to undertake a 7-10 day geosciences field course. The course locations for this year are Bahamas (split undergrad/grad), Western WA, NY, and Great Plains Storm Chase. A science background is helpful to successfully complete these courses and costs $1250 plus tuition (4 hours of in-state graduate credit). (approximately $2978 total) Additionally, for most of the trips, the students pay for their meals, but the Bahamas trip includes meals. Students are also responsible for getting to the start location on their own (e.g Seattle, Nassau, Oklahoma City, etc.).
---
Thursday, March 31, 2022
NGI Provides Visiting Scientists to Your Classroom and Lesson Plan Data Base
Visiting Scientists to you Classroom or Organization
The NGI can provide assistance in locating a guest speaker for your classroom or organization meeting to discuss various topics including Coastal Hazards, Geospatial Data Integration and Visualization, Ecosystem Management Climate, and use of UAV/AUVs in the environmental and agricultural sciences.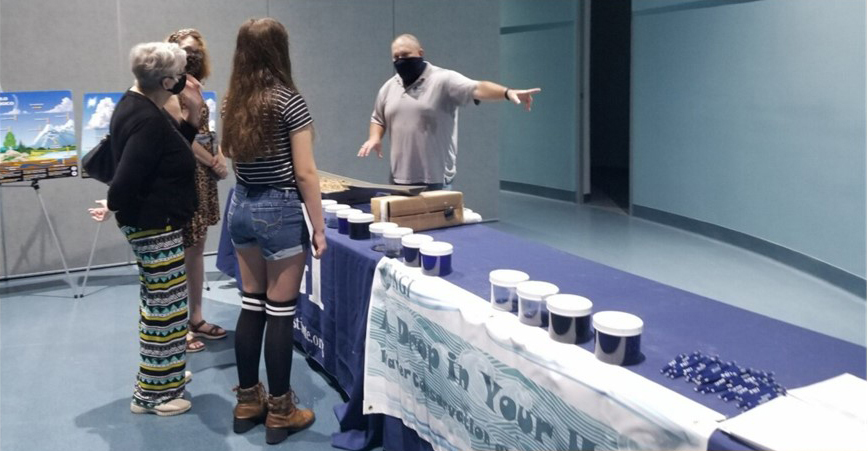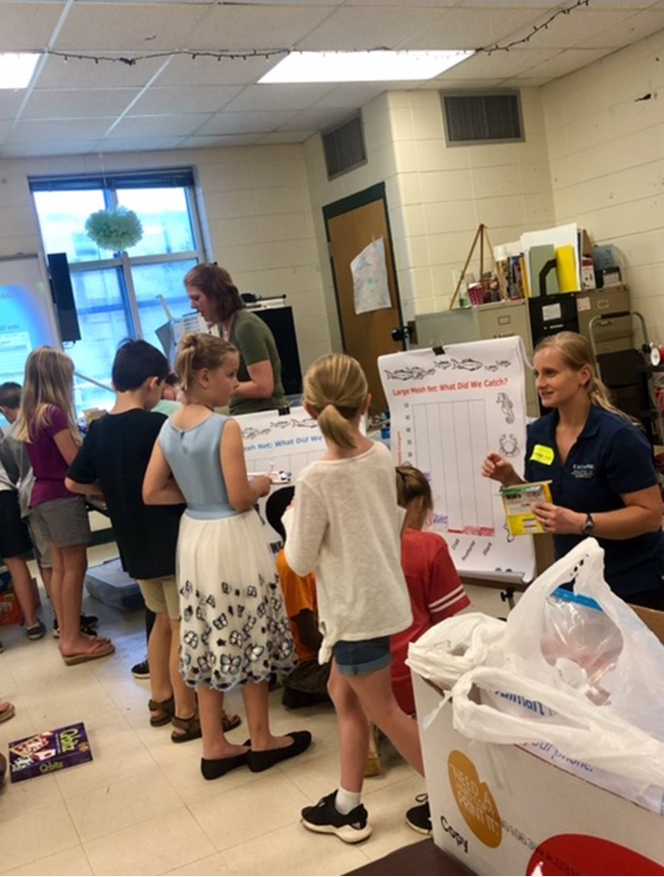 Lesson Plan Database
NGI along with the INSPIRE program is developing a database of approximately 500 Mississippi Science Curriculum-based lesson plans and assignments for k-12 classrooms. These will be linked to our website in the near future. Click here for Lesson Plans:
http://gk12.msstate.edu/lessonplans.html
.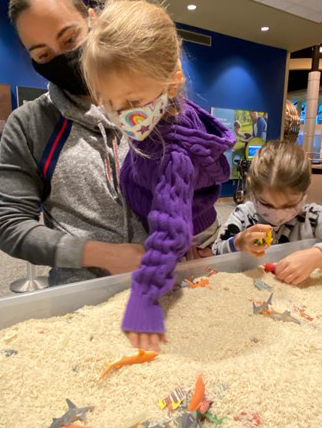 For more information, please contact the Education & Outreach Office at
EandO@ngi.msstate.edu
.
---
Thursday, March 31, 2022
Available - Marine Science Curriculum
Students' engagement with science that connects with something that is relevant in their lives can increase the meaningfulness of science application and help solidify its importance. With that goal in mind, outreach coordinators and researchers with the Consortium for Ocean-Microbial Interactions in the Ocean (CSOMIO) developed a middle school science curriculum "Modeling the Gulf of Mexico" based on their efforts to improve oil transport and fate modeling. The curriculum targets students living in Florida and other Gulf states and introduces them to science that impacts their own lives.
"Our scientific team is working to produce a comprehensive framework for simulating and understanding the role that microbes play in mitigating the impacts of oil spills, so the topics covered in this curriculum align with that research," said CSOMIO principal investigator Dr. Eric Chassignet.
The curriculum contains five complete lessons: "Go with the Flow," "Oil Remediation," "Visualizing Ocean Currents," "The Gulf of Mexico Ecosystem," and "Refining an Ocean Model." Each lesson includes materials such as teacher guides, student worksheets, maps (courtesy of Ocean Conservancy), and answer keys with grading rubrics.
The CSOMIO outreach team collaborated with educators to design lesson plans and activities that meet the Florida State Board of Education's Standards for Science to ensure that the materials are easily used in Florida classrooms. The curriculum follows the instructional model, in which each represents a different phase of the learning process: Engage (grab students interest), Explore (students self-study the material), Explain (students become more familiar with the material with teacher guidance), Elaborate (students apply what they learned), and Evaluate (students demonstrate their understanding of the material).
The CSOMIO outreach coordinators field-tested the lesson plans through collaboration with Florida State University's Sea-to-See program, which introduces students to Florida's diverse marine life and promotes the importance of conservation. The curriculum also includes an Accommodations section in the appendices that offer vocabulary, modified questions, and alternate procedures for each lesson. These accommodations are designed to assist students who require a 504 Plan, an Individualized Education Plan, or who are learning English as a second language.
"Our intent was to provide practical lessons that can help make the complex world of computer modeling more approachable to middle grades students," said CSOMIO science educator Karolyn Burns. "Ultimately, the feedback from both practicing teachers and oceanographic researchers was invaluable, and I hope that it proves useful to educators, as well as engaging for learners."
"This middle school curriculum complements a high school science curriculum released in 2015 by the Deep Sea to Coast Connectivity in the Eastern Gulf of Mexico (Deep-C) consortium", said Tracy Ippolito, who coordinated outreach for both Deep-C and CSOMIO. The Deep-C team compiled and developed the 144-page multi-disciplinary high school curriculum around the five main research areas of its consortium (geomorphology, geochemistry, ecology, physical oceanography, and modeling) and draws connections between science and real-world applications for handling issues such as environmental disasters, their ecosystem impacts, and recovery.
A downloadable PDF version of the CSOMIO middle school science curriculum is available at
CSOMIO Curriculum
.
By Stephanie Ellis and Nilde Maggie Dannreuther. Contact
sellis@ngi.msstate.edu
for questions or comments.to the Gulf of Mexico Research Initiative (GoMRI). Please credit images and/or videos as done in each article. Questions? Contact web-content editor Nilde "Maggie" Dannreuther, Northern Gulf Institute, Mississippi State University (
maggied@ngi.msstate.edu
).
---
Thursday, March 31, 2022
NGI Faculty Member Ebenezer Nyadjro Discusses Ocean Salinity and Climate Change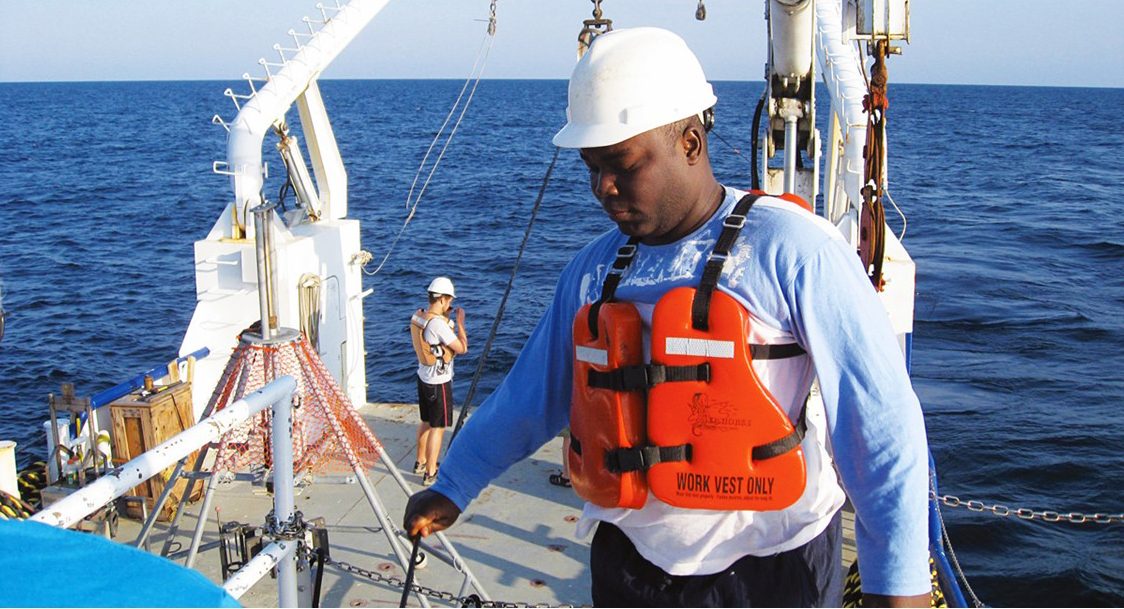 Ebenezer Nyadjro
Job:
Associate professor of research, NOAA Northern Gulf Institute, Mississippi State University
Degree:
Ph.D., Marine Science, 2012
Focus:
Ocean salinity
Why it matters:
Global wam1ing is affecting the saltiness of the ocean, which could affect marine fisheries, plastic pollution and ocean circulation.
When Ebenezer Nyadjro talks about his research, he sprinkles in a quick lesson on climate change. Global warming increases evaporation on the ocean's surface, which makes for saltier water. But what goes up - evaporative moisture - must come down, and heavy rainfall makes other pa1is of the ocean less salty. Fluctuating salinity changes overall seawater chemistry and impedes the normal mixing of upper and lower strata. That means beneficial nutrients can get trapped below fish species that need them. Saltier seawater is also linked to more sluggish circulation.
"The amount of heat transported from warmer regions to colder regions is going to slow down," Nyadjro says, pointing to the Gulf Stream current, which acts as a the1mal conveyor from the Gulf of Mexico to Europe.
Nyadjro on the future:
"We need data-driven decision making, and that's hard to accomplish when we don't always have sustained progranuni11g because of shifti11g political priorities. Data doesn't lie, and current data shows that we are not moving in a good path.
---
Thursday, March 31, 2022
Study Finds Existing and Planted Shoreline Vegetation Respond Differently to Breakwater Protection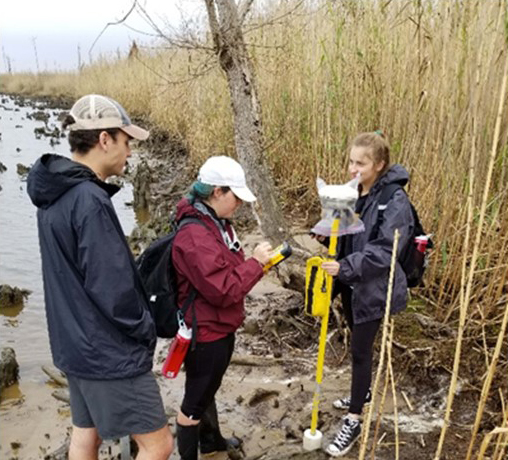 Pictured left to right: Matt Virden, Sara Martin, Alyssa Rodolfich. The Mississippi State University (MSU) research team uses a real-time kinematic (RTK) unit to measure expansion and migration of shoreline vegetation patches at the Swift Tract study site in Bon Secour Bay, Alabama. Photo Credit: Eric Sparks, MSU Coastal Conservation & Restoration Program.
Shoreline erosion and wetlands loss are critical issues along Gulf of Mexico coastlines. Living shoreline designs that incorporate large-scale breakwaters are increasingly used to protect vulnerable areas. To understand the effectiveness of a breakwater system on existing vegetation and on plantings that are often included in these projects, researchers monitored shoreline change following the installation of breakwaters along Bon Secour Bay, Alabama for three years. Their findings indicate that near-shore breakwaters are more effective at conserving existing marsh than creating new marsh. The study
The effects of large-scale breakwaters on shoreline vegetation
was published in Ecological Engineering in November 2021.
In recent years, numerous large-scale living shoreline projects have incorporated nearshore breakwaters along the northern Gulf of Mexico, with many being installed in response to the 2010 Deepwater Horizon oil spill. However, not much is known about their effectiveness at preserving natural shorelines and promoting the growth of shoreline plantings.
To address this gap, the research team monitored an area that included both natural shoreline vegetation and shoreline plantings of Spartina alterniflora along a breakwater-protected area and an adjacent area with no breakwater protection. They measured the expansion and upland migration of the shoreline vegetation using drone imagery, which created base maps of the shoreline, and using real-time kinematic (RTK) GPS units, which measured the perimeter of shoreline vegetation patches. After laying the outlines over the drone images, they used GIS software to determine the movement of vegetation patches in response to nearshore breakwater protection.
For naturally established vegetation, the results showed that the breakwaters successfully provided stabilization. "It showed that breakwaters do protect and enhance natural shoreline vegetation and also allow for the vegetation to expand seaward towards the breakwaters," said study author Sara Martin. However, the results were different for the planted vegetation, "Even when protected by breakwaters, planted vegetation only had about 30% cover after three years whereas the natural vegetation maintained 70% cover. The nearshore breakwaters only slightly reduced the wave energy that reached the shoreline, and the planting in this high wave energy environment had low levels of success."
The authors raise concerns about the longer-term picture, including sea-level rise that could submerge breakwaters, making them not perform as intended. Martin explained "Nearshore breakwaters will need to be adaptively managed as sea levels rise, so their installation may not be appropriate in all circumstances." Long-term monitoring of these projects would provide a more comprehensive understanding about the effect that large-scale breakwaters have on the shoreline vegetative community and on the marsh system as a whole.
The study's authors are Sara Martin, Nigel Temple, Gillian Palino, Just Cebrian, and Eric Sparks.
This work was supported by the NOAA NERRS Science Collaborative Program [Grant NA14NOS4190145], the Office of Sea Grant, and the Mississippi-Alabama Sea Grant Consortium [Grant NA10OAR4170078].
Article by Nilde Maggie Dannreuther, Northern Gulf Institute, Mississippi State University
maggied@ngi.msstate.edu
. Redistribution is encouraged with acknowledgement to the Northern Gulf Institute and the preservation of credit in images or other media.
Click Here for Full Article
---
Thursday, March 31, 2022
NGI Researchers models suggest "Seasonality of Interbasin SST Contributions to Atlantic Tropical Cyclone Activity"
Recent studies have demonstrated that the difference in sea surface temperature anomalies (SSTAs) between the tropical Atlantic main development region (MDR) and the tropical Pacific (Nino 3) modulates Atlantic tropical cyclone activity. This study further explores the seasonality of Pacific and Atlantic contributions to Atlantic hurricane activity. Our analysis shows that while MDR and Nino 3 SSTAs are equally important for late-season (September–November) activity, early-season (June-August) activity is largely modulated by MDR SSTAs. This reflects the increased (reduced) variance of MDR (Nino 3) SSTAs in the early-season due to their phase locking to the seasonal cycle. Further analysis yields skillful forecasts using an MDR-Nino 3 interbasin index derived from hindcasts of the North American Multi-Model Ensemble with May initial conditions. However, the prediction skill for MDR SSTAs is lower than that of Nino 3 SSTAs, suggesting that increasing the prediction skill for MDR SSTAs is key to improving seasonal outlooks.
The difference in sea surface temperatures (SST) between the tropical Atlantic and the tropical Pacific changes atmospheric circulation patterns that affect Atlantic hurricane activity during the June–November Atlantic hurricane season. This study finds that tropical Atlantic SST have a stronger influence on hurricane activity in the early-season, but tropical Pacific and tropical Atlantic SST have equal influence in the late-season. This is because the seasonal variability of tropical Atlantic SST increases in the early-season, while the seasonal variability of tropical Pacific SST increases in the late-season, known as a seasonal phase locking mechanism. A statistical model of the differences in Atlantic and Pacific SST finds skillful forecasts of above-average hurricane activity throughout the hurricane season, with the greatest overall skill in the late-season.
Robert West
,
Hosmay Lopez
,
Sang-Ki Lee
,
Andrew E. Mercer
,
Dongmin Kim
,
Gregory R. Foltz
,
Karthik Balaguru
Link to document here: AGU or Academic Access Required
---
Thursday, March 31, 2022
NGI brings on new Research Associate
NGI hired Jeanne-Marine Havrylkoff as a Research Associate III on February 1st. She will be working on multiple NCEI projects but mainly supporting OER data products with NCEI.


---
Thursday, March 31, 2022
NGI Researchers Working on Shoreline Data Management of Deep-Sea Specimens
The National Centers for Environmental Information (NCEI) works with NOAA Ocean Exploration and the Global Foundation for Ocean Exploration (GFOE) to manage the data collected onboard NOAA Ship Okeanos Explorer and by remotely operated vehicle (ROV) Deep Discoverer (D2). In addition to high-definition video data and environmental parameters such as water temperature, salinity, dissolved oxygen, location, and depth, D2 collects highly valuable biological and geological specimen samples. Managing these physical samples from the depths of our ocean is high-priority work. Biological samples may lead to new species identifications, range extensions, or medical advancements, while geological samples may unlock secrets of how a seamount formed or where a tsunami originated. In most cases, the areas in which samples are collected have never been explored.
https://oceanexplorer.noaa.gov/okeanos/explorations/ex2104/features/data-management/welcome.html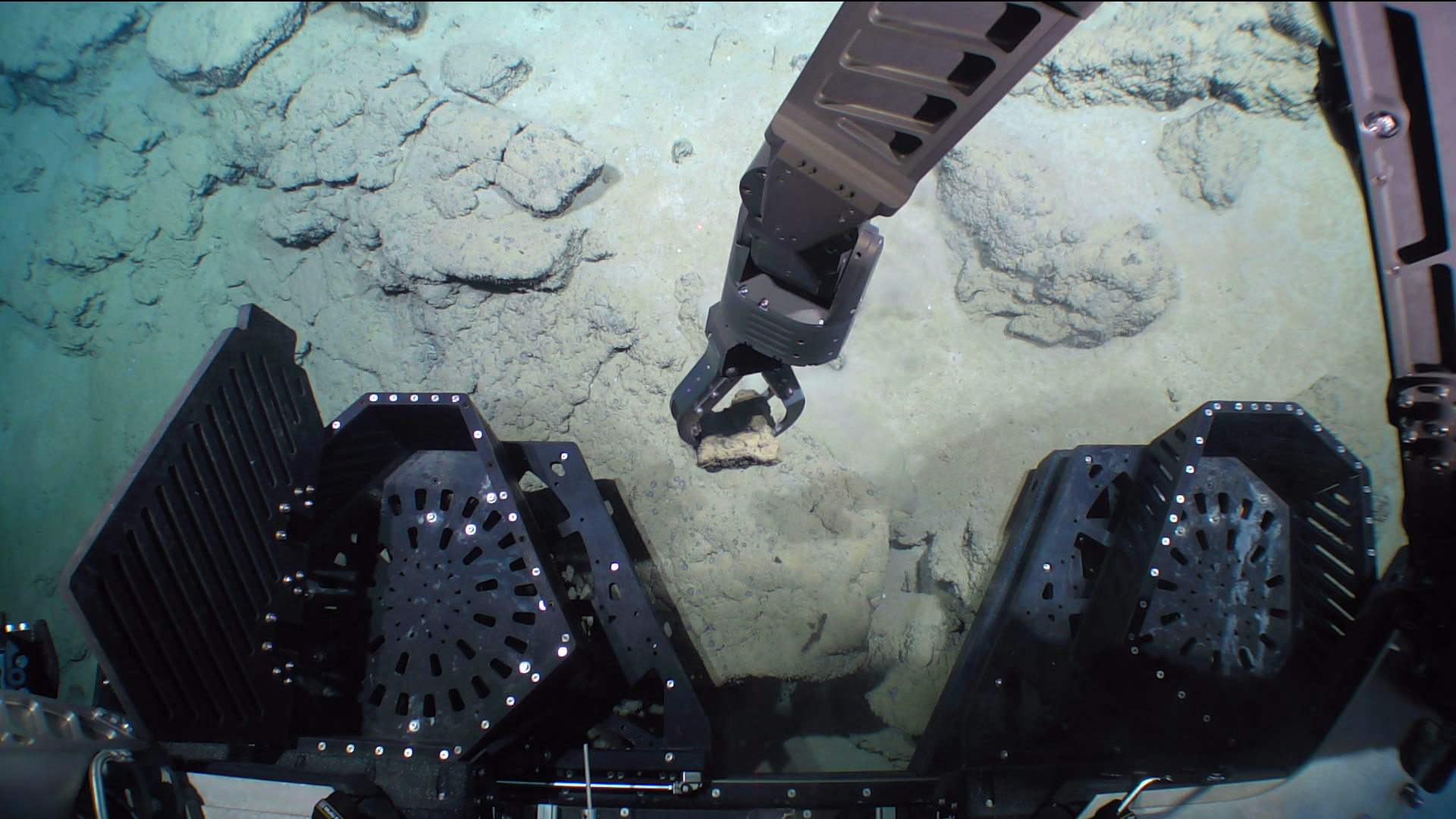 During exploration of MacGregor Seamount on Dive 08 of the 2021 North Atlantic Stepping Stones expedition, the team collected a small piece of an octocoral in the family Plexauridae that may be a new species. This image of the collected sample was taken in the wetlab on NOAA Ship Okeanos Explorer as part of the sample data management process to record metadata about the specimens such as size. Image courtesy of NOAA Ocean Exploration, 2021 North Atlantic Stepping Stones: New England and Corner Rise Seamounts.
Download largest version (jpg, 6.3 MB)
.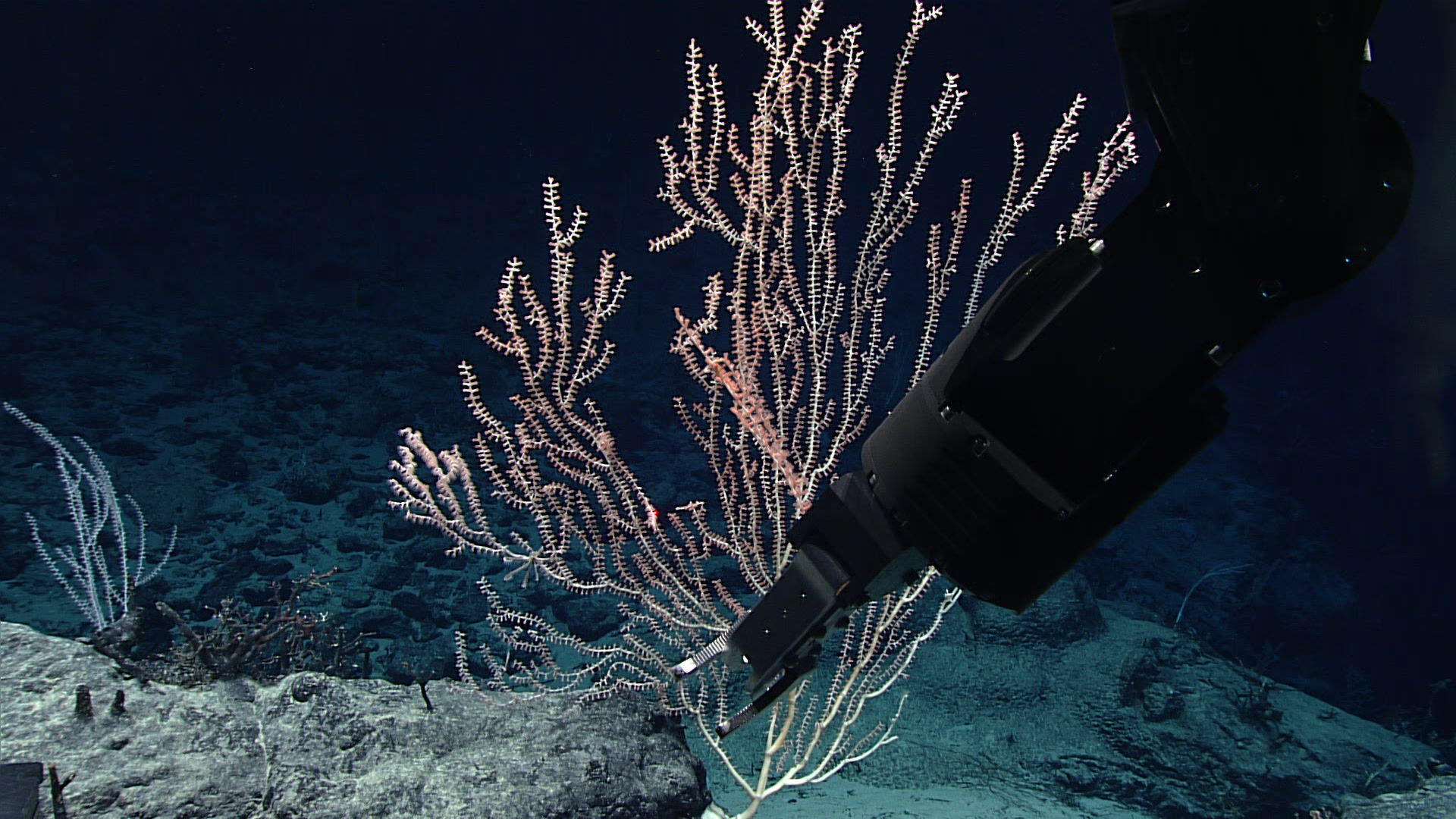 The manipulator arm of remotely operated vehicle Deep Discoverer is used to clip a branch off a bamboo coral during Dive 02 of the 2021 North Atlantic Stepping Stones expedition. A small anemone was observed living on the coral, causing the coral to create small, basket-like branches around the anemone. The collected sample, once processed and made available to scientists, may help scientists better understand the relationship between the anemone and its coral host. Image courtesy of NOAA Ocean Exploration, 2021 North Atlantic Stepping Stones: New England and Corner Rise Seamounts.
Download largest version (jpg, 1.1 MB)
.
---
Thursday, March 31, 2022
USM Gulf Coast Research Lab - Marine Education Center Summer Camp Opportunities

Sea Camp
Summer 2022 Marks Year 35 for Sea Camp!
Marine educators provide students with a rich educational experience wrapped up in lots of fun, games, and hands-on activities.
Participants explore coastal salt marshes with educators aboard the university research vessel, the Miss Peetsy B. Activities include live animal encounters with coastal wildlife and opportunities to fish, crab, seine and sieve. Students will participate in field trips appropriate for their ages, such as exploring beach habitats.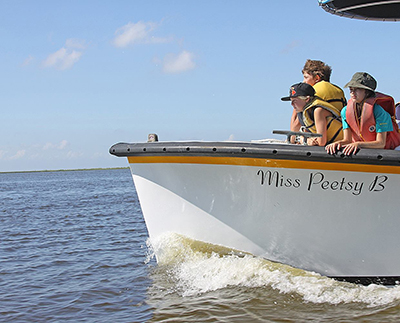 Fees
Grades 1st - 2nd — $300
Grades 3rd - 4th — $325
Grades 5th - 6th — $350
Registration requires a $100.00 non-refundable deposit.
When
June 6-10, 13-17, 27-July 1
July 11-15, 18-22, 25-29
Online Registration
Registration for Sea Camp is offered only online. Paper forms are no longer used. University faculty, staff and students receive 10% Discount on camp tuition!
For more information, contact the Marine Education Center by
email
or call 228.818.8095.
Clink Here for Summer Camps Flyer
Over the past 35 years, GCRL's Sea Camp has become a summer tradition on the Coast. Since 1989, more than 12,000 students have enjoyed this fun and educational program. During its life, Sea Camp has evolved to be more than an educational experience; it's also become a family affair. Many of today's students are the children of former Sea Campers. Other Sea Camp students have returned as staff members and then gone on to complete college degrees in marine sciences and become scientists and educators themselves.
Sea Camp is designed to foster an awareness and understanding of the coast's fragile marine and aquatic environments in children ages 6 to 13. Campers learn about coastal stewardship through both classroom and field experiences. Hands-on experience such as crabbing, fishing, seining, and sieving bring these valuable lessons to life for the campers.
This year's theme is Ultimate Survivor. On trips to local beaches and marshes, students will explore all aspects of the Gulf of Mexico and the creatures that live there. Educational art projects are used to reinforce the marine science lessons. These experiences educate children in ocean literacy and environmental stewardship, and connect them to the research conducted by GCRL.
Sea Camp was born in 1989 at GCRL's J.L. Scott Marine Education Center & Aquarium in Biloxi. The Center housed Mississippi's largest public aquarium and featured many marine educational programs. Like many other coast landmarks, the Marine Education Center was lost to the winds and waters of Hurricane Katrina in August of 2005. By the next summer, the Marine Education Center and Sea Camp had found a new home on the campus of the Gulf Coast Research Laboratory in Ocean Springs. The new location had the advantages of a large campus with live oaks, a cafeteria, a pier for fishing and learning to throw a cast net, and dozens of scientists nearby. In 2018 Sea Camp moved again with the opening of the new, state-of-the-art Marine Education Center facility at the USM Cedar Point site in Ocean Springs. The new setting along Davis Bayou in coastal Mississippi provides acres of outdoor classroom space, nature trails, kayaking, and unforgettable learning experiences for all visitors. Sea Camp continues to provide all the wonderful educational programming for which it is known.
"Sea Camp is a life-changing adventure for young people to learn about the importance of coastal Mississippi habitats and the diverse marine species found in the Gulf of Mexico. For generations now the STEM-rich summer experience has inspired future scientists, instilled a love for the outdoors, and created passionate stewards of the environment."
~ Dr. Laura Blackmon, MEC Associate Director
---
Thursday, March 31, 2022
Dauphin Island Sea Lab Summer Camps and Programs
Summer Programs
Dauphin Island Sea Lab - Discovery Hall anticipates offering a full schedule of summer camps, classes, and programs. However, given the continuing uncertainty in the pandemic, programs, schedules, and activities may be changed. Please know that we will let you know of these changes in a timely fashion and that all program deposits will be 100% refundable if the changes prevent participation. Thank you for your understanding.
The Discovery Hall Programs offer a variety of programs for your children during the summer, ranging from single-day programs to residential camps and academic courses. Our highly qualified educators will guide campers and students through all activities, and residential students are well-supervised by our exceptional counselors.
Registration for our summer 2022 programs opens on February 1, 2022. Camp registrations are processed in the order in which they are received.
Visit Dauphin Island Sea Lab for more information.
(When it states "Rising," this means that the child will be in the specified grade in the NEXT school year.)
---
Thursday, March 31, 2022
NGI Researchers host Bi-Annual MSU-SEAS Program (Science Education at Sea) in Mississippi Sound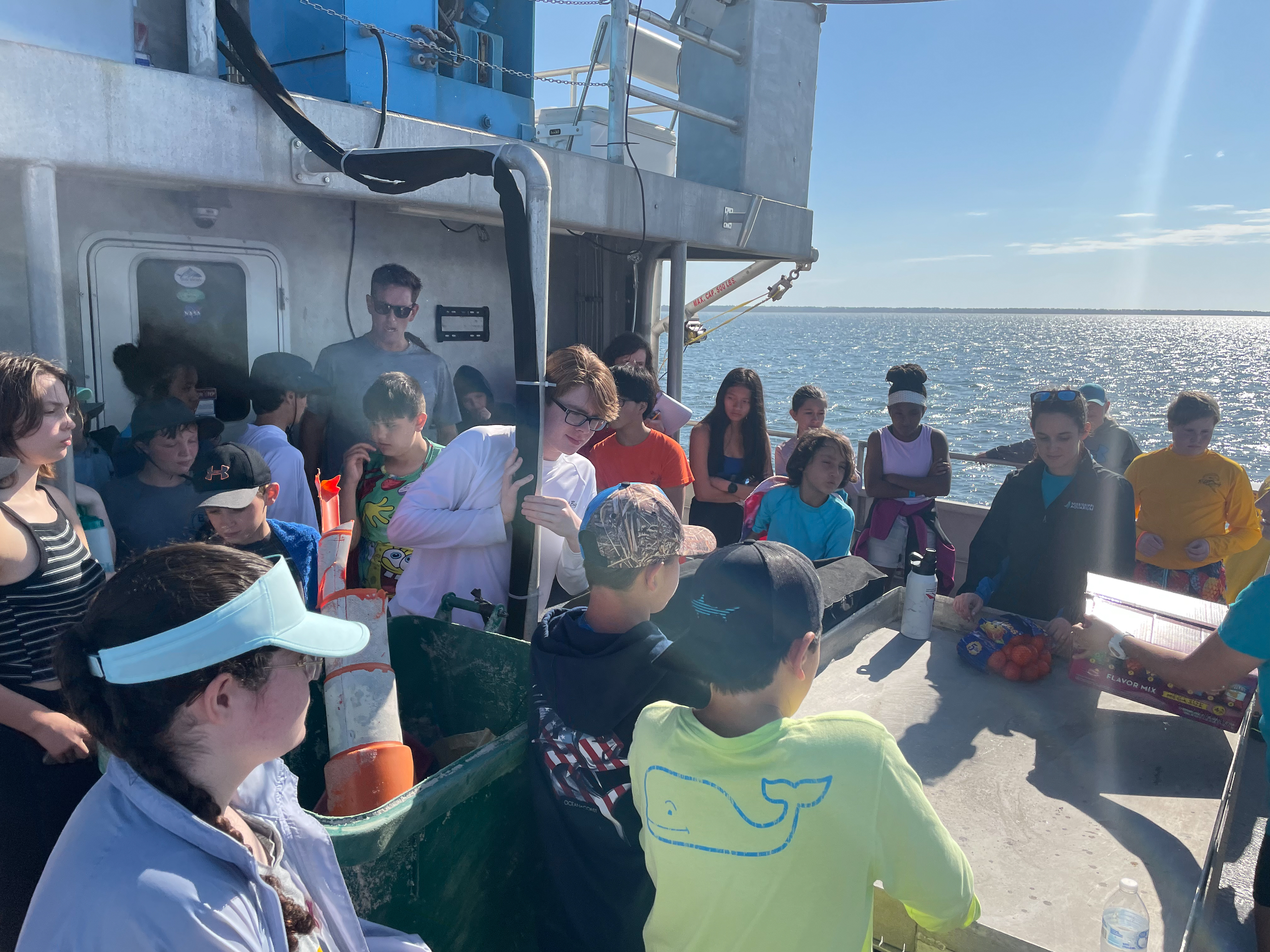 BILOXI, Miss—Mississippi State's Northern Gulf Institute has continued partnering with the Mississippi Aquarium to turn the state's Gulf Coast into an outdoor laboratory, giving local middle and high school students new knowledge and appreciation for their connection with marine life and the environment.
This Year NGI and MSU Researchers continued hosting the MSU- SEAS Program in partnership with the
Mississippi Aquarium
to utilize the USM R/V Jim Franks to take 30 public and homeschooled students from the Gulf Coast Region out into the Mississippi Sound and onshore at Cat Island as the second cohort of students to experience a hands-on marine excursion, where they learned about positive marine and environmental sciences that will promote sustainable choices in safeguarding the Gulf of Mexico's marine ecosystem.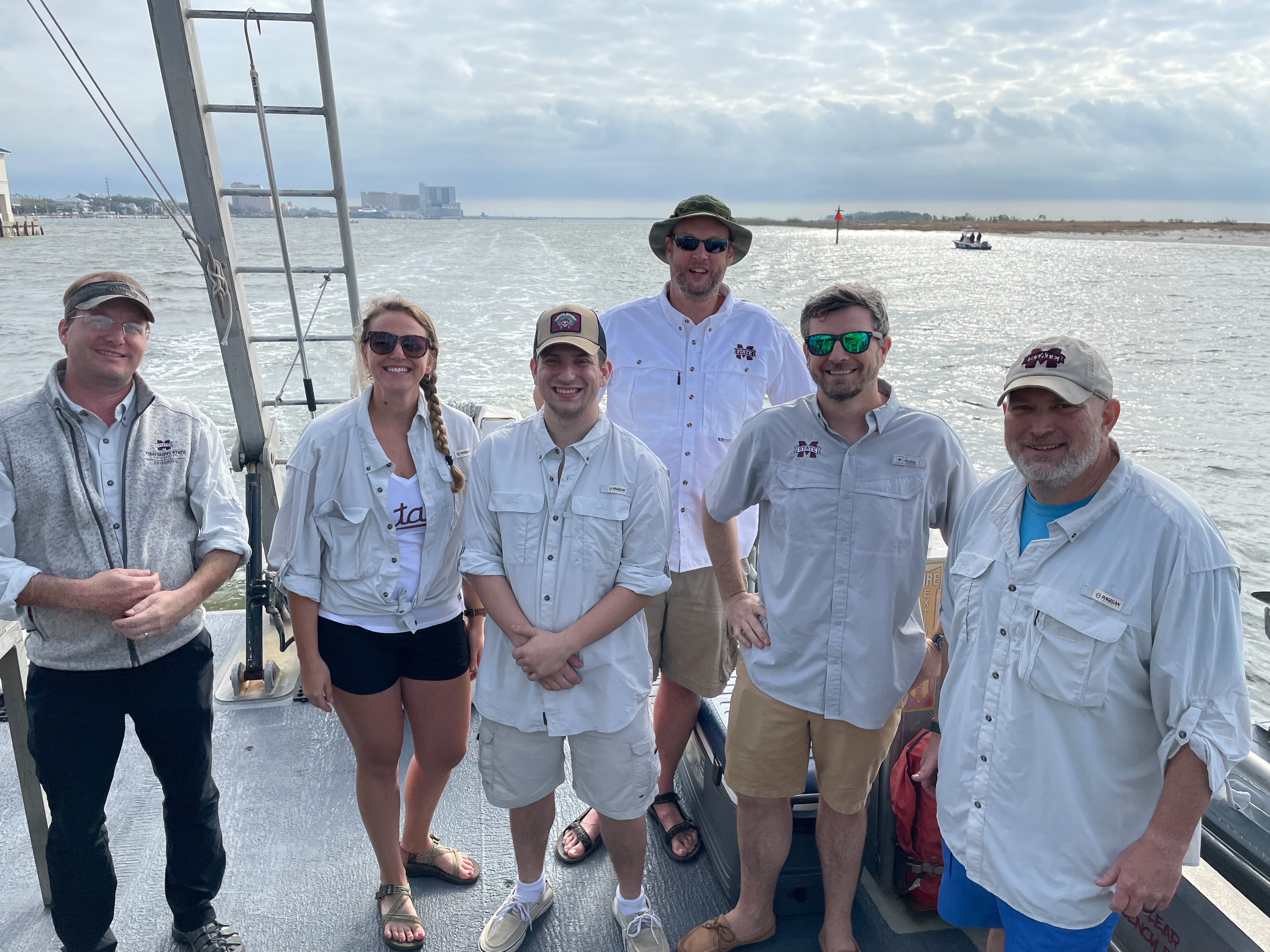 "We believe an engaged and informed public is a great partner in the effort to protect the Gulf of Mexico's environment," said Jonathan Harris, Northern Gulf Institute outreach director. "By giving students access to this kind of learning, NGI and the Mississippi Aquarium is making its research relevant to the students who will become the stakeholders and citizens of the future."
Aboard the USM Research Vessel Jim Franks, the sixth- through 12th-grade students and NGI faculty and staff sailed to the National Park Service Barrier Islands and anchored at Cat Island. While there, the students were immersed in hands-on activities which included the collection of marine scientific data, water quality samples and seafloor sediment, and identification of various marine species, as well as invasive aquatic plants.
Program organizers and education experts said another program priority is to practice one of the main tenets of modern educational theory, the concept of experiential learning, in which students are engaged when learn by doing.
Adam Skarke, an NGI researcher and MSU geosciences assistant professor, introduced the students to the many components of marine hydrogeology.
"The idea is that through exposure to real-life scientific sampling techniques and locally relevant lesson content, we can remove the shadow of classroom learning and spark an interest in the sciences that will impact not only their future educational choices, but also their life-long interest and hopefully their career pathways," he said.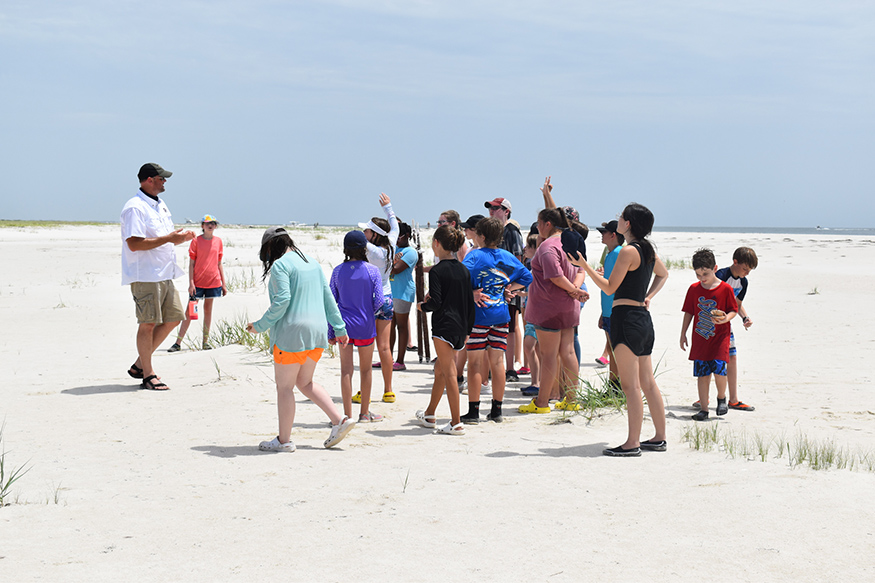 MSU faculty and team members also serving as MSU-SEAS teachers include Jamie Dyer, an associate NGI director and professor of meteorology and climatology, and Gray Turnage, an NGI invasive aquatic species researcher and assistant extension professor. Instructors from the Mississippi Aquarium were Lauren Fuller, education program analyst, and Lizzie Whigham, lead education specialist.
NGI and the Mississippi Aquarium plan to offer the program twice a year to public and homeschooled students. Public school student participants in this first cohort were from Long Beach, Vancleave, Biloxi, Hattiesburg and New Orleans, Louisiana.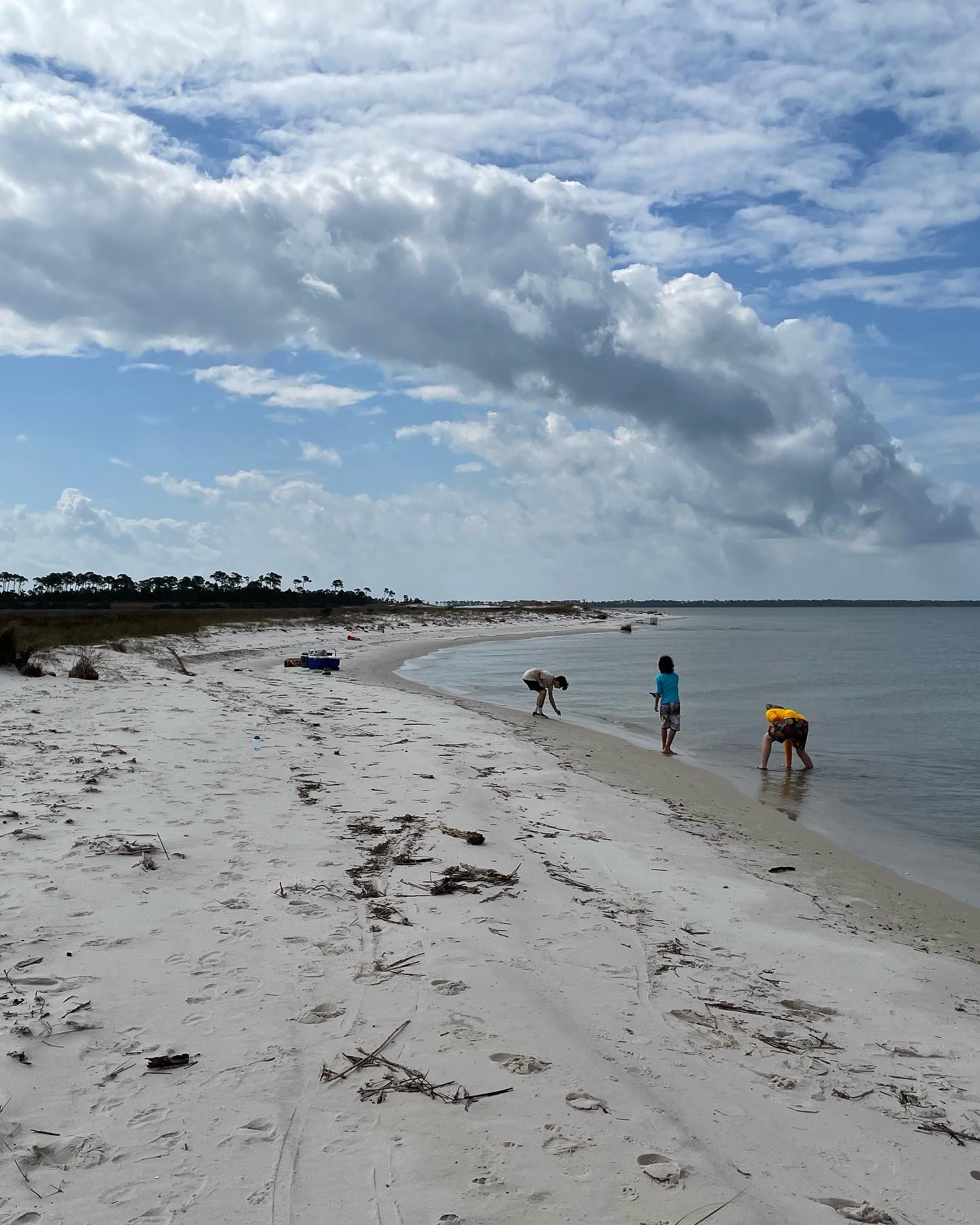 The Northern Gulf Institute, a National Oceanic and Atmospheric Administration Cooperative Institute managed by MSU, is a partnership of six complementary academic institutions and NOAA addressing important national strategic research and education goals. For more information, please visit
www.ngi.msstate.edu
The Mississippi Aquarium, a premier institution, delivers an awe-inspiring entertainment experience that supports animal research and conservation, inspires learning, and instills a passion for the aquatic world. For more information, please visit
https://www.msaquarium.org/
The Next MSU-SEAS Program will be taking place August 27, 2022. Reservations can be made when available, through the
Mississippi Aquarium Website
For more information about the MSU-SEAS Program, please contact NGI Outreach Director Jonathan Harris at
jharris@ngi.msstate.edu
.
---