Saturday, May 15, 2021
2021 Forecast: Summer Hypoxic Zone Size in the Northern Gulf of Mexico
R. Eugene Turner and Nancy N. Rabalais
---
Abstract
A hypoxic water mass with oxygen concentrations
<
2 mg 1
-1
forms in bottom waters of the northern Gulf of Mexico continental shelf each spring/summer. Nutrients from the Mississippi River watershed, particularly nitrogen and phosphorus, fertilize the Gulf's surface waters to create excessive amounts of algal biomass, whose decomposition in the bottom layer leads to oxygen depletion. The low oxygen conditions in the Gulf's most productive waters stresses organisms and may even cause their death so that living resources are threatened, including humans depending on the fish, shrimp and crabs caught there. Various models use the May nitrogen load of the Mississippi River as the main driving force to predict the size of this hypoxic zone in late July. Our prediction is based on one of these models.
The June 2021 forecast of the size of the hypoxic zone in the northern Gulf of Mexico for late July 2021 is that it will cover 12,330 km2 (4,761 mi2) of the bottom of the continental shelf off Louisiana and Texas. The 95% confidence interval is that it will be between 10,397 and 14,306 km2 (4014 and 5524 mi2). This estimate is based on the assumption that there are no significant tropical storms or unusual wind events in the two weeks before the monitoring cruise, or during the cruise. If a storm does occur, then the size of the zone is predicted to be 56% of the predicted size without the storm, equivalent to 6,905 km2 (2,666 mi2).
The predicted hypoxic area is about three times the size of the land area of Rhode Island (4,000 km2) and 89% of the average of 13,789 km2 (n = 34 including years with storms). If the area of hypoxia becomes as large as predicted, then it will be 2.5 times the size of the Hypoxia Action Plan goal to reduce the zone to less than 5,000 km2. No reductions in the nitrate loading from the Mississippi River to the Gulf of Mexico have occurred in the last few decades.
Full Document Available Here:
/portal/media/docs/2021/LSULUMCON_press_release.pdf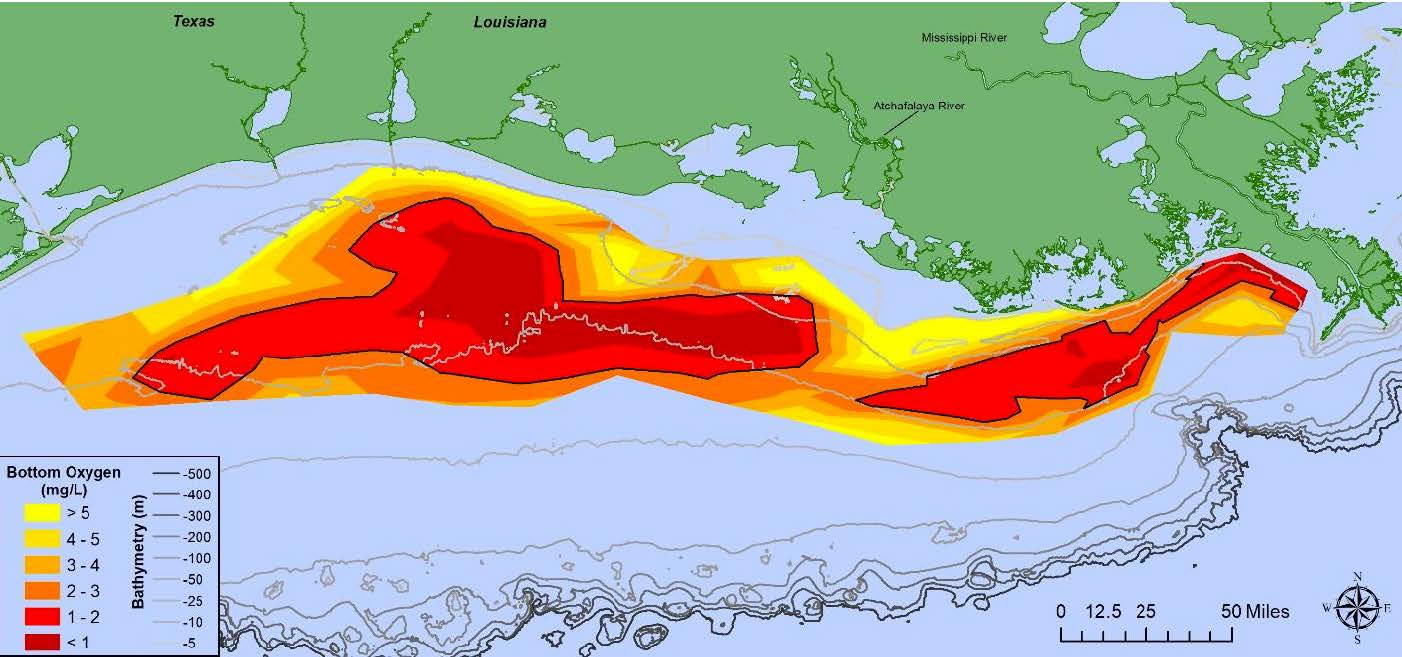 Oxygen concentrations in bottom water across the Louisiana shelf from July 23 – July 29, 2019. Data source: N.N. Rabalais and R.E. Turner, Louisiana State University; funded by NOAA, National Centers for Coastal Ocean Science.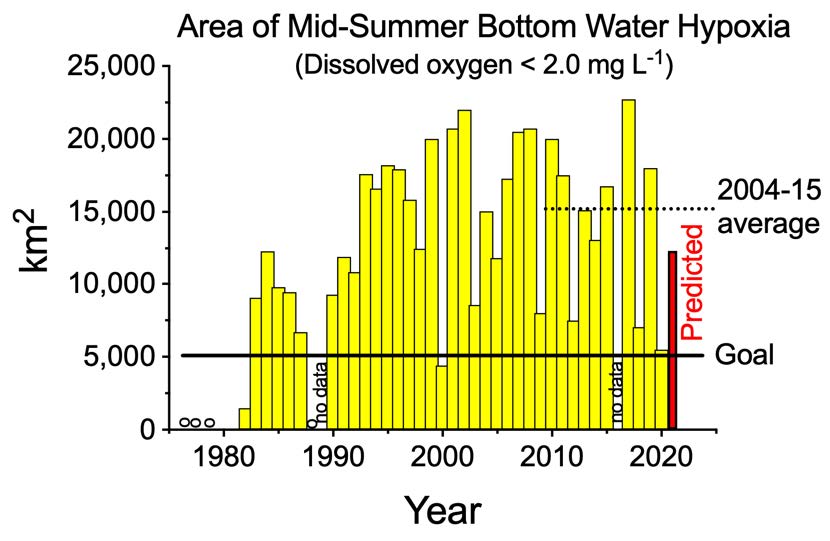 Area of the hypoxic zone from 1979 to 2020. The predicted value for 2021 is the red bar. The Hypoxia Action Plan restoration 'goal' is 5,000 km2.
---
Saturday, May 15, 2021
NOAA - Science Advisory Board Accepts Review Teams' Recommendation to Grant NGI a New 5-year Award, Starting October 1, 2021
In May 2020, NGI was reviewed (virtually) as part of the process to be considered for a new 5-year Cooperative Institute award.
In the fall of 2020, the SAB accepted the review teams' recommendation to grant NGI a new 5-year award starting October 1, 2021. As of March 24, 2021, NGI is in the process of preparing a renewal proposal in anticipation of an RFA soon.
The science review team was selected by NOAA's Science Activity Board (SAB) and consisted of:
Denise Reed (Chair)
Ben Kirtman
Jane Smith
Richard Fulford
LaDon Swann
The administrative review team
consisted of:
Dalynne Julmiste (Chair)
Arlene Simpson Porter
Sandra Byers
Courtney Edwards
Jeff Joyner
Katie Neupane
Molly Baringer
Nadia Musa
Shannon Louie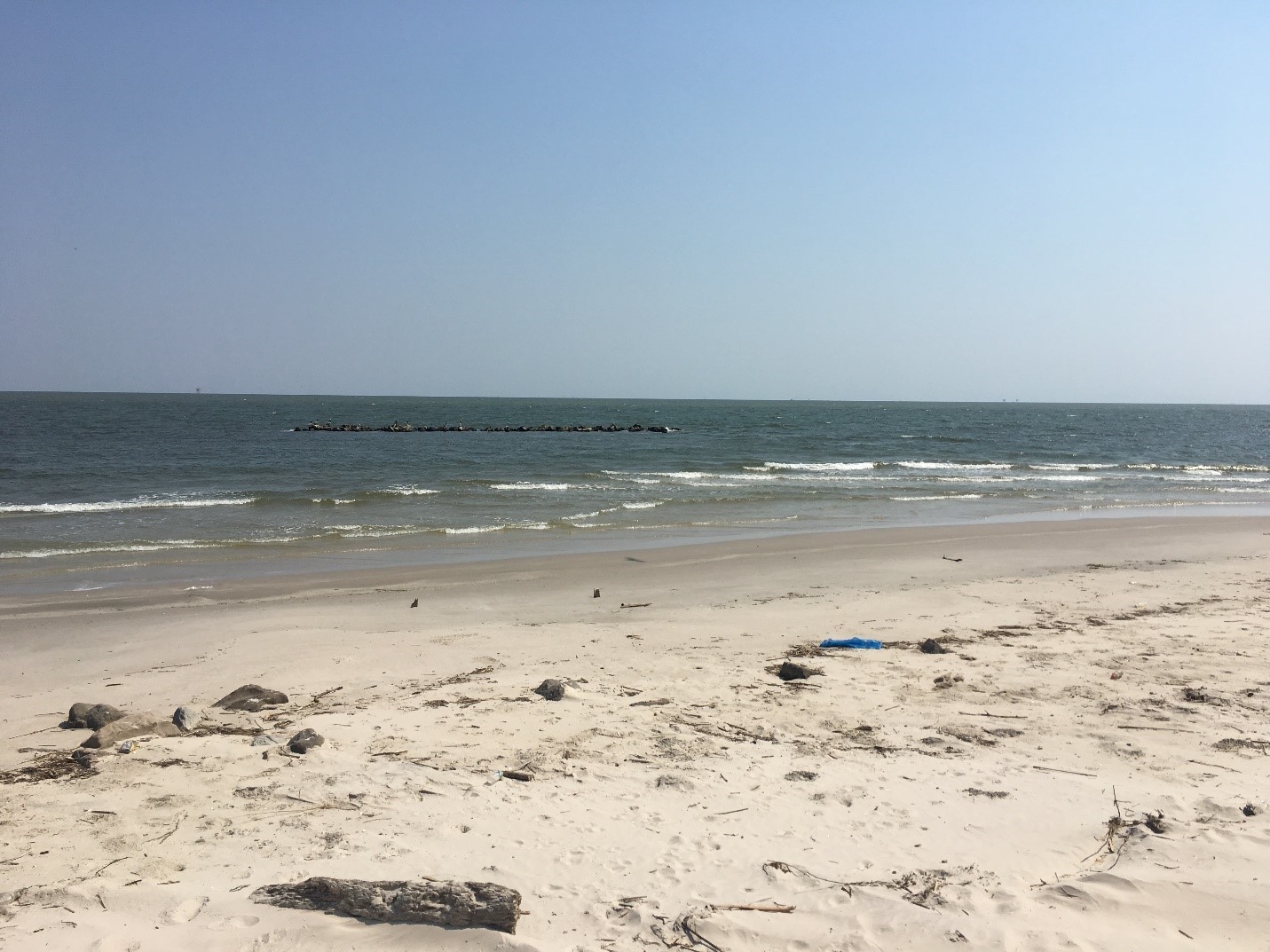 ---
Saturday, May 15, 2021
NGI Provides Visiting Instructor to Mississippi Aquarium's Homeschool Days in Gulfport, MS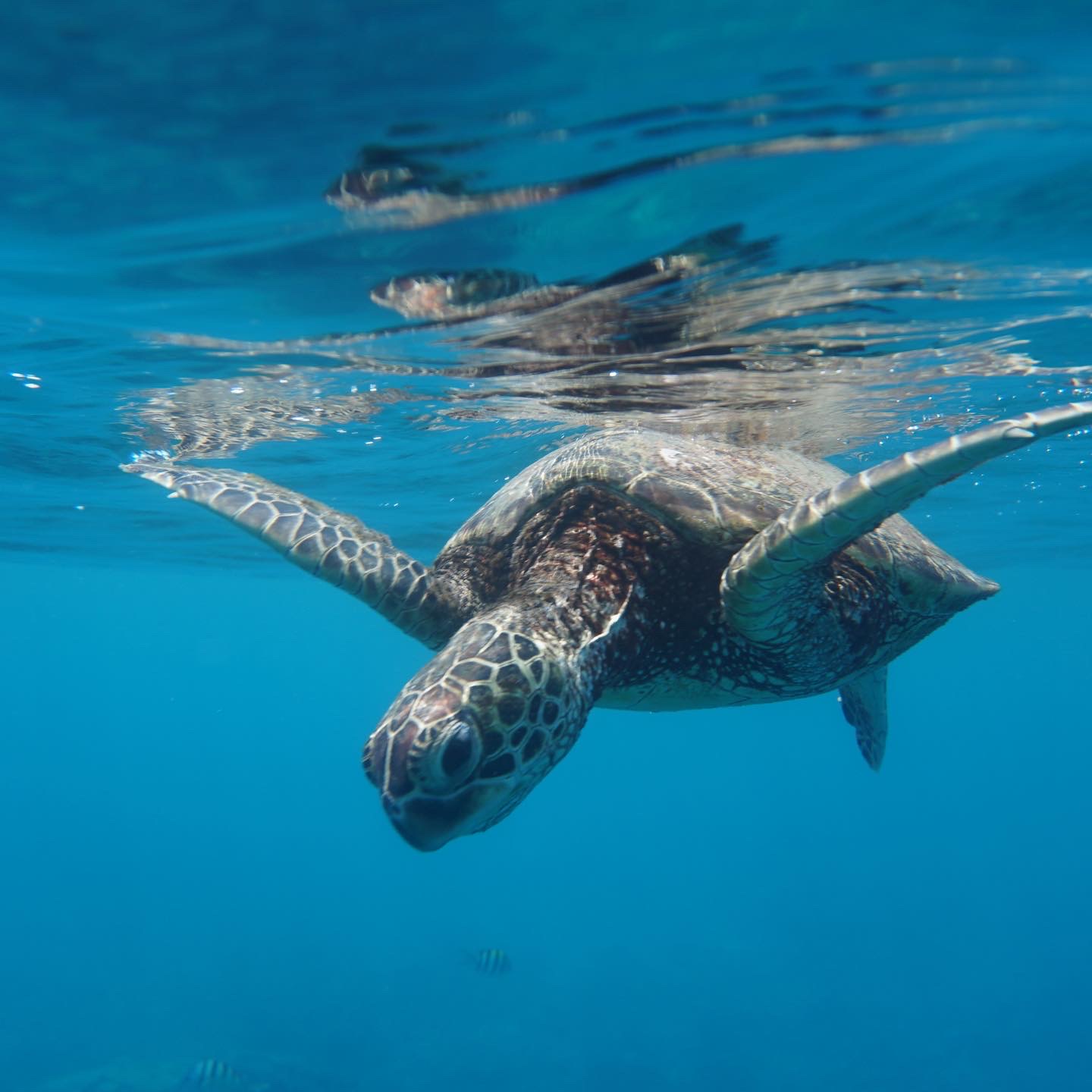 NGI Provides Visiting Instructor to Mississippi Aquarium's Homeschool Days, in Gulfport to let students experience what it is like to be an oceanographer by investigating the physical and biological properties of the ocean! Students learned about waves, barrier island movement and function, how salt affects water properties, and more!
Through this program, the Mississippi Aquarium welcomes homeschool families and groups to visit, explore, and participate in hands-on educational activities. Our themed programs are designed for students of all ages and are the perfect complement to any science curriculum.
The Mississippi Aquarium tells the incredible story of all of Mississippi's aquatic resources from the Delta to the coastline and the remarkable connection that ties all of the state's natural resources uniquely together. Featuring the warm waters of the Gulf of Mexico and beyond, the roaring waters of the mighty Mississippi River and the wetlands and marshes of the tranquil bayous, the story of Mississippi's natural resources had never been told in this extraordinary way. The Aquarium understands that living in Mississippi is about the outdoor experience and the relationships of its people. Mississippi Aquarium represents education, conservation and community. The Aquarium will provide visitors many opportunities to be entertained and fully immersed in the aquatic wonder that Mississippi has to offer.
Visit Your Mississippi Aquarium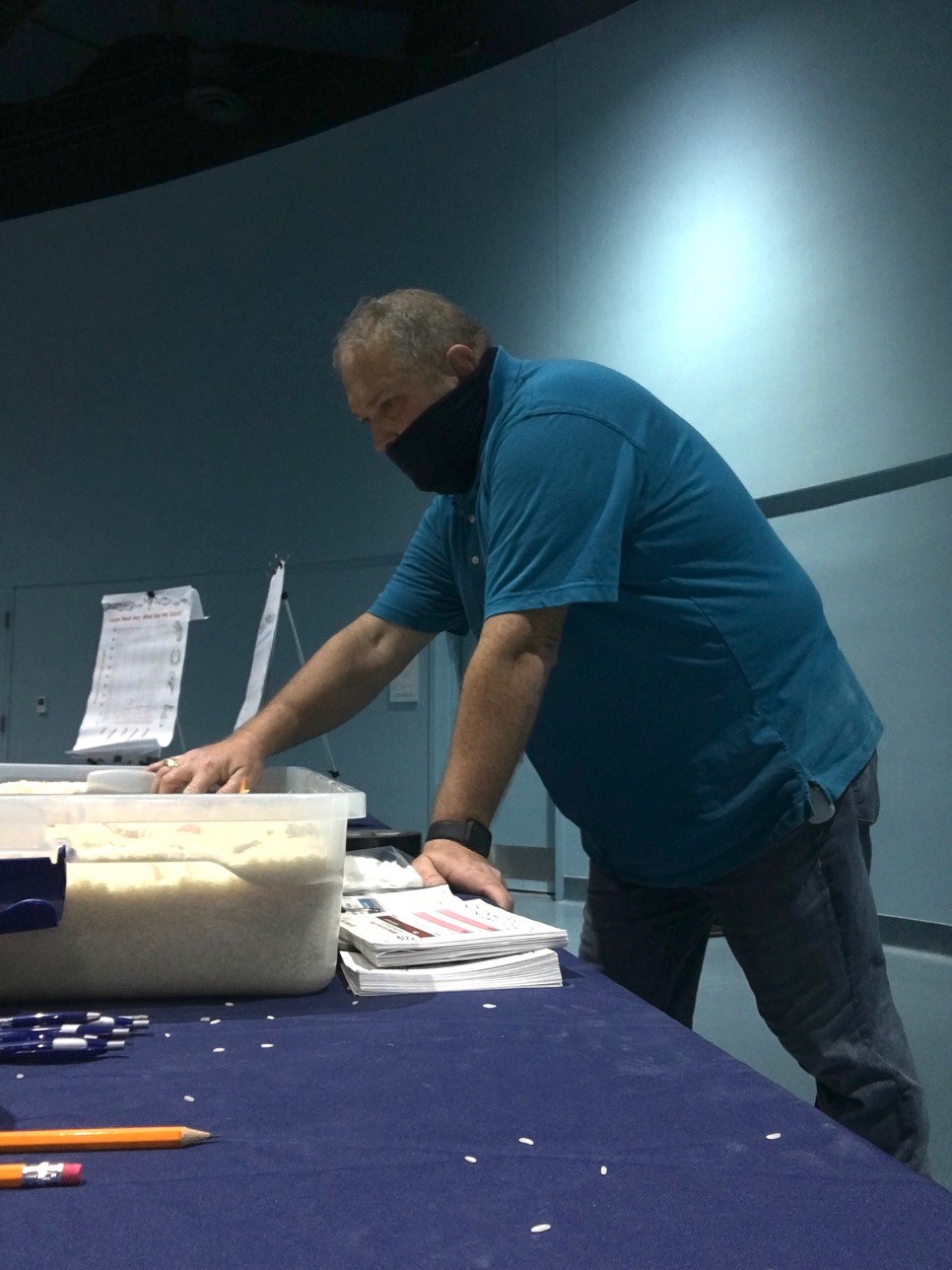 ---
Saturday, May 15, 2021
Now Available - Middle School Science (STEM) Curriculum Highlights Ocean Modeling
Students' engagement with science that connects with something that is relevant in their lives can increase the meaningfulness of science application and help solidify its importance. With that goal in mind, outreach coordinators and researchers with the Consortium for Ocean-Microbial Interactions in the Ocean (CSOMIO) developed a middle school science curriculum "Modeling the Gulf of Mexico" based on their efforts to improve oil transport and fate modeling. The curriculum targets students living in Florida and other Gulf states and introduces them to science that impacts their own lives.
"Our scientific team is working to produce a comprehensive framework for simulating and understanding the role that microbes play in mitigating the impacts of oil spills, so the topics covered in this curriculum align with that research," said CSOMIO principal investigator Dr. Eric Chassignet.
The curriculum contains five complete lessons: "Go with the Flow," "Oil Remediation," "Visualizing Ocean Currents," "The Gulf of Mexico Ecosystem," and "Refining an Ocean Model." Each lesson includes materials such as teacher guides, student worksheets, maps (courtesy of Ocean Conservancy), and answer keys with grading rubrics.
The CSOMIO outreach team collaborated with educators to design lesson plans and activities that meet the Florida State Board of Education's Standards for Science to ensure that the materials are easily used in Florida classrooms. The curriculum follows the instructional model, in which each represents a different phase of the learning process: Engage (grab students interest), Explore (students self-study the material), Explain (students become more familiar with the material with teacher guidance), Elaborate (students apply what they learned), and Evaluate (students demonstrate their understanding of the material).
The CSOMIO outreach coordinators field-tested the lesson plans through collaboration with Florida State University's Sea-to-See program, which introduces students to Florida's diverse marine life and promotes the importance of conservation. The curriculum also includes an Accommodations section in the appendices that offer vocabulary, modified questions, and alternate procedures for each lesson. These accommodations are designed to assist students who require a 504 Plan, an Individualized Education Plan, or who are learning English as a second language.
"Our intent was to provide practical lessons that can help make the complex world of computer modeling more approachable to middle grades students," said CSOMIO science educator Karolyn Burns. "Ultimately, the feedback from both practicing teachers and oceanographic researchers was invaluable, and I hope that it proves useful to educators, as well as engaging for learners."
"This middle school curriculum complements a high school science curriculum released in 2015 by the Deep Sea to Coast Connectivity in the Eastern Gulf of Mexico (Deep-C) consortium", said Tracy Ippolito, who coordinated outreach for both Deep-C and CSOMIO. The Deep-C team compiled and developed the 144-page multi-disciplinary high school curriculum around the five main research areas of its consortium (geomorphology, geochemistry, ecology, physical oceanography, and modeling) and draws connections between science and real-world applications for handling issues such as environmental disasters, their ecosystem impacts, and recovery.
A downloadable PDF version of the CSOMIO middle school science curriculum is available at
CSOMIO-MS-Curriculum.pdf.
By Stephanie Ellis and Nilde Maggie Dannreuther. Contact
sellis@ngi.msstate.edu
for questions or comments.
************
The Gulf of Mexico Research Initiative (GoMRI) is a 10-year independent research program established to study the effect, and the potential associated impact, of hydrocarbon releases on the environment and public health, as well as to develop improved spill mitigation, oil detection, characterization, and remediation technologies. An independent and academic 20-member Research Board makes the funding and research direction decisions to ensure the intellectual quality, effectiveness, and academic independence of the GoMRI research. All research data, findings, and publications will be made publicly available. The program was established through a $500 million financial commitment from BP. For more information, visit
http://gulfresearchinitiative.org/
.
Copyright 2010-2020 Gulf of Mexico Research Initiative (GoMRI) - All Rights Reserved. Redistribution is encouraged with acknowledgment to the Gulf of Mexico Research Initiative (GoMRI). Please credit images and/or videos as done in each article. Questions? Contact web-content editor Nilde "Maggie" Dannreuther, Northern Gulf Institute, Mississippi State University (
maggied@ngi.msstate.edu
).
---
Saturday, May 15, 2021
Education & Outreach Opportunities at NGI - Mississippi State
STEAM: Science Through the Arts
STEAM programs add art to the STEM curriculum by drawing on design principles and encouraging creative solutions. In 2013, a joint resolution was introduced in the United States House of Representatives expressing the sense that adding art and design into Federal programs that target the STEM fields encourages innovation and economic growth in the United States.
The Travelling Trunk Education & Outreach Program
NGI has developed loanable "Travelling Trunk Shows" which include Art and Science-based curriculum designed to support the national college and career readiness standards. We typically include the "science, literature and arts behind the scenes" that includes targeted classwork and lessons of discovery for oceanography, marine and fisheries science, and weather. These trunks provide STEAM-focused interaction with large numbers of schoolchildren, their parents, teachers, and administrators.
NGI Art and Design Competition
The Northern Gulf Institute (NGI) at Mississippi State University is proud to announce a STEAM art competition, where original drawings, paintings, photography, or other renderings, depicting the natural environment, marine, avian, or aquatic species, the ocean, or weather, as related to the Mississippi River, The Gulf Coast, or the Gulf of Mexico Basin, are to be submitted for review. The winner of the competition will have their art featured in the "Portal" Newsletter.
Continuing Education Opportunities
Computational Thinking with 3D Weather Teacher Workshop (Summer 2022). This Workshop is part of the 3D Weather project funded by the National Science Foundation (NSF) to develop instructional materials for teaching computational thinking to K-12 students through explorations of atmospheric science and weather data using Unidata's Integrated Data Viewer (IDV). We will use IDV to create 3D weather visualizations from freely available, real-world weather data.
The objective of the 3D Weather project is to use meteorology and IDV to enable teachers to teach computational thinking skills to K-12. During the online portion of this workshop (July 5-11), you will learn background information for computational thinking and the meteorology topics we will discuss during the in-person workshop. During the in-person portion of this workshop (July 12-16), you will learn how to use IDV to visualize data for different meteorology topics and how to analyze the data using 11 computational thinking skills. Then, you will modify an existing lesson plans in order to incorporate computational thinking skills into the lesson.
This Workshop provides the requisite background information on computational thinking, meteorology topics, and IDV so that you can use 3D Weather visualizations to teach computational thinking to your students. (Earn up to 8 CEUs).
The Northern Gulf Institute (NGI) has joined with the Department of Geosciences and the Center for Distance Education at Mississippi State University to provide Continuing Education and/or 4 hours of Graduate College Credit to teachers and professionals wishing to undertake a 7-10 day geosciences field course. The course locations for this year are Bahamas (split undergrad/grad), Western WA, NY, and Great Plains Storm Chase. A science background is helpful to successfully complete these courses and costs $1250 plus tuition (4 hours of in-state graduate credit). (approximately $2978 total) Additionally, for most of the trips, the students pay for their meals, but the Bahamas trip includes meals. Students are also responsible for getting to the start location on their own (e.g Seattle, Nassau, Oklahoma City, etc.).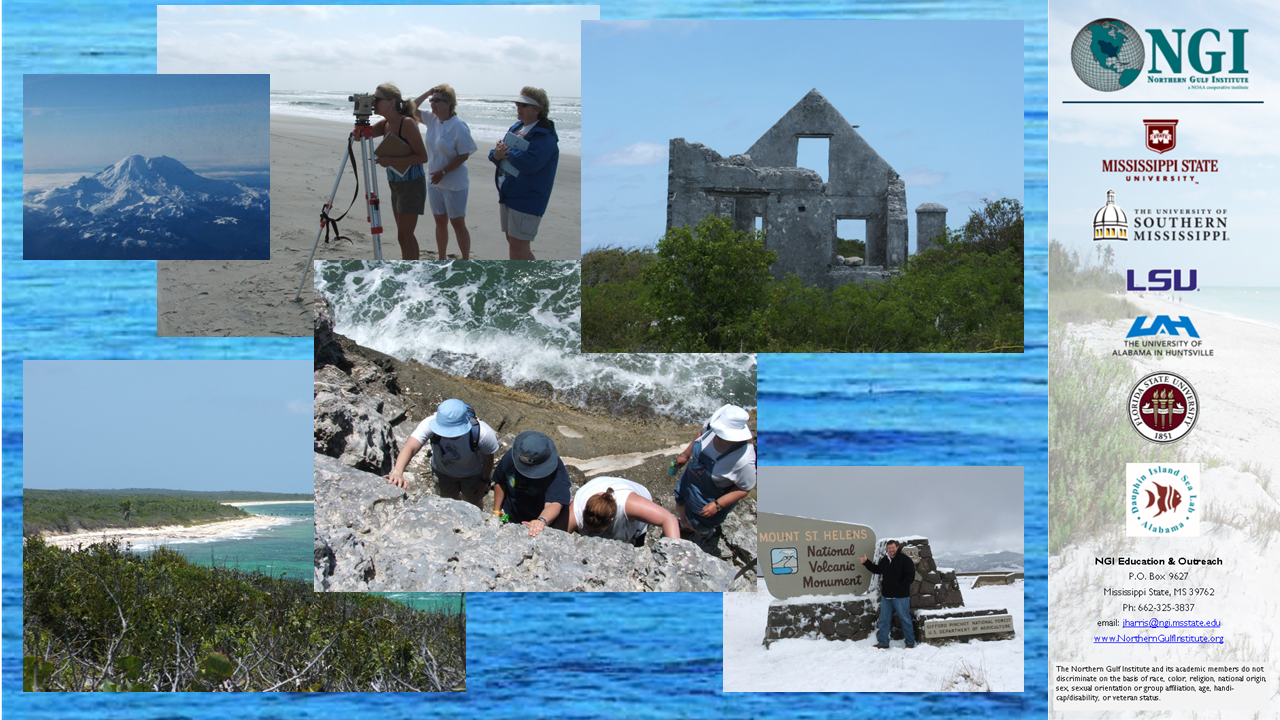 Visiting Scientists to your Classroom or Organization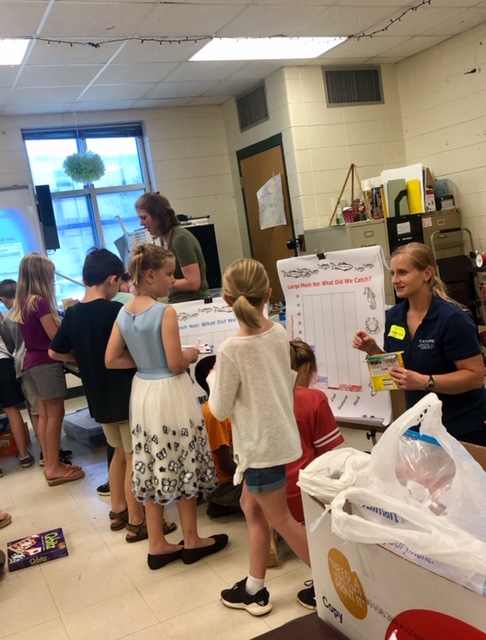 The NGI can provide assistance in locating a guest speaker for your classroom or organization meeting to discuss various topics including Coastal Hazards, Geospatial Data Integration and Visualization, Ecosystem Management Climate Change, and use of UAV/AUVs in the environmental and agricultural sciences.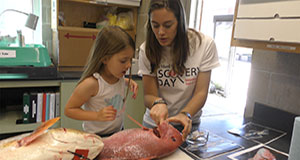 Lesson Plan Database
NGI along with the INSPIRE program is developing a database of approximately 500 Mississippi Science Curriculum-based lesson plans and assignments for k-12 classrooms. These will be linked to our website in the near future. Click Here for Lesson Plans:
http://gk12.msstate.edu/lessonplans.html
For More information please contact the Education & Outreach Office at
EandO@ngi.msstate.edu
---
Saturday, May 15, 2021
DISL - Four States Represented in 8th Annual ROV Competition
Acorns to Oaks Water Wardens competed in the Scout Challenge Class and placed first. They are from Slidell, Louisiana. (DISL)
This weekend, the Dauphin Island Sea Lab's Discovery Hall Programs hosted the 8th annual Northern Gulf Coast Regional MATE ROV Competition. More than a dozen teams from four states competed with their custom-built remotely operated vehicles (ROVs). The competition is a part of the Marine Advanced Technology Education (MATE) network of 30 regional competitions held across the U.S. and around the world.
Each year, MATE creates a scenario to inspire and challenge the students to apply science, technology, engineering, and math to solve real-world problems. With its focus on education, the competition is less about winning and more about strengthening students' critical thinking, collaboration, entrepreneurship, and innovation skills.
Pensacola Catholic High School competed in the Navigator Challenge Class and placed first. (DISL)
For the 2021 competition, students designed and tested their ROVs to carry out missions impacting the global community like examining coral reef health, cleaning trash from the waterways, and testing the health of our waters. Students also developed a poster or a presentation outlining how they designed and built their ROV to complete each mission.
There are four challenge classes in the MATE competition and in each class the missions and ROVs increase in complexity. This year, teams competed in the Scout and Navigator challenge classes.
Scout Challenge Class:
3rd Place: Tyndall Turtles, Tyndall Academy
2nd Place: S.E.A. Panthers, Jemison Intermediate School
1st Place: Water Wardens, Acorns to Oaks
Navigator Challenge Class:
2nd Place: Los Tiburones, Baton Rouge International
1st Place: Crubotics, Pensacola Catholic High School
Each year, specialty awards are presented by the judges and volunteers. Summerdale School's Aquabot Co. received the Buoyancy Award for rising to the challenge when things appear to be sinking. Baton Rouge International School's (BRIS) Deep Sea Falcons earned the Tethered Together Award for their exceptional teamwork.
The dates for the 2022 competition are set for April 29 through May 1.
The MATE Regional ROV Competition is a part of the Dauphin Island Sea Lab's Discovery Hall Programs' K-12 STEM Programs. More information on the competition can be found
here
.
---
Saturday, May 15, 2021
DISL's Aquarium Designated Official Aquarium of Alabama
Rivers snake throughout the landscape of Alabama, shaping communities as you travel from east to west and north to south. At the tip of Dauphin Island where these rivers meet the sea, the public aquarium at the Dauphin Island Sea Lab connects the dots and highlights the importance of the Alabama Watershed for industry and recreation throughout the state.
This week, Alabama Governor Kay Ivey signed
HB136
designating the
Sea Lab's aquarium
to be the official Aquarium of Alabama, highlighting its importance to education and research conducted by DISL.
This Aquarium highlights the importance of each habitat, introducing you to the animals and plants that live in each, and it describes the research conducted by DISL scientists to ensure the health of our state's remarkable coastal resources.
Since 1998, more than one million students and visitors have walked through the doors of the aquarium. The visual and interactive exhibits take visitors on a journey through the Mobile Tensaw-Delta and Mobile Bay, along the barrier islands, and into the northern Gulf of Mexico. The aquarium was created to improve ocean literacy and enhance the public understanding and wise stewardship of our coastal resources.
The aquarium is open to the public seven days a week from 9 a.m. to 5 p.m. from March 1 to September 1, and 10 a.m. to 4 p.m. from September 2 to February 28.
---
Saturday, May 15, 2021
Use of Drift Studies to Understand Seasonal Variability in Sea Turtle Stranding Patterns in Mississippi
Melissa Cook
melissa.cook@noaa.gov
Keywords: Carcass drift, Carcass decomposition, Sea turtle strandings, Endangered species, Stranding seasonality, Stranding reporting rates, Sea turtle effigies
---
Abstract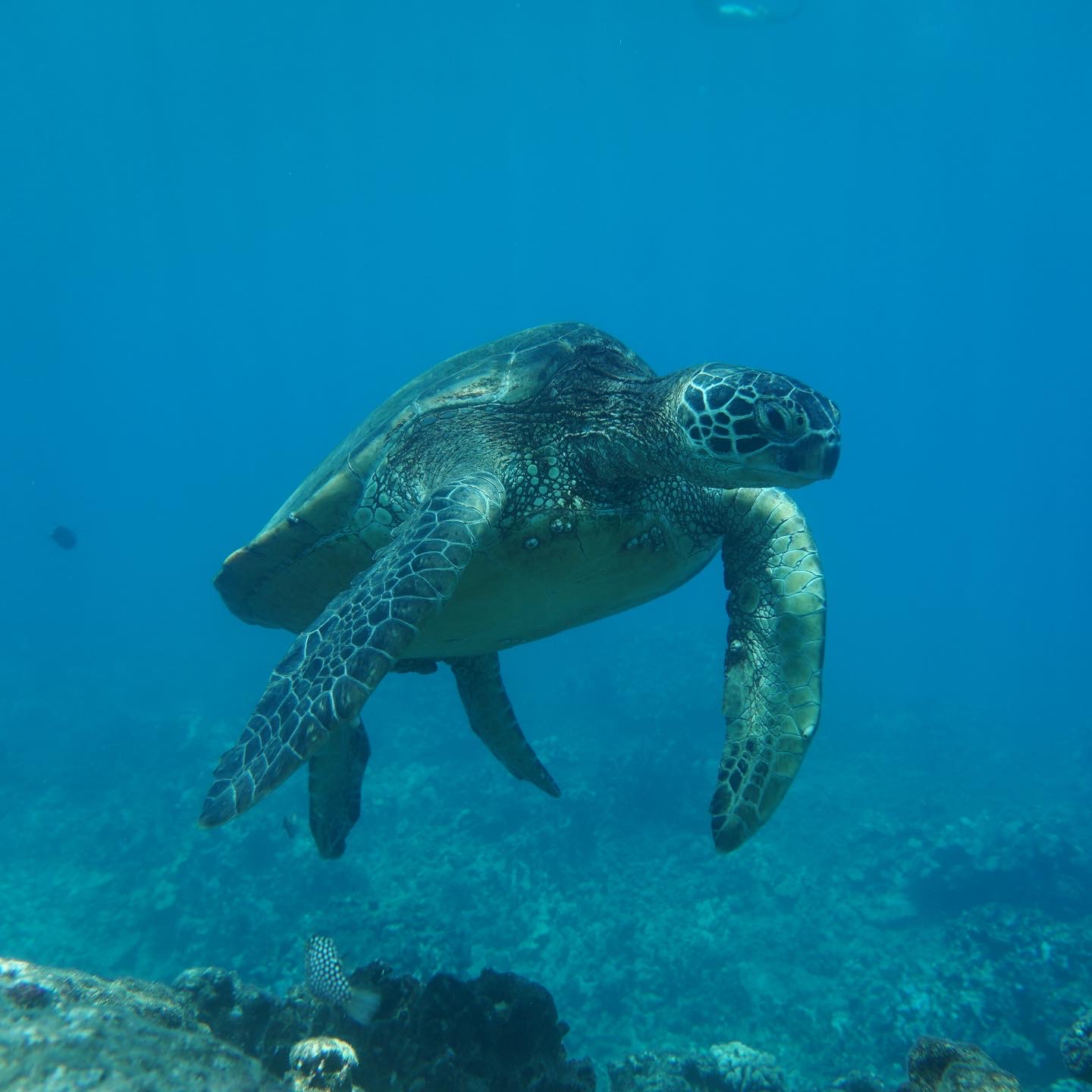 Stranded sea turtles provide valuable information about causes of mortality that threaten these imperiled species. Many potential factors determine whether drifting sea turtles are deposited on shore, discovered by people, and reported to stranding networks resulting in successful documentation. We deployed sea turtle cadavers and wooden effigy drifters with affixed GPS-satellite tags to study stranding probability in the northern Gulf of Mexico in an effort to better understand seasonal stranding variations in this region. We also documented reporting of carcasses by the public to determine reporting rates. Season and distance from shore greatly influenced beaching results. During winter months when strandings are infrequent and sea turtle abundance is likely low in cold nearshore waters, carcasses had an 80 – 90% probability of beaching. Beaching probability was reduced to 37 – 50% during the spring, which is the period of greatest strandings in this region. During summer months when relatively few strandings are documented, the probability of a carcass beaching dropped to only 4 – 8%. Low summer stranding rates were coincident with higher rates of decomposition (7%) attributed to warmer water temperatures, more frequent scavenging (69% of carcasses), and shifting wind and current patterns which drive carcasses offshore or to remote locations. As waters cooled in the fall, probability of carcasses beaching increased to 40 – 48%, coincident with a small pulse in strandings that often occurs during this period. Only 28% of carcasses and effigies came ashore on mainland beaches and were easily available for discovery by the public, 49% were on barrier islands that are publicly accessible and 23% beached in dense salt marshes where discovery was unlikely. The 47% of objects that did not beach included those lost at sea and carcasses that were likely scavenged or decomposed. Only 22% of beached carcasses were reported due to infrequent (11%) reporting on barrier islands. Notably, only 50% of carcasses deposited on mainland beaches were reported, which was lower than anticipated. We recommend additional efforts to increase reporting rates of carcasses by the public and use of dedicated surveys to detect stranded sea turtles, especially on barrier islands in this region.
View Full Document Here:
/portal/media/docs/2021/Carcass_Drift_Frontiers_1-8-21.pdf
---
Saturday, May 15, 2021
Bio-physical Changes in the Gulf of Mexico During the 2018 Hurricane Michael
Ebenezer S. Nyadjro, Zhankun Wang, James Reagan, Just Cebrian, and Jay F. Shriver
---
Abstract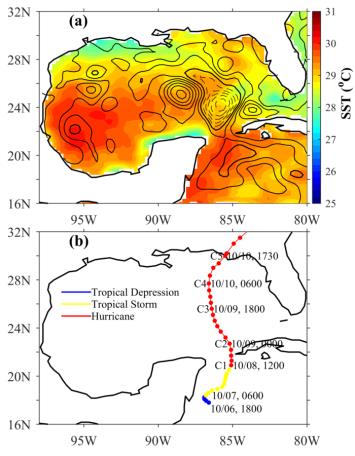 We investigate the impacts of one of the strongest recorded hurricanes to have hit the Florida Panhandle, Hurricane Michael (2018), on the upper ocean using a suite of satellite data, in-situ profiles, and outputs from the HYbrid Coordinate Ocean Model (HYCOM). Strong, low-level cyclonic winds associated with the hurricane generated strong Ekman suction that propagated ahead of the hurricane and caused changes in the surface and subsurface ocean. Following the passage of Hurricane Michael, a 3Ã'Ã'°C drop in sea surface temperature (SST) was accompanied with a 4-5 mg m-3 increase in chlorophyll-a concentration. In the subsurface, a ~15 m mixed layer deepening preceded upward displacements of the isotherms and cooling of the mixed layer. The impact of hurricane conditions on sea surface salinity (SSS) was localized and influenced by competing processes, with upwelling of salty subsurface water increasing SSS and enhanced precipitation decreasing SSS. During the peak of the hurricane, the impact of upwelling was greater than that of enhanced precipitation and, thus, SSS increased. Further away from the upwelling centers, hurricane-influenced precipitation, and river runoff freshened SSS.
Sea surface temperature (color shading, Ã'ºC) and sea level anomaly (contours, m) during October 3, 2018. (b) Best track plot and evolution of Hurricane Michael. Times are in Coordinated Universal Time (UTC). C1-C5 stand for hurricane category 1-5.
View Full Document Here:
/portal/media/docs/2021/HurricaneMicheal_Nyadjro.pdf
---
Saturday, May 15, 2021
Endangered Smalltooth Sawfish!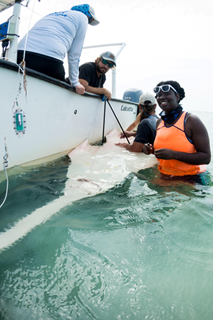 Jasmin Graham in the field
New research led by former FSUCML graduate student Jasmin Graham from Dr. Dean Grubbs' lab sheds light on large-scale movements and migration in smalltooth sawfish, a critically endangered species. In collaboration with researchers from NOAA, FWC and NASA, the team tracked the movements of 43 large juvenile and adult smalltooth sawfish for up to three years. Sawfish tagged near Key West were detected as far north as off Georgia and the Florida Panhandle. The study showed that areas designated as Critical Habitat for small juvenile smalltooth sawfish, Everglades National Park and the Caloosahatchee and Peace Rivers, are also important for adult sawfish. However, the study also suggests important habitat for larger smalltooth sawfish exists in several other regions such the deeper areas along the edge of the continental shelf in the Florida Keys, the area around Boca Grande on the Gulf coast of Florida, and just off Cape Canaveral on the Atlantic coast. These results will prove valuable to ongoing efforts by the Smalltooth Sawfish Recovery Implementation Team (
http://www.sawfishrecovery.org/
) to promote recovery of this endangered species.
This research was conducted under Endangered Species Permit nos. 15802, 17787, and 22078 issued by NOAA Fisheries.
Check out this highlight on Graham's research in
The New York Times
!
Read the full paper
here
---
Saturday, May 15, 2021
NGI's Just Cebrian Awarded 2021 Faculty Research Award
Mississippi State University has awarded Just Cebrian the 2021 University Centers and Institutes Faculty Research Award.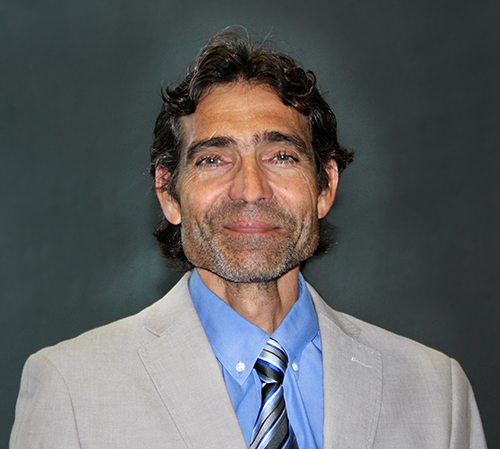 ---