Monday, March 15, 2021
NOAA - Science Advisory Board Accepts Review Teams' Recommendation to Grant NGI a New 5-year Award, Starting October 1, 2021
In May 2020, NGI was reviewed (virtually) as part of the process to be considered for a new 5-year Cooperative Institute award.
In the fall of 2020, the SAB accepted the review teams' recommendation to grant NGI a new 5-year award starting October 1, 2021. As of March 24, 2021, NGI is in the process of preparing a renewal proposal in anticipation of an RFA soon.
The science review team was selected by NOAA's Science Activity Board (SAB) and consisted of:
Denise Reed (Chair)
Ben Kirtman
Jane Smith
Richard Fulford
LaDon Swann
The administrative review team consisted of:
Dalynne Julmiste (Chair)
Arlene Simpson Porter
Sandra Byers
Courtney Edwards
Jeff Joyner
Katie Neupane
Molly Baringer
Nadia Musa
Shannon Louie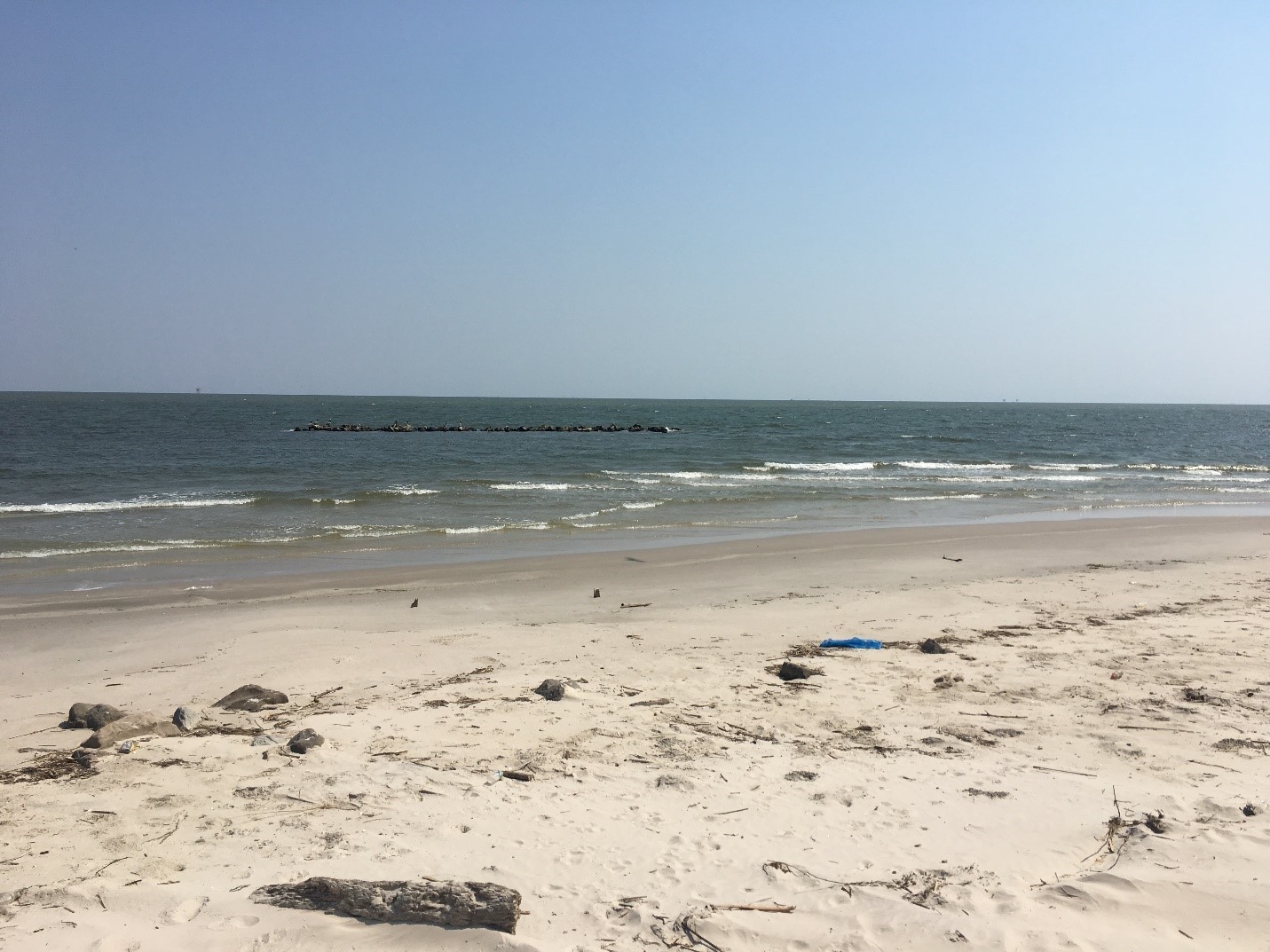 ---
Monday, March 15, 2021
NGI - Bringing New Technologies to Fisheries Surveys
From March to May, NGI Postdoctoral Associate Sean Anderson is taking part in two legs of a NOAA Fisheries survey in the Gulf of Mexico on board NOAA Ship
Pisces
. The NOAA project, "Environmental DNA Enhancement of Fisheries Independent Monitoring Cruises for Ecosystem Based Fisheries Management", seeks to improve ecosystem-based fisheries management (EBFM) with the use of environmental DNA (eDNA) sequencing. Camera traps (pictured) placed at the seafloor in the Gulf of Mexico capture video of passing fish, while bottles collect seawater that the fish have passed through, leaving behind DNA traces.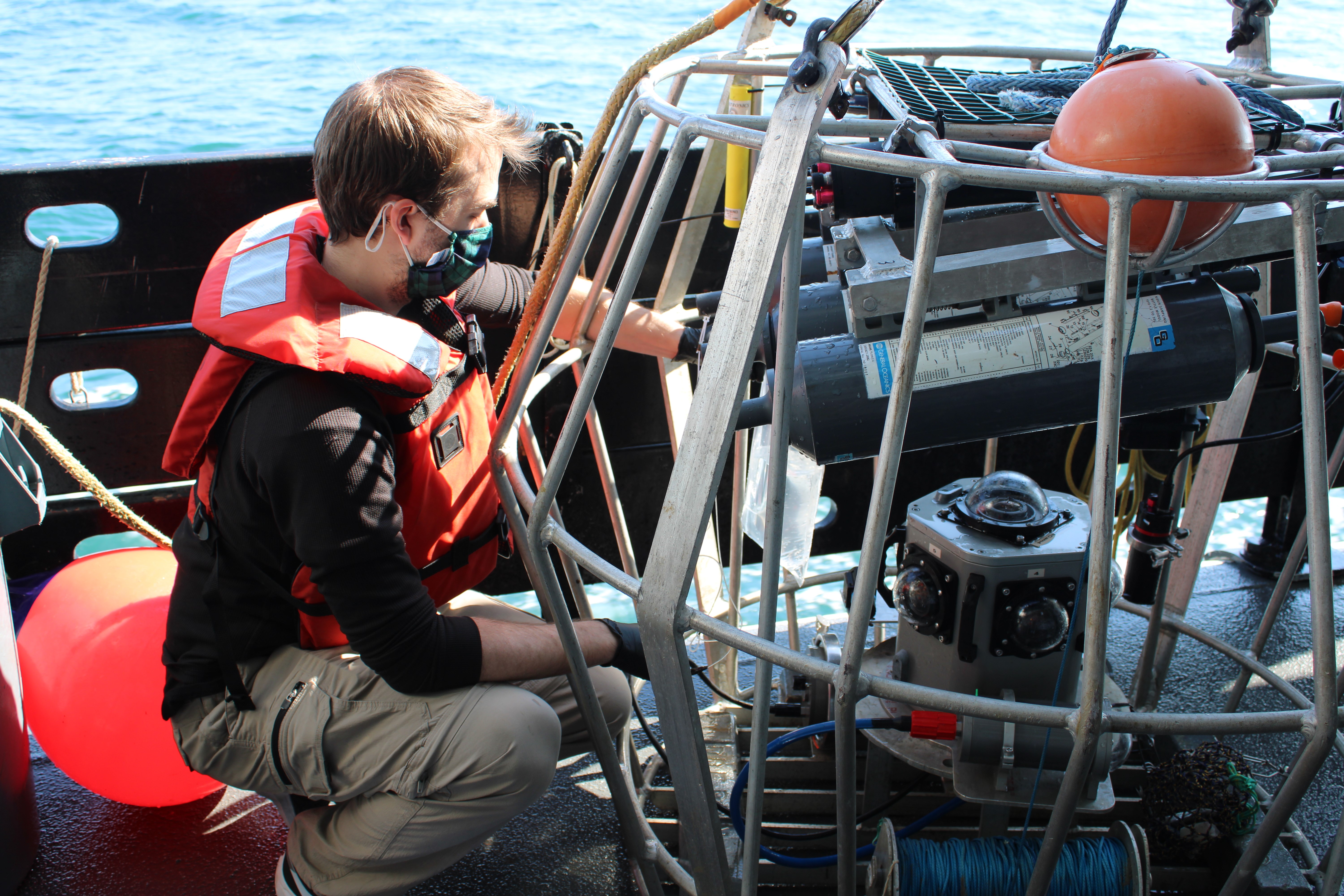 The seawater is filtered back on the ship (pictured), and subsequently the filtered DNA is extracted, sequenced, and analyzed. This work will increase our understanding of how eDNA detection of fishery species correlates with direct measurements of these species by camera traps. Ultimately, this work will improve understanding of fish distributions in the Gulf of Mexico and extend our understanding through modeling of these distributions. The SEAMAP reef fish video (SRFV) survey is being conducted by NMFS Mississippi Laboratories and by the sanctuaries Marine Biodiveristy Observing Network (MBON) led by the University of South Florida. The project is led by Christopher Kelble (NOAA/AOML), Matthew Campbell (NOAA/NMFS/SEFSC), Ryan Caillouet (NOAA/NMFS/SEFSC), and Alexis Janosik (University of West Florida). Analysis of samples at the NOAA Atlantic Oceanographic and Meteorological Laboratory is being led by NGI Associate Research Professor Luke Thompson.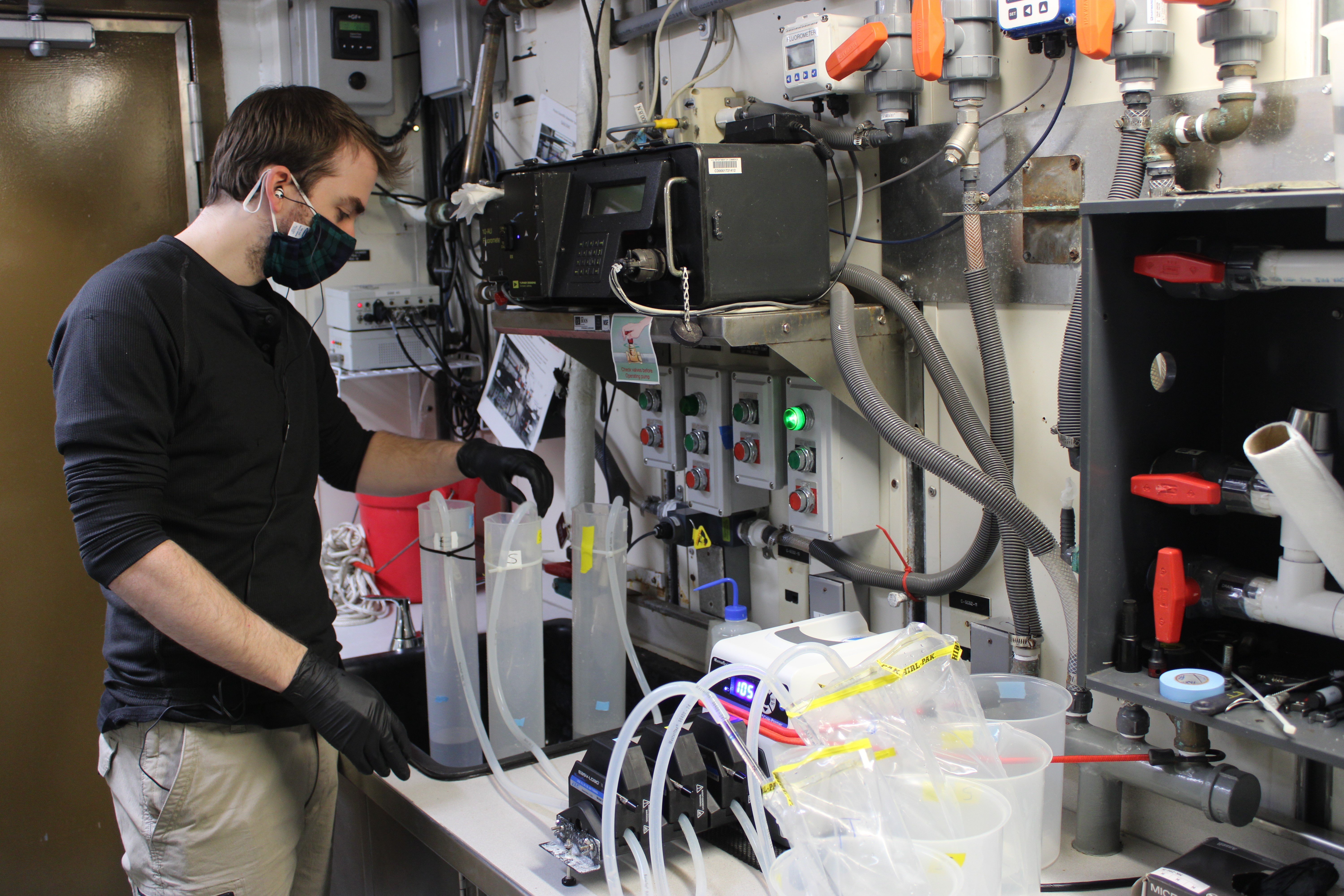 ---
Monday, March 15, 2021
NGI - Solving an eDNA Mystery
From the desk of CSI: Miami (Fish Edition): Solving an eDNA mystery. NGI Associate Research Professor Luke Thompson and NGI Postdoctoral Associate Sean Anderson have been studying the environmental DNA (eDNA) left behind by fish at the University of Miami dock (pictured), near the NOAA Atlantic Oceanographic and Meteorological Laboratory in Miami, Florida. When they analyzed the data, while many of the fish species detected were expected for the area, they were surprised by several unexpected species, such as rainbow trout. To help solve this mystery, Luke and Sean sent out a survey to fish biologists with expertise in this region.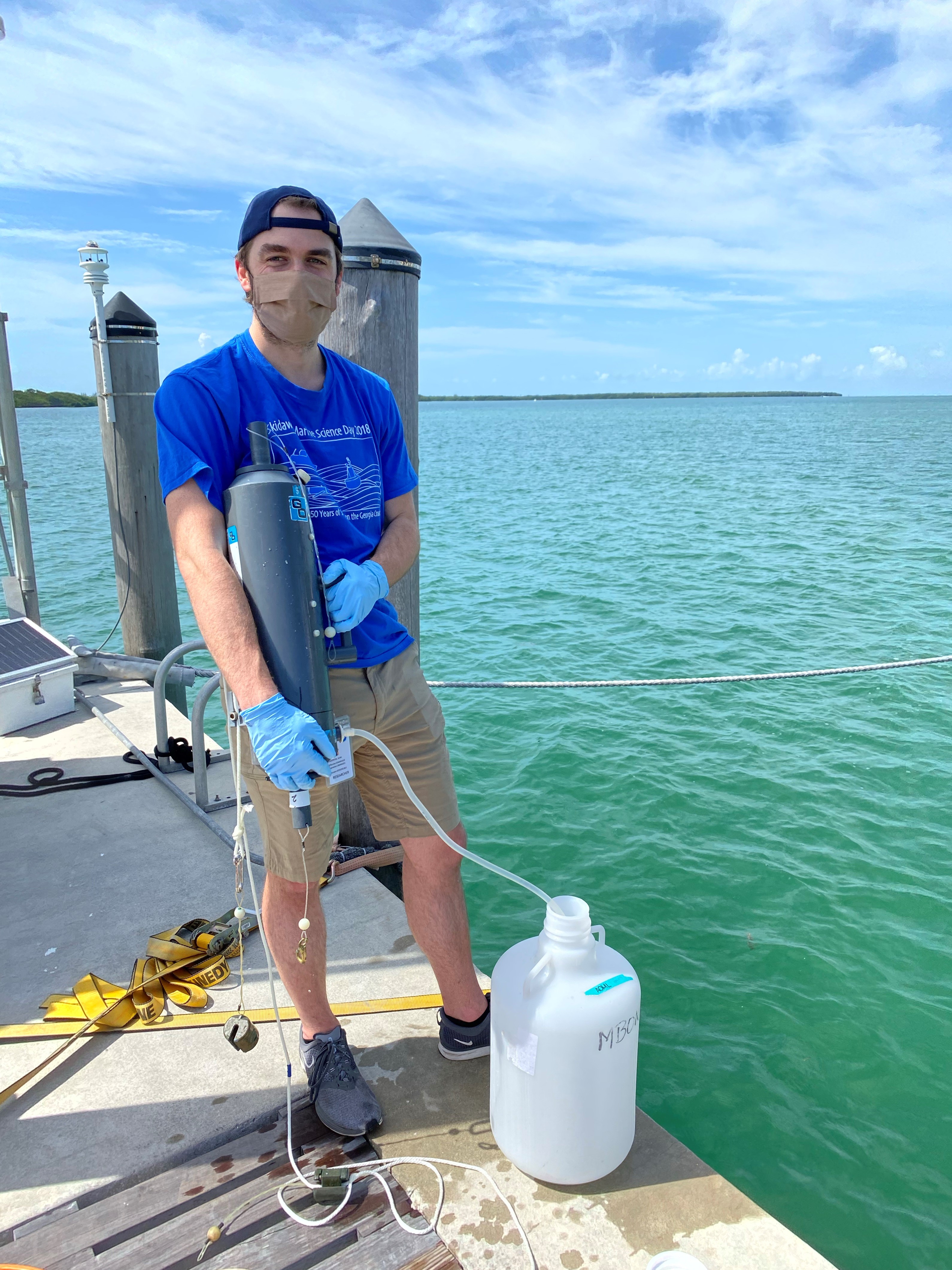 The response was overwhelming: they received over 20 survey responses and emails from expert a-fish-ionados willing to share their knowledge about South Florida fishes. Based on this expert feedback and our own research, 31 of the top 40 most abundant fish sequences could be accounted for as native to South Florida waters at the genus level or lowest assigned level. Regarding the non-native sequences, including the abundant sequence assigned as
Oncorhynchus mykiss
(rainbow trout), many respondents surmised that this DNA could be coming from fish parts being dumped nearby, with several mentioning the Miami Seaquarium. Luke and Sean subsequently confirmed with the curator of the Seaquarium that, indeed, they nightly dump leftover parts of three feed fishes:
Oncorhynchus mykiss
,
Clupea harengus
(herring), and members of Osmeridae (capelins and smelts), which were among the most abundant sequences observed, respectively. Two other non-native sequences, assigned to
Ammodytes
spp. (sand lance), may derive from common bait fish in fishing activities around Bear Cut. Case closed! ... though not yet peer-reviewed (in preparation). Luke and Sean thank everyone who chipped in on this forensics investigation!
---
Monday, March 15, 2021
NGI Sponsors Dauphin Island Sea Lab - 2021 Marine Science Graduate Student Symposium
The
2021 Marine Science Graduate Student Symposium
(GSS) will be planned and hosted by the Dauphin Island Sea Lab (DISL) graduate student organization. For those new to the symposium, this is a small-scale annual meeting specifically for graduate students to present their work to other students, traditionally hosted on a rotation between several Gulf Coast marine science institutions. It is a great opportunity to share work with other scientists at a similar career stage, and to get practice presenting. As with everything, COVID-19 has affected our ability to gather and share our science. However, we are dedicated to putting on the best symposium possible, and wish to use this opportunity to expand our reach to students at more institutions with this virtual option.
We look forward to hosting you and learning about all the amazing research that takes place along the Gulf Coast and beyond!
Apr 16 - 18, 2021
https://whova.com/web/msgss_202104
---
Monday, March 15, 2021
NGI's Kathryn Rose Presented on CMECS Geoform Mapping and Dynamic Standard Processes - Continues Research on Mesophotic and Deep Benthic Communities Associated with the Deepwater Horizon Event
NGI's Kathryn Rose, a panel member for the
Applying the Coastal and Marine Ecological Classification Standard (CMECS): Understanding Data, Tools, Technical Limits, and Possibilities
, gave presentations at a Special Interest Meeting (SIM) on Monday 8 February, at 1:00 - 3:00 PM. During the SIM, participants learned about ways to apply the CMECS terms and descriptions to data collected via a range of sensor platforms; how to tailor CMECS to their own projects; and propose changes to the standard so that it remains useful to the scientific community as advances in technology and the state of knowledge are made. The titles of her presentations were
A CMECS Geoform Map for the Gulf of Mexico
(K. Rose, J. Cebrian) and
The CMECS Dynamic Standard Process: Overview and Update
(K. Rose).
Kathryn is also working on the NRDA-funded Deepwater Horizon Mesophotic and Deep Benthic Communities (MDBC) Mapping, Ground-Truthing, and Predictive Habitat Modeling Project. The project is conducting an inventory of existing seafloor mapping and ground-truth data from federal, industry, and academic sources to be used in the development of suitable habitat models for meso- and deep-water corals.
Click here for more information.
---
Monday, March 15, 2021
NGI Provides Visiting Instructor to Mississippi Aquarium's Homeschool Days in Gulfport, MS
NGI Provides Visiting Instructor to Mississippi Aquarium's Homeschool Days, in Gulfport to let students experience what it is like to be an oceanographer by investigating the physical and biological properties of the ocean! Students learned about waves, barrier island movement and function, how salt affects water properties, and more!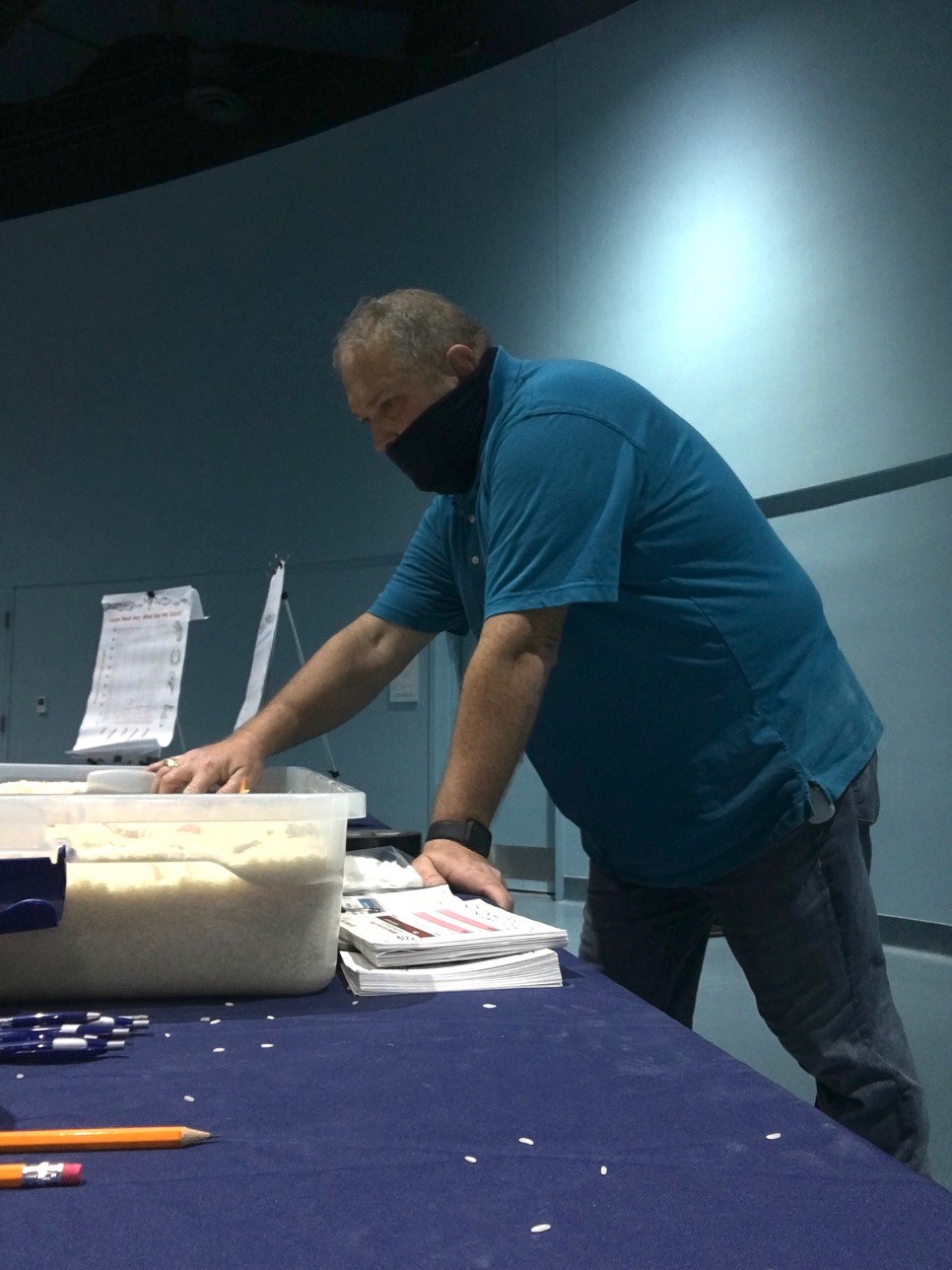 Through this program, the Mississippi Aquarium welcomes homeschool families and groups to visit, explore, and participate in hands-on educational activities. Our themed programs are designed for students of all ages and are the perfect complement to any science curriculum.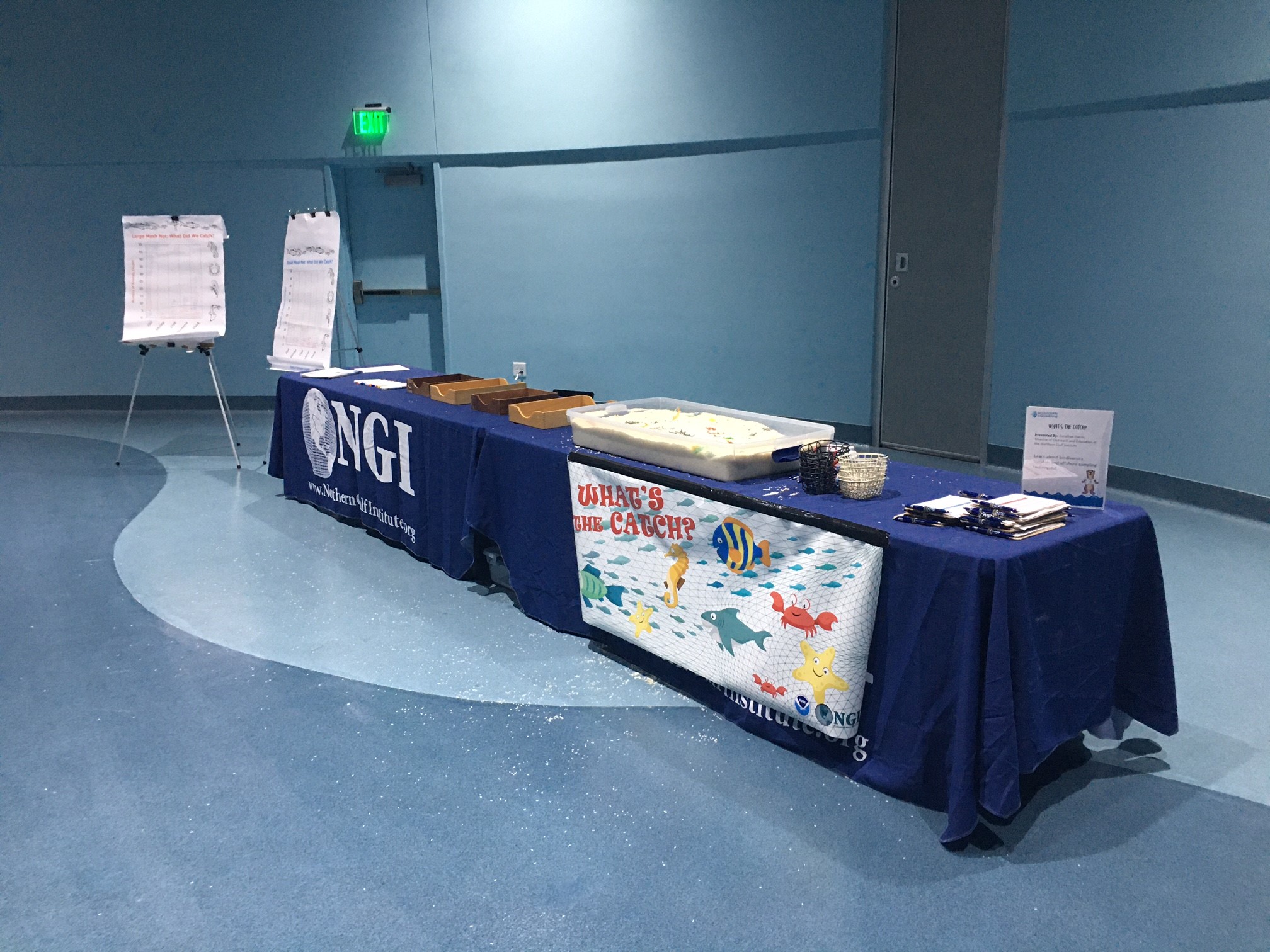 The Mississippi Aquarium tells the incredible story of all of Mississippi's aquatic resources from the Delta to the coastline and the remarkable connection that ties all of the state's natural resources uniquely together. Featuring the warm waters of the Gulf of Mexico and beyond, the roaring waters of the mighty Mississippi River and the wetlands and marshes of the tranquil bayous, the story of Mississippi's natural resources had never been told in this extraordinary way. The Aquarium understands that living in Mississippi is about the outdoor experience and the relationships of its people. Mississippi Aquarium represents education, conservation and community. The Aquarium will provide visitors many opportunities to be entertained and fully immersed in the aquatic wonder that Mississippi has to offer.
Visit Your Mississippi Aquarium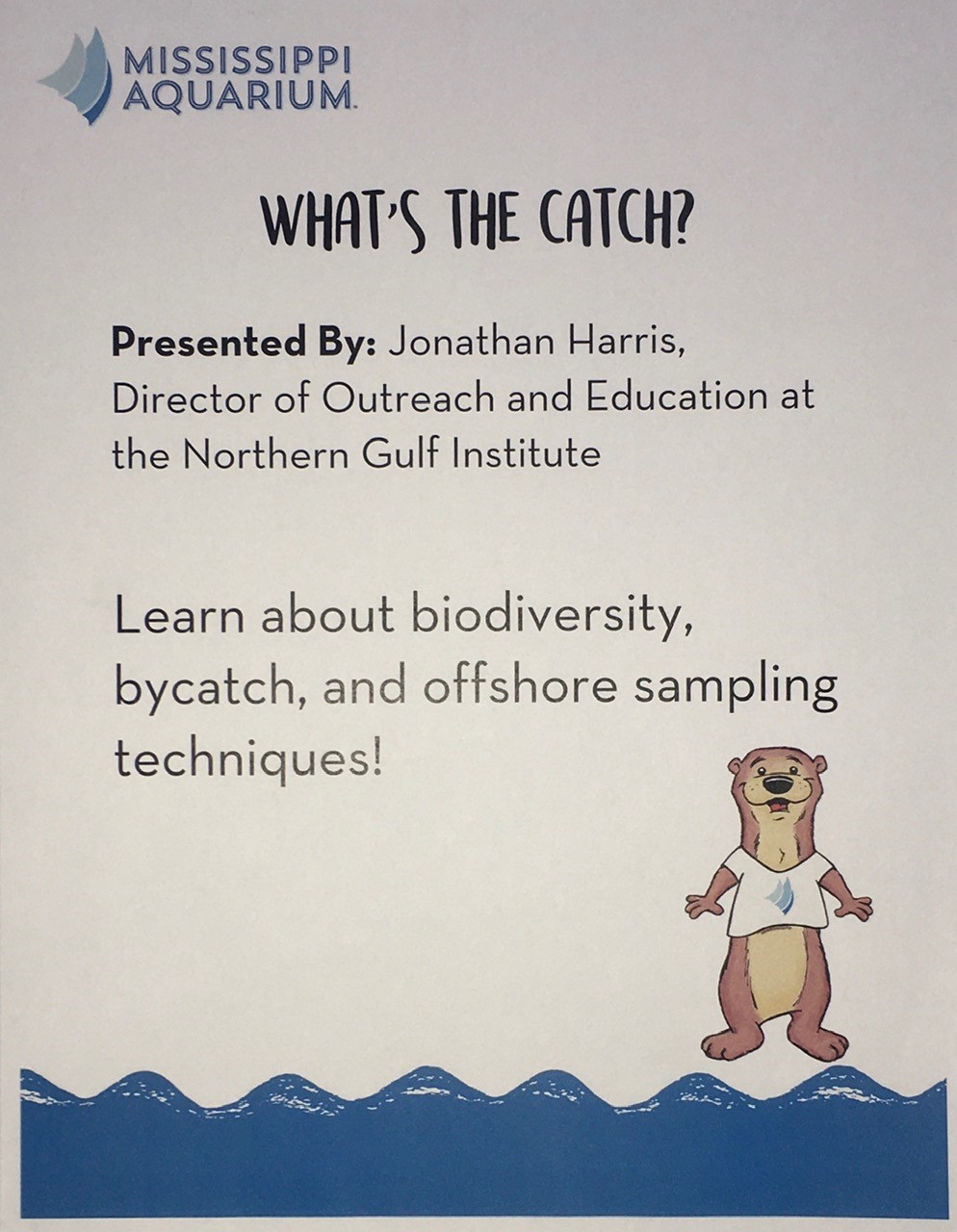 ---
Monday, March 15, 2021
Director of NCEI Recognizes NGI/MSU Staff for Role in the Mission Science Network (MSN) Project
Mary Wohlgemuth the Director of NCEI has recognized current NGI/MSU staff for their integral role in the Mission Science Network (MSN) project. This project has recently completed a migration of precursor systems at NCEI's principal locations. For both NCEI and NESDIS this was a complex and diverse culmination over multiple years of planning and execution. I would like to join Mary in recognizing our following staff for their integral support in the project:
Barbara Ambrose
Jonathan Jackson
Kathy Martinolich
Robert McGuinn
David Moffitt
Kate Rose
David Sallis
---
Monday, March 15, 2021
The Northern Gulf Institute at Mississippi State University Welcomes New Employees
Dr. Paul Mickle joined MSU in January 2021 as the new NGI Co-Director. His work location is Stennis Space Center. Paul is also an Associate Professor with the Mississippi State University Department of Wildlife, Fisheries, and Aquaculture and an Associate Director of the MSU Geosystems Research Institute. Dr. Mickle has a Ph.D. in Fish Ecology from USM. He most recently was the Chief Science Officer at the Mississippi Department of Marine Resources.

Dr. Luke Thompson joined MSU in July 2020 as an Associate Research Professor. His work location is the Atlantic Oceanographic and Meteorological Laboratory (AOML) in Miami, FL. Dr. Thompson has a Ph.D. in Biology from MIT. His research centers around 'omics. Luke agreed to be the NGI Program Coordinator at AOML in November 2020.

Jack Prior is working with the NMFS lab in Pascagoula processing video data of fish in untrawlable habitats to improve stock assessment models using VIAME software. He has a Master of Science in Biology from the University of West Florida.

Dr. Ebenezer (Eben) Nyadjro is a physical and satellite oceanographer located at Stennis Space Center, MS. His current research focuses on database development for global microplastics and global ocean currents. He is also part of an ocean climatology team that processes and produces in-situ salinity and temperature databases. Eben has a Ph.D. in Marine Science from the University of South Carolina.

Katie Palubicki is located in Staunton Virginia and is an Outreach Coordinator with NCEI offices. She supports the Oceanographic and Geophysical Science and Services Division (OGSSD) Scientific Information Services (SIS) in the areas of customer service, social media, engagement, communications and outreach, and scientific web content.

Dr. Arvind Shantharam is a deep-sea oceanographer with the Northern Gulf Institute at Stennis Space Center, working with the Deep-Sea Coral Research and Technology Program managing deep-sea cruise data and assisting in the effort of database synthesis for conservation decision-making.

Oceane Boulais is a research engineer working on a project funded by the National Marine Fisheries Service. Her work involves AI/ML for Electronic Monitoring (EM) for Gulf States fisheries. She has a Master of Media Arts and Sciences from MIT.

Dr. Deok Han is a research engineer working on a project funded by the National Marine Fisheries Service. His work centers around the hardware (computer, cameras, etc.) for Electronic Monitoring (EM) in Gulf States fisheries. He has a Ph.D. in Electrical & Computer Engineering from Mississippi State University.

Dr. Xiaomin Chen is a post-doc working with NOAA scientists at the Hurricane Research Division at the Atlantic Oceanographic and Meteorological Laboratory (AOML) in Miami, Fl. His research is supporting enhancements to Hurricane Weather Research and Forecasting model (HWRF) SST sensitivity studies. Dr. Chen has a Ph.D. in Meteorology from Nanjing University.

Dr. Enrique Orozco-Lopez is a post-doc joining the NGI team at Stennis beginning in January of 2021 where he will be compiling and analyzing water quality data in the Mississippi Sound and assisting Dr. Anna Linhoss, Dr. Paul Mickle, and Dr. Just Cebrian in ongoing water quality modeling efforts. Enrique has a Ph.D. in Agricultural and Biological Engineering from the University of Florida.
---
Monday, March 15, 2021
Now Available - Middle School Science (STEM) Curriculum Highlights Ocean Modeling
Students' engagement with science that connects with something that is relevant in their lives can increase the meaningfulness of science application and help solidify its importance. With that goal in mind, outreach coordinators and researchers with the Consortium for Ocean-Microbial Interactions in the Ocean (CSOMIO) developed a middle school science curriculum "Modeling the Gulf of Mexico" based on their efforts to improve oil transport and fate modeling. The curriculum targets students living in Florida and other Gulf states and introduces them to science that impacts their own lives.
"Our scientific team is working to produce a comprehensive framework for simulating and understanding the role that microbes play in mitigating the impacts of oil spills, so the topics covered in this curriculum align with that research," said CSOMIO principal investigator Dr. Eric Chassignet.
The curriculum contains five complete lessons: "Go with the Flow," "Oil Remediation," "Visualizing Ocean Currents," "The Gulf of Mexico Ecosystem," and "Refining an Ocean Model." Each lesson includes materials such as teacher guides, student worksheets, maps (courtesy of Ocean Conservancy), and answer keys with grading rubrics.
The CSOMIO outreach team collaborated with educators to design lesson plans and activities that meet the Florida State Board of Education's Standards for Science to ensure that the materials are easily used in Florida classrooms. The curriculum follows the instructional model, in which each represents a different phase of the learning process: Engage (grab students interest), Explore (students self-study the material), Explain (students become more familiar with the material with teacher guidance), Elaborate (students apply what they learned), and Evaluate (students demonstrate their understanding of the material).
The CSOMIO outreach coordinators field-tested the lesson plans through collaboration with Florida State University's Sea-to-See program, which introduces students to Florida's diverse marine life and promotes the importance of conservation. The curriculum also includes an Accommodations section in the appendices that offer vocabulary, modified questions, and alternate procedures for each lesson. These accommodations are designed to assist students who require a 504 Plan, an Individualized Education Plan, or who are learning English as a second language.
"Our intent was to provide practical lessons that can help make the complex world of computer modeling more approachable to middle grades students," said CSOMIO science educator Karolyn Burns. "Ultimately, the feedback from both practicing teachers and oceanographic researchers was invaluable, and I hope that it proves useful to educators, as well as engaging for learners."
"This middle school curriculum complements a high school science curriculum released in 2015 by the Deep Sea to Coast Connectivity in the Eastern Gulf of Mexico (Deep-C) consortium", said Tracy Ippolito, who coordinated outreach for both Deep-C and CSOMIO. The Deep-C team compiled and developed the 144-page multi-disciplinary high school curriculum around the five main research areas of its consortium (geomorphology, geochemistry, ecology, physical oceanography, and modeling) and draws connections between science and real-world applications for handling issues such as environmental disasters, their ecosystem impacts, and recovery.
A downloadable PDF version of the CSOMIO middle school science curriculum is available at
CSOMIO
By Stephanie Ellis and Nilde Maggie Dannreuther. Contact
sellis@ngi.msstate.edu
for questions or comments.
************
The Gulf of Mexico Research Initiative (GoMRI) is a 10-year independent research program established to study the effect, and the potential associated impact, of hydrocarbon releases on the environment and public health, as well as to develop improved spill mitigation, oil detection, characterization, and remediation technologies. An independent and academic 20-member Research Board makes the funding and research direction decisions to ensure the intellectual quality, effectiveness, and academic independence of the GoMRI research. All research data, findings, and publications will be made publicly available. The program was established through a $500 million financial commitment from BP. For more information, visit
http://gulfresearchinitiative.org/
.
Copyright 2010-2020 Gulf of Mexico Research Initiative (GoMRI) - All Rights Reserved. Redistribution is encouraged with acknowledgment to the Gulf of Mexico Research Initiative (GoMRI). Please credit images and/or videos as done in each article. Questions? Contact web-content editor Nilde "Maggie" Dannreuther, Northern Gulf Institute, Mississippi State University (
maggied@ngi.msstate.edu
).
---
Monday, March 15, 2021
Education & Outreach Opportunities at NGI - Mississippi State
STEAM: Science Through the Arts
STEAM programs add art to the STEM curriculum by drawing on design principles and encouraging creative solutions. In 2013, a joint resolution was introduced in the United States House of Representatives expressing the sense that adding art and design into Federal programs that target the STEM fields encourages innovation and economic growth in the United States.
The Travelling Trunk Education & Outreach Program
NGI has developed loanable "Travelling Trunk Shows" which include Art and Science-based curriculum designed to support the national college and career readiness standards. We typically include the "science, literature and arts behind the scenes" that includes targeted classwork and lessons of discovery for oceanography, marine and fisheries science, and weather. These trunks provide STEAM-focused interaction with large numbers of schoolchildren, their parents, teachers, and administrators.
NGI Art and Design Competition
The Northern Gulf Institute (NGI) at Mississippi State University is proud to announce a STEAM art competition, where original drawings, paintings, photography, or other renderings, depicting the natural environment, marine, avian, or aquatic species, the ocean, or weather, as related to the Mississippi River, The Gulf Coast, or the Gulf of Mexico Basin, are to be submitted for review. The winner of the competition will have their art featured in the "Portal" Newsletter.
Continuing Education Opportunities
The Northern Gulf Institute (NGI) has joined with the Department of Geosciences and the Center for Distance Education at Mississippi State University to provide Continuing Education and/or 4 hours of Graduate College Credit to teachers and professionals wishing to undertake a 7-10 day geosciences field course. The course locations for this year are Bahamas (split undergrad/grad), Western WA, NY, and Great Plains Storm Chase. A science background is helpful to successfully complete these courses and costs $1250 plus tuition (4 hours of in-state graduate credit). (approximately $2978 total) Additionally, for most of the trips, the students pay for their meals, but the Bahamas trip includes meals. Students are also responsible for getting to the start location on their own (e.g Seattle, Nassau, Oklahoma City, etc.).
Visiting Scientists to your Classroom or Organization
The NGI can provide assistance in locating a guest speaker for your classroom or organization meeting to discuss various topics including Coastal Hazards, Geospatial Data Integration and Visualization, Ecosystem Management Climate Change, and use of UAV/AUVs in the environmental and agricultural sciences.
Lesson Plan Database
NGI along with the INSPIRE program is developing a database of approximately 500 Mississippi Science Curriculum-based lesson plans and assignments for k-12 classrooms. These will be linked to our website in the near future. Click Here for Lesson Plans:
http://gk12.msstate.edu/lessonplans.html
For More information please contact the Education & Outreach Office at
EandO@ngi.msstate.edu
---
Monday, March 15, 2021
DISL Sets 2021 Week of Discovery as Part of 50th Anniversary Celebration
Mark your calendars for a week of Discovery at the Dauphin Island Sea Lab from April 5 through the 10. The week is an opportunity for us to celebrate 50 years of research and education with you.
We invite you to join our marine educators outdoors each day to explore the life of a marine scientist on a fun family field trip. You can walk the beach like never before, discover what lies hidden in the amazing salt marsh habitat, and even take a trip aboard the Research Vessel Alabama Discovery to learn what lives below the waves.
On Saturday, April 10, take a journey through our public aquarium and chat with our marine scientists, students, and educators as they share their research and fun facts you may not know about the Alabama Watershed and the northern Gulf of Mexico.
Monday through Thursday you can chat live with our marine educators and aquarists on the
Dauphin Island Sea Lab Facebook page
at 11:15 a.m. Then, on Friday, University Programs dives into current research with a Zoom seminar at 12 p.m.
Aquarium and excursion tickets
must be purchased online
. Aquarium admission is $12/Adult, $10/Seniors (50+), $6/Students, $6/Children 5-18, and Free/Under 5. Aquarium hours will be 9 a.m. to 5 p.m. Excursion tickets are not included in the aquarium admission. Each excursion is ticketed separately. Links to register for excursions can be found below in the schedule for the week.
Monday, April 5
Tuesday, April 6
Wednesday, April 7
Thursday, April 8
Friday, April 9
Saturday, April 10
Masks will be required through April 9, per the statewide Safer at Home Order signed by Alabama Governor Kay Ivey. Please call 251-861-2141 if you have any questions. You can find updates on our website at
disl.edu.
---
Monday, March 15, 2021
DISL Foundation Plans In-person Cocktails with the Critters Event
A picture-perfect sunset and an evening with friends. That's the plan for the 15th annual Cocktails with the Critters hosted by the Dauphin Island Sea Lab Foundation. The event turned virtual auction in 2020 will return to the Bluegill Restaurant on the Causeway the evening of Thursday, May 6.
The evening will include scrumptious hor d'oeuvres from the Gulf of Mexico and live music. It will also be a chance to celebrate the 50th Anniversary of the Dauphin Island Sea Lab and the continued dedication to the health of our oceans.
With the success of the virtual auction in 2020, the auction will remain virtual in 2021. Bidding will open on Wednesday, April 28, and close on Wednesday, May 5. Items are already being added to the auction site.
Click here to register to be a bidder and get a sneak peek
.
Purchase your tickets today to the 15th annual Cocktails with the Critters at
sealabfoundation.org
.
---
Monday, March 15, 2021
DISL - Discovery Hall Offers Virtual Highschool Classes
The Virtual Classes listed below will be tailored for High School students. To learn more and to book a class, reach out to scheduler@disl.edu.
Adaptations in coastal Alabama's fishes
Fishes show many adaptations to their environment. This class explores the relationship between a fish's habitat and its body shape, its fins, and mouth shape using a wide variety of fishes from the waters of Alabama and the Gulf of Mexico.
Sharks and Rays of the Gulf of Mexico
Sharks and rays are fascinating animals. In this class, sharks and rays are compared and used to illustrate many aspects of animal biology, including skeletal, digestive, circulatory, excretory, and reproductive systems as well as human impacts on ocean ecosystems.
Sea Turtles and other Gulf coast reptiles
This class explores the biology of turtles, focusing on sea turtles but including other Gulf coast reptile species. With a focus on conservation, it presents the impacts of marine debris, climate change, fishing bycatch, and why many species of Gulf coast turtles are endangered.
Coastal Invertebrates of Alabama
Accounting for 97% of the Animal Kingdom, invertebrates have adapted to every habitat on planet earth from the bottom of the deep sea to the tops of mountains. In this class, students observe and learn about invertebrate biodiversity through preserved and live specimen demonstrations.
Exploring invertebrate animals through dissection
Squid are creatures of legend, but they are a key piece to the ocean food web as predator and prey. In this class, students dissect these unusual invertebrates to see what makes them so successful in the ocean and compare their anatomy to other animals.
Watersheds and water quality
We all live in a watershed. In this class, students learn about their watershed and explore its connection to the coast through an interactive app. Demonstrations illustrate how rivers and coastal waters mix, the impacts of human activities on the resulting water quality, and explore where students can find water quality information about their watershed.
Underwater robots and other tools of ocean exploration
With humans increasingly dependent on the ocean, marine technology has become an essential industry with applications from oil and gas exploration to the military. In this class, students explore a type of underwater robot, a Remotely Operated Vehicles (ROVs), and engage with engineering and design principles in designing and building an ROV.
Ocean waves and currents: the motion in the ocean
What creates a wave? Can a message in a bottle really drift around the world? Join us to investigate the physics of the ocean including waves, currents, and tides, examine real-time wave data, and explore the technology used by scientists to measure these phenomena. The class will build models of ocean drifters and test their engineering skills by experimenting with them around their Ocean.
Ocean zones, sonar, and ocean mapping
With sunlight penetrating only 1000 meters down into the ocean that AVERAGES over 4000 meters in depth, how do scientists know what the deep ocean is like? In this class, students will descend through the ocean zones from the surface to the Challenger Deep, learn how we know what we know about the deep ocean, and construct a model of ocean bathymetry.
Marine debris and microplastics
Where does litter in the ocean come from? Doesn't it biodegrade? In this class, students will explore marine and waterborne debris, investigate the impacts of debris on ocean animals and ecosystems, and identify solutions to this growing problem. Through an activity, we will identify microplastics and collect and categorize data on debris while participating in a citizen science project.
Barrier islands and beach ecology
Many students have been to the beach, but perhaps not realized the importance of these beautiful ecosystems in protecting the mainland and providing habitats for a variety of plants and animals. This class explores microscopic and macroscopic beach inhabitants living there, the adaptations these inhabitants show to living in this constantly changing habitat, and how beaches are created and changed by natural and human forces.
Climate change and ocean impacts
How are the earth's systems being affected by increased carbon dioxide (CO2) amounts in the atmosphere? This class explores the relationship between increased CO2 levels and sea-level rise, ocean acidification, and climate change. We'll demonstrate a number of short activities that model these effects and discuss ecological and community-based resilience.
Invasive species
Let the Sea Lab invade your classroom with specimens and stories of invasive species. We'll explore a case study of the lionfish through a mapping activity and learn how invasives are introduced, what it means to be invasive versus non-native or naturalized, and how invasive species impact biodiversity, ecosystems, and our economy.
Hurricanes, storm surge, and scientific modeling
Hurricanes are some of the most destructive natural forces on our planet. Students will learn what causes them, how they form, and how scientists track and predict their paths to limit human and economic losses. We'll explore the life cycle of a storm, past impacts with Google Earth, work with NOAA's hurricane tracker, and engage in a storm surge simulator to understand these natural phenomena.
Ocean plants and their adaptations
Does sitting out in the hot sun all day sound like fun? From the microscopic phytoplankton to the enormous kelp, this class explores the variety of adaptations seen in photosynthetic organisms found in the ocean. Students will explore the photosynthetic process and investigate ways plants work to capture sunlight and energy in a variety of ecosystems.
---
Monday, March 15, 2021
DISL - Sea Lab Science Fridays
Come and join us for a Friday of marine science! Discovery Hall Programs is offering a day of drop-in classes for home school students, for parents looking for enrichment activities for their children, for students who can join us after a day of virtual learning, or just for folks who love to learn about all things marine science.
On the first and third Fridays of each month, we are offering three different field classes each approximately two hours long. Each month, we offer two different themes Ocean Animal Biology and Ocean STEM. Learners can participate in only one class, take two or three classes on the same day or take all six classes over the course of a month, Some of the classes are appropriate for all ages, while younger students will benefit from working with an accompanying adult for others.
Upcoming Dates:
April 9 - Ocean Animal Biology
May 21 - Ocean STEM
We do ask that you pre-register
here
for these class(es) so we know how many individuals to expect, but we also recognize that sometimes you just have to head to the beach. If you find yourself in a day before planning situation, please just give us a ring before heading down to make sure there is space available in the program for that day. Please note that the weather on Dauphin Island can be different from that in Mobile or areas farther north: only severe weather conditions result in cancellation. Cancellations due to weather will be posted on our
Facebook page
.
Many of your questions will likely be answered in the registration form, but contact us at
DHPSummer@disl.org
or (251) 861-2141, x 7515 if you need additional information.
If you have trouble using the link above, please register at
https://bit.ly/SeaLabScienceFridays
.
DISL has implemented a number of procedures and precautions to minimize the risk of COVID19 transmission during visits to the Sea Lab. Activities will take place primarily outdoors, groups will be limited in size to facilitate social distancing, and masks will be required for indoor activities, and when social distancing is not possible. Please feel free to contact us for additional information.
---
Monday, March 15, 2021
DISL - Discover Hall - Residential Marine Science Class
DHP anticipates offering a full schedule of summer camps, classes, and programs. However, given the continuing uncertainty in the pandemic, programs, schedules, and activities may be changed. Please know that we will let you know of these changes in a timely fashion and that all program deposits will be 100% refundable if the changes prevent participation. Thank you for your understanding.
2021 Dates: June 20 through July 16
Cost: $2,250
Application Deadline: April 1, 2021
Registration Form
Download Registration Form
The Residential Marine Science Class is an immersive 4-week academic class that introduces high school students to the field of marine science. The course gives students a better understanding and appreciation of the various disciplines in marine biology and oceanography.
Students live on campus and participate in more than 180 hours of supervised academic activities. Students take part in fieldwork, individual and group assignments, lectures, laboratory investigations, off-campus field trips, research projects, oral presentations, and written and practical examinations.
Topics include:
| | |
| --- | --- |
| Marine ecology | Fisheries |
| Principles of oceanography | Marine technology |
| Marine geology | Barrier island ecology |
| Marine invertebrates | Salt marsh ecology |
| Marine vertebrates | Ocean chemistry |
| Estuarine ecology | Human impacts |
| Plankton biology | |
Our educational approach is hands-on. Students spend a great deal of time in the field, studying different marine habitats and ecosystems. Field activities correspond to course topics but include, among others, the exploration of the salt marsh community and barrier islands, snorkeling in seagrass beds, and several trips aboard the Dauphin Island Sea Lab's 65-foot research vessel, the
R/V Alabama Discovery.
Special field trips include an overnight snorkeling trip to St. Andrew's State Park in Panama City, FL.
Students observe and work with such gear as an otter trawl, bottom dredges, plankton nets, seine nets, water quality profilers, refractometers, spectrophotometers, and water quality test kits. Students collect and identify marine species from various habitats, build and use sampling gear such as ROVs and drifters, participate in lab and field dissections, conduct an individual research project, and are acquainted with careers in marine science through a panel discussion with marine science professionals.
---
Monday, March 15, 2021
DISL - Beach, Dune, and Maritime Forest Excursion
There's more to a barrier island than sand and water, the beach is a thriving habitat with a dynamic dune system and fascinating plants and animals, and higher elevations are covered by lush forest. We'll walk through the maritime forest, then on to the dunes and beach.
You will learn about plants that Indians and colonists used and the benefits of an intact dune system. You'll see many coastal animals; occasional highlights include osprey, alligators, and dolphins. You'll dig for mole crabs that live in the surf zone and chase scuttling ghost crabs. We'll bring hand nets and critter containers so we can get an up-close look.
For All Ages (Children 18 and under must be accompanied by an adult)
Program Cost: $12 per person.
Space is limited so reservations are recommended.
Reservation Form
What to wear:
Comfortable walking shoes for the beach and forest. Light-weight clothes for hot summer temperatures. If you're eager to get wet, feel free to dress accordingly, though getting wet can be avoided.
What to bring:
hat, sunscreen, water bottle, bug spray, change of clothes and shoes, bag for wet items
Questions: E-mail
summerexcursions@disl.org
or call (251) 861-2141 ext. 7545.
Upcoming Dates:
Thursday, March 25, 9:45-12:15
Tuesday, March 30, 9:45-12:15
Tuesday, April 6, 9:45-12:15
Thursday, April 15, 9:45-12:15
Friday, April 30, 9:45-12:15
Friday, May 28, 2:45-5:15
Thursday, June 3, 9:45-12:15
Thursday, June 10, 9:45-12:15
Thursday, June 17, 9:45-12:15
Thursday, July 8, 9:45-12:15
---
Monday, March 15, 2021
Mississippi Aquarium - Aquarium Connections Lecture Series
Mississippi Aquarium is thrilled to unveil our latest education program: Aquarium Connections! This program is designed to connect the community with local researchers and to inspire conservation action.
Aquarium Connections will be offered every other month beginning April 9th for both in-person and virtual attendance.
This member exclusive program includes:
A presentation from a local researcher or MSAQ professional
Question and answer session after the presentation
The programs are accessible to all people, no matter their ability. People who require accommodations or assistance should notify staff prior to the event.
MEMBER-EXCLUSIVE EVENT
APRIL 9, 2021
12:00 p.m. - 1:00 p.m.
Space is limited.
Lunch will be available for purchase.
REGISTER NOW!
NOT A MEMBER YET? CLICK HERE!
APRIL 9 GUEST SPEAKER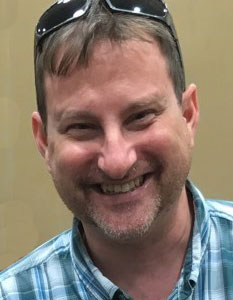 Glenn Zapfe
Research Fisheries Biologist
NOAA
Glenn Zapfe is a research fisheries biologist with the National Oceanographic and Atmospheric Administration's (NOAA) science center in Pascagoula, Mississippi. He serves as the unit leader for the plankton branch where he directs plankton surveys in the Gulf of Mexico (GoM) as part of the Southeast Area Monitoring and Assessment Program (SEAMAP). He is also currently a PhD candidate at the University of Southern Mississippi examining the uses of fisheries oceanography to describe larval fish abundance and distribution in the GoM.
Glenn moved to the Mississippi Gulf Coast in 1998 to get his Master's degree at the University of Southern Mississippi Gulf Coast Research Laboratory in Ocean Springs, Mississippi. His work centered on juvenile spot recruitment into the nurseries and the effect winter storms had on their early life history. After earning his degree, he joined the NOAA lab in 2002 to start his career working with plankton in the Gulf of Mexico. Glenn has written several chapters in a larval fish identification guide (EarlyStages of Atlantic Fishes: An Identification Guide for the Western Central North Atlantic) and contributed to several peer-reviewed articles examining the plankton community of the GoM. He is a co-primary investigator examining the nursery role function of Sargassum in the Gulf of Mexico; has been key in incorporating several new pieces of sampling gear into the SEAMAP sampling design; and works closely with colleagues at other NOAA Fisheries Science Centers and the Polish Sorting Center as part of the U.S-Poland Joint Fishery Ecology Studies Agreement.
---
Monday, March 15, 2021
USM GCRL - Teacher Professional Development
Teachers can earn continuing education credits at GCRL.
The Marine Education Center offers professional and volunteer training programs for adults, including K-12 classroom teachers. These programs cover an assortment of marine and coastal processes and issues, and are sponsored through a variety of sources. The
Mississippi-Alabama Sea Grant Consortium
(MASGC) supports our teacher development program, either through full sponsorship or partnership.
Click below to learn more about upcoming programs. For additional information or questions contact Jessie Kastler at 228-818-8090 or
Jessica.kastler@usm.edu
.
All field programs are subject to substitution of activities or postponement for poor weather. We will inform registered participants of any changes via email.
Continuing Education Credit
CEUs are available for teachers through the University of Southern Mississippi Office of Professional Development and Educational Outreach (PDEO). The number of CEUs awarded in each program will be posted here upon approval of our request of PDEO to offer them. Because we update our offerings every time they are offered and they must be approved each time, the number of CEUs available for a workshop is not known until about one month before it is held. We submit paperwork to the PDEO about one week following the end of each workshop, and later than two weeks.
You may request a copy of CEUs awarded in the past here
.
Registration
Register here.
Each workshop requires submission of a separate registration form. Space is limited so register early! For additional information or questions about upcoming programs contact Dani Bailey at 228-818-8088 or
Danielle.bailey@usm.edu
.
Information for Participants
[pdf]
Sturgeon in the Watershed Teaching Opportunity



Downloadable Curriculum


The purpose of this project is to develop and implement a Meaningful Watershed Educational Experience in the Mississippi Sound watersheds. The Project uses previously developed classroom and field elements of map use and water sampling to teach students basic watershed concepts. New content introduces habitat use of the Pearl and Pascagoula Rivers by the endangered Gulf Sturgeon as a way of discussing natural and human changes occurring in watersheds where participating students live and learn.
---
Upcoming Programs for 2021 (Registration Open January 15)
Oil Spill Science 10-year Review

April 24-25



What is the role of science during an environmental emergency? What have scientists learned since the Deepwater Horizon Oil Spill? How can you share this with your students? Join us to consider how science expands knowledge and how the body of knowledge has changed since the 2010 oil spill.
Problem-based Learning in Community Resilience - NOAA B-WET

July 7-9
During July we will host a three-day workshop. This workshop is a part of a NOAA B-WET project that focuses on promoting community resilience to coastal hazards. This program builds on other watershed literacy programs we have produced to educate high school students on rising sea levels and coastal hazards that may affect their communities. Using problem-based-learning, teams of students explore historical flooding in their neighborhoods and propose a solution to one of several coastal community challenges. Selected students from each school will present their ideas to community resilience professionals at the 5th Stewardship Summit for Resilience at the new Marine Education Center.

This program was piloted by two local teachers and is now being expanded to reach classrooms in LA, MS, AL, and FL. Participants must be high school teachers who can deliver this project to their school or district and have students participate in a stewardship summit.
The Poop Map Project

July 22-23



This July, we are introducing The Poop Map Project through a two-day watershed education workshop for teachers of grades 7-12 sponsored by the EPA Gulf of Mexico Program. Our focus will be - you guessed it - poop! Pathogenic bacteria that enter natural water bodies from rainwater runoff.

Participants will

Collect, analyze, enter, and interpret water samples collected from the Miss Peetsy B along Davis Bayou, from the new Marine Education Center to the Mississippi Sound;
Learn about the Mississippi Beach Monitoring Program and its policies on beach closure;
Discuss the Marine Debris Tracking App (sponsored by NOAA) and public outreach as stewardship;
Schedule an MEC Miss Peetsy B field cruise trip for 40 students. Students will receive lunch and there is an allowance for school bus transport;
Receive a stipend for completion and lunch both days. If you need lodging, please ask about it because we might be able to provide that as well.
---
Monday, March 15, 2021
USM GCRL - Summer Camps
Camps - Book TODAY! Call 228.818.8095!
Meet some of our summer camp alumni! Learn about their lifelong love of science!
---
Downloadable 2020 Summer Camps flyer



Registration
Online Registration for Camps
- Registration for each of GCRL's three summer camps now uses a convenient web-based system. University faculty, staff and students receive
20% Discount
on camp tuition!
Have Questions?
Call a marine education specialist at 228.818.8095 or email us at
marine.education@usm.edu
.
---