Monday, November 08, 2021
NGI Produces Banner Sea Turtle Musical Outreach Program
Mississippi State University's Northern Gulf Institute and Theatre MSU in conjunction with the MS Aquarium and Dauphin Island Sea Lab presented "Banner: A Sea Turtle Saga", written by T.S. Hays with original music and lyrics by Aubrey Hays, Curtis McMurtry, Diane Burgess, with additional lyrics by Bella Bingham.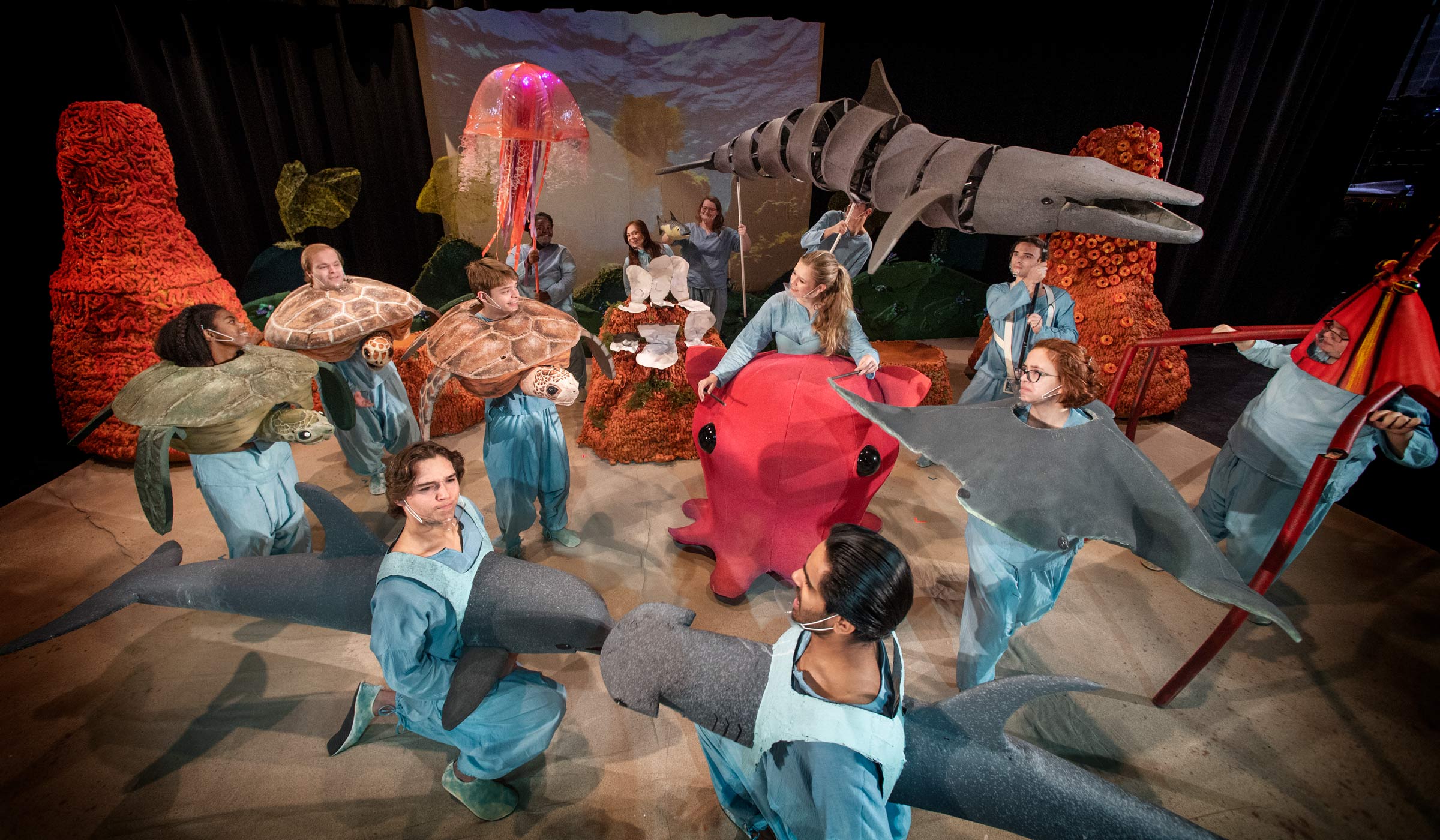 The cast of sea creature puppets pose on the McComas stage before a performance, including wearable puppet creatures such as turtles, a jellyfish, an octopus, and a bottlenose dolphin.
In addition to the attendees, the production and outreach program was covered by AP Newswire and many regional news programs. Performed as an educational program for local schools, the program reached an estimated 1200 elementary and middle school students, in addition to both national and international news coverage
https://apnews.com/article/oil-spills-mississippi-animals-turtles-pollution-17cc36b38430df398a137a41f31db675
Loosely based on one of Mississippi Aquarium's most beloved residents, Banner, Mississippi Aquarium's resident endangered green sea turtle. This outreach program consisted of multiple shows performed at MSU and the MS Aquarium and an educational curriculum based on marine science that was provided to regional educators.
The cast and crew were nominated for numerous Kennedy Center - American College Theatre Festival awards including Allied Design and Technologies - Prop and Puppets, Lighting Design, the Irene Ryan Acting Award, and Sound Design, as well as Faculty Certificates of Merit for Playwrighting, Directing, Scenic Design, Technical Direction, and Costuming.
Banner: A Sea Turtle Saga follows the journey of Banner, a green sea turtle who has just been released into the ocean after spending months in captivity, being nursed to health by marine biologists. He is released alongside two of his turtle friends: Drifter, a Kemp's-Ridley turtle, and Grub, a loggerhead turtle. Once in the ocean, he meets a party of colorful sea creatures, among them; Dart, the energetic bonnethead shark who does not eat meat, Finn, the courageous bottlenose dolphin and natural-born leader, Angel, the snobbish cownose ray who enjoys picking on others. However, something about Banner starts him off on the wrong fin: he loves humans! Informed by a fish named Magill, the crew are sent on a quest across the sea to find the highly regarded Immortal Jellyfish and to show Banner what has become of the ocean due to humanity's ever-growing pollution of the seas.
Banner and friends meet other friendly faces throughout their journey, such as the lovable Dumbo Octopus, Button, and the friendly Rice's Whale named Squirt. Their adventure teaches Banner about the dangers that animals face due to plastic pollution, oil spills and climate change.
The sea creatures' trip culminates with the long-awaited meeting of the Immortal Jellyfish. What awaits them at the journey's end? Does Banner change his belief about humans, or does his love for humanity cause his friends to re-think their beliefs?
Tied together with original music and professional puppetry, Banner: A Sea Turtle Saga engages audiences as an interactive, immersive, theatre experience. It shares the message of hope, that all of us can make a difference in saving our seas. Banner: A Sea Turtle Saga is sea-riffic!
News coverage for the show reached as far as Phuket Thailand and included the following outlets:
"Banner: A Sea Turtle Saga" – Msstate newsroom 11/4/2021
Republished in 6park.news/Mississippi 11/4/2021
Republished in Daily Times Leader (West Point) 11/10/2021
"MSU Theater department bringing conservation musical to Mississippi Aquarium" – Association of Zoos and Aquariums 11/16/2021
'Banner: A Sea Turtle Saga' premieres today – WXXV25 (Gulfport) 11/22/2021
Reposted on NewsBreak
"Sea turtle at Mississippi Aquarium inspires musical" – Associated Press News 11/27/2021
Republished in The Clay Center Dispatch (Kansas) 11/27/2021
Republished in the Columbus Dispatch 11/29/2021
Republished in Dothan Eagle (Alabama) 11/27/2021
Republished in Hasting Tribune (Hastings, NE) 11/27/2021
Republished in Huron Daily Tribune (Michigan) 11/27/2021
Republished in the Herald Review 11/27/2021
Republished in the Gazebo Gazette (West Harrison County) 11/27/2021
Republished in MySanAntonio (Texas) 11/27/2021
Republished in Manisteenews (Michigan) 11/27/2021
Republished on Flip Board via Miami Herald 11/28/2021
Republished in The Milford Mirror (Connecticut) 11/27/2021
Republished in Opera News 11/27/2021
Republished in Our Community Now (Wichita, KS) 11/27/2021
Republished in the Pioneer (Big Rapids, MI) 11/27/2021
Republished in The Telegraph (Illinois) 11/27/2021
Republished in US News 11/27/2021
Republished in Opelika-Auburn News (Alabama) 11/27/2021
Mentioned in the Arkansas Democrat Gazette 11/29/2021
USA Today news on 50 states, story for MS 12/01/2021
Republished in Phuketimes (Phuket, Thailand ?) 12/01/2021
Republished on Yahoo News 12/01/2021
---
Monday, November 08, 2021
MSU-SEAS Program Partnership continues with Mississippi Aquarium, March 5th, 2022
---
Monday, November 08, 2021
Education & Outreach Opportunities at NGI - Mississippi State
---
Monday, November 08, 2021
Available - Marine Science Curriculum
---