Tuesday, December 01, 2020
NGI Guidance on Safe Conduct of Fieldwork during CoVid-19 Pandemic
Much of the Nation and in fact the World is reeling from the CoVid-19 outbreak.
The NGI has taken steps to ensure a continued path towards safe conduct of field research offshore, during the CoVid Pandemic, and has adopted the basic safety protocols and principals set out by NOAA for work to resume on Small Near-Shore Research Vessels. These protocols include:
Personnel:
Field operations are limited to Vessel Crew and Principal Investigators and those personnel deemed essential to the needs of the project.
Employees that do not feel well, have been diagnosed with COVID-19, or have experienced COVID-19 symptoms must not participate in field operations. These symptoms include fever, respiratory symptoms (e.g. cough, shortness of breath), aches and pains, chills, headache, sore throat, nasal congestion, diarrhea, and loss of taste and smell.
Personnel must be limited to the absolute minimum number of people needed to perform the work safely. For safety, small vessel and shore-based field operations require a minimum of 2 people in the field at all times; no one may conduct fieldwork alone.
The vessel operator or PI/chief scientist will make a hand sanitizer (containing at least 60% alcohol) available for all personnel. Hand sanitizers should be used throughout the day as necessary. This includes after blowing your nose, coughing, sneezing, or handling shared equipment and before eating, drinking, or touching your face.
Assign each piece of equipment to a specific person whenever possible to minimize the sharing of supplies and equipment.
Maintain social distancing of > 6 ft. whenever possible. If it is not possible to maintain a 6-ft distance, masks/facial coverings must be worn.
Each person is responsible for their own food, water, sunscreen, insect repellent, face-covering/mask, work gloves, etc. These items should not be shared. If coolers are required, each person will have their own cooler.
Loading boats and vehicles for field operations:
Prior to boarding a vessel or entering a vehicle, apply a disinfectant to all surfaces with which the occupants will come into contact. The use of disinfectant should be discussed with the PI or unit responsible for the vessel/vehicle prior to use to ensure its compatibility with surfaces. Disinfectants may include an EPA-approved disinfectant solution or disinfectant wipes or a solution of 1/3 cup bleach added to 1-gallon water. Do not rinse or wipe off disinfectant solution, but rather allow it to air dry. If a bleach solution is used, it must be replaced daily to ensure effectiveness.
Wash or sanitize hands following the loading of vessels or vehicles.
Vehicle travel:
Vehicle use during field operations (e.g., when driving to a field site or trailering a vessel) is limited to a maximum of 2 people per vehicle, regardless of vehicle size. If possible, we encourage 1 person per vehicle. Any time there are 2 people in a vehicle together, all windows must be open and masks/face coverings must be worn by each person. If weather conditions do not allow the windows to remain open, vehicle occupancy is limited to 1 person per vehicle. The only exception to this rule is if the weather deteriorates during the day and it is not possible to return to campus with the windows open or with only 1 person per vehicle. In this situation, the vehicle occupants should be seated as far apart as possible, must wear a mask/face covering, and should return to campus immediately.
Designate a single person as the driver for each vehicle. That person should be the only person to drive that vehicle on that day.
At the end of each day, disinfect the vehicle following the same procedures used prior to entering the vehicle.
Wear nitrile gloves while fueling vehicles, or if gloves are not available, use sanitizing wipes on the pump handle and keypad and wash or sanitize hands after fueling.
Should an overnight stay be required, each person should have his/her own room.
Small-vessel operations:
Small vessel operations should involve the absolute minimum number of personnel needed to safely complete the work (minimum 2 people). For our vessel 25 feet in length, no more than 4 people should be on board. Allowing for a potential minimum 6 Foot Social-Distance.
Designate a single vessel operator for the duration of the day. The vessel operator should be the only person occupying the helm station and manipulating helm controls and electronics.
Designate a specific PFD for each person. Do not share PFDs.
Should someone experience the onset of COVID-19 symptoms while on board, the vessel must immediately return to the dock and further operations will be suspended until the vessel can be thoroughly cleaned and sanitized.
Given the difficulties in maintaining distance on a small vessel, mask/facial coverings must be worn by all personnel while on the vessel. Recognizing the potential for heat exhaustion while wearing masks and performing field activities, routine breaks should be taken as needed, during which vessel personnel maximizes distancing to the greatest extent possible and rest without masks (if a minimum 6-ft distancing can be maintained between/among all personnel on the vessel).
Upon returning to the dock at the end of the day, wash the vessel thoroughly with fresh water. After the wash-down, disinfect all occupant-contacted surfaces in the same manner as upon boarding.
Wear nitrile gloves while fueling vessels, or if gloves are not available, use sanitizing wipes on all surfaces that will be handled (pump handle, switches, keypad, etc.) and wash or sanitize hands after fueling. When possible, fuel vessels on campus to reduce contact with others.
De-mobilization/unloading:
Clean and disinfect all equipment (including PFDs) used in the field at the end of the day, using a disinfectant approved by the PI responsible for the equipment (see above for information on approved disinfectants). If equipment cannot be disinfected using an approved disinfectant, it should be placed in a designated and marked area for at least 5 days before re-use. If the equipment will not be harmed by direct sunlight, it may instead be left in full sun for a minimum of 24 hours before re-use. These waiting periods do not apply if the same person is using the piece of equipment two days in a row.
Wash or sanitize hands following the unloading of vessels or vehicles.
As some institutions of higher education (IHE) open in the United States, the Centers for Disease Control and Prevention (CDC) offers the following considerations for ways in which IHEs can help protect students and employees (e.g., faculty, staff, and administrators) and slow the spread of the Coronavirus Disease 2019 (COVID-19). IHEs vary considerably in geographic location, size, and structure. As such, IHE officials can determine, in collaboration with
state and local health officials
, whether and how to implement these considerations while adjusting to meet the unique needs and circumstances of the IHE and the local community. Implementation should be guided by what is feasible, practical, acceptable, and tailored to the needs of each community.
CDC Considerations for Institutions of Higher Education (IHE)
https://www.cdc.gov/coronavirus/2019-ncov/community/colleges-universities/considerations.html
Guiding Principles to Keep in Mind
The more an individual interacts with others, and the longer that interaction, the higher the risk of COVID-19 spread. The risk of COVID-19 spread increases in IHE non-residential and residential (i.e., on-campus housing) settings as follows:
IHE General Settings
Lowest Risk: Faculty and students engage in virtual-only learning options, activities, and events.
More Risk: Small in-person classes, activities, and events. Individuals remain spaced at least 6 feet apart and do not share objects (e.g., hybrid virtual and in-person class structures or staggered/rotated scheduling to accommodate smaller class sizes).
Highest Risk: Full-sized in-person classes, activities, and events. Students are not spaced apart, share classroom materials or supplies, and mix between classes and activities.
Promoting Behaviors that Reduce Spread
IHEs may consider implementing several strategies to encourage behaviors that reduce the spread of COVID-19.
Staying Home or Self-Isolating when Appropriate

If a decision is made to have any version of in-person classes, before returning to campus, actively encourage students, faculty, and staff who have been sick with COVID-19 symptoms, tested positive for COVID-19, or have been potentially exposed to someone with COVID-19 (either through community-related exposure or international travel) to follow CDC guidance to self-isolate or stay home.
Once back on campus, educate students, faculty, and staff on when they should stay home or self-isolate in their living quarters.

Actively encourage students, faculty, and staff who are sick or have recently had close contact with a person with COVID-19 to stay home or in their living quarters (e.g., dorm room). Develop policies that encourage sick individuals to stay at home without fear of reprisals, and ensure students, faculty, and staff are aware of these policies. Offer virtual learning and telework options, if feasible.
Students, faculty, and staff should stay home when they have tested positive for or are showing symptoms of COVID-19.
Students, faculty, and staff who have recently had a close contact with a person with COVID-19 should also stay home and monitor their health.
CDC criteria can help inform return to work/school policies:
Hand Hygiene and Respiratory Etiquette

Recommend and reinforce handwashing with soap and water for at least 20 seconds.

If soap and water are not readily available, hand sanitizer that contains at least 60% alcohol can be used.

Encourage students, faculty, and staff to cover coughs and sneezes with a tissue or use the inside of your elbow. Used tissues should be thrown in the trash and hands washed immediately with soap and water for at least 20 seconds.

If soap and water are not readily available, hand sanitizer that contains at least 60% alcohol can be used.
Cloth Face Coverings

Recommend and reinforce the use of cloth face coverings among students, faculty, and staff. Face coverings should be worn as feasible and are most essential in times when physical distancing is difficult. Individuals should be frequently reminded not to touch the face covering and to wash their hands frequently. Information should be provided to all students, faculty, and staff on proper use, removal, and washing of cloth face coverings.

Note: Cloth face coverings should not be placed on:

Babies and children younger than 2 years old
Anyone who has trouble breathing or is unconscious
Anyone who is incapacitated or otherwise unable to remove the cover without assistance
Cloth face coverings are meant to protect other people in case the wearer is unknowingly infected but does not have symptoms. Cloth face coverings are not surgical masks, respirators, or other medical personal protective equipment.
Adequate Supplies

Support healthy hygiene behaviors by providing adequate supplies, including soap, hand sanitizer containing at least 60 percent alcohol, paper towels, tissues, disinfectant wipes, cloth face coverings (as feasible), and no-touch/foot pedal trash cans.
---
Tuesday, December 01, 2020
NGI Personnel Alongside Researchers from Mississippi State University, University of Southern Mississippi, and University of Alabama Survey Mississippi Sound for Evidence of Fresh Water Resurgence from Buried - Ancient River Channels
Following the storm surge and intense rainfall generated by Hurricane ZETA, researchers from the three Universities and the NGI conducted Side Scan and Sub Bottom Sonar Surveys accompanied simultaneously by both Radon and Resistivity Surveys offshore Gulfport and Biloxi, Mississippi, in a project seeking freshwater resurgence from buried, ancient (Pleistocene) river channels.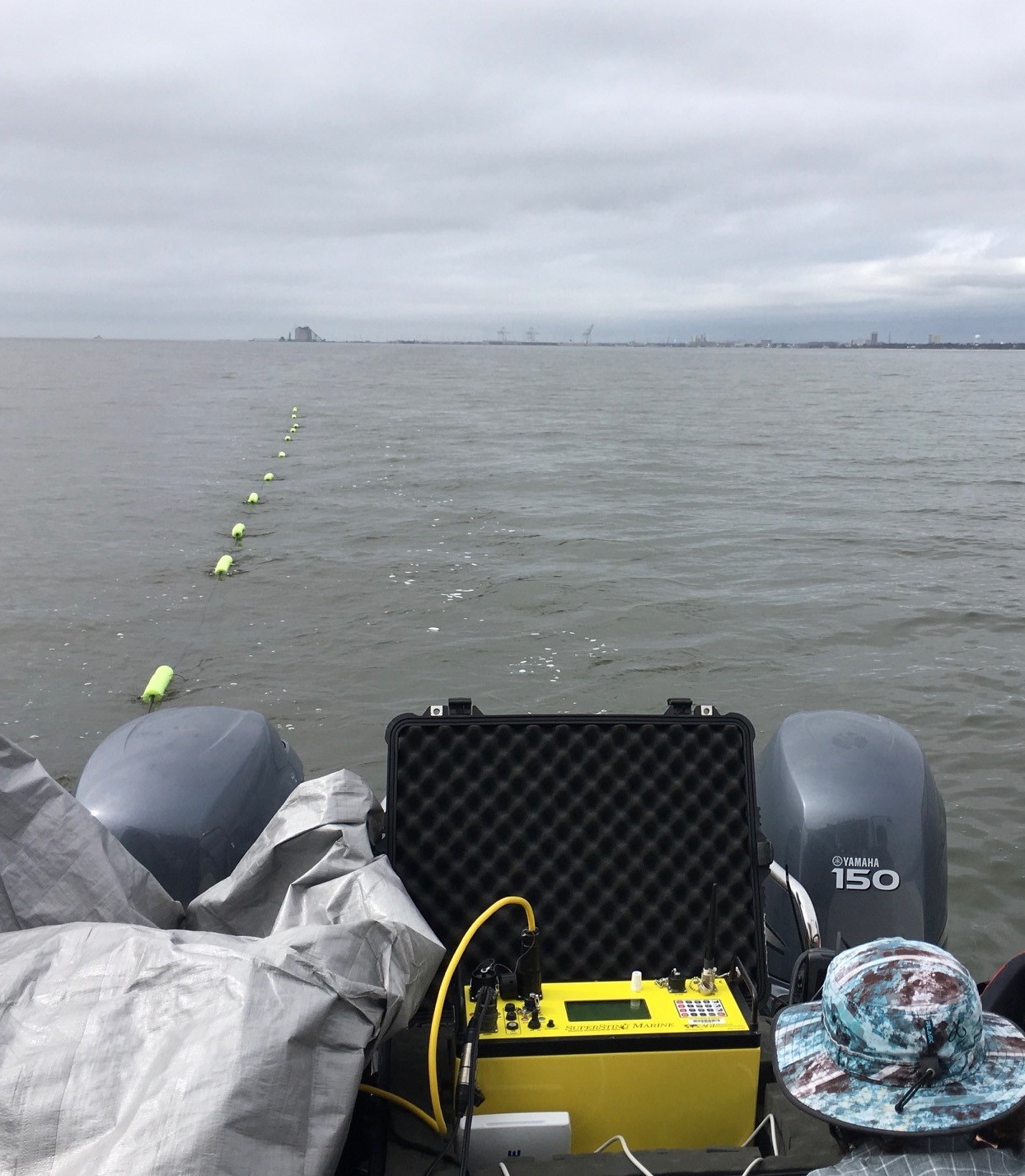 Utilizing an AGI SuperSting-Marine with a Towed Array while seeking freshwater resurgences in the Mississippi Sound
---
Tuesday, December 01, 2020
Dauphin Island Sea Lab's Brian Dzwonkowski and Others Author Article in Nature on Compounding Impacts of Severe Weather
"Compounding impact of severe weather events fuels marine heatwave in the coastal ocean"
Dzwonkowski, B., Coogan, J., Fournier, S.
et al.
Compounding impact of severe weather events fuels marine heatwave in the coastal ocean.
Nat Commun
11,
4623 (2020). https://doi.org/10.1038/s41467-020-18339-2
View the article here: https://www.nature.com/articles/s41467-020-18339-2
Abstract
Exposure to extreme events is a major concern in coastal regions where growing human populations and stressed natural ecosystems are at significant risk to such phenomena. However, the complex sequence of processes that transform an event from notable to extreme can be challenging to identify and hence, limit forecast abilities. Here, we show an extreme heat content event (i.e., a marine heatwave) in coastal waters of the northern Gulf of Mexico resulted from compounding effects of a tropical storm followed by an atmospheric heatwave. This newly identified process of generating extreme ocean temperatures occurred prior to landfall of Hurricane Michael during October of 2018 and, as critical contributor to storm intensity, likely contributed to the subsequent extreme hurricane. This pattern of compounding processes will also exacerbate other environmental problems in temperature-sensitive ecosystems (e.g., coral bleaching, hypoxia) and is expected to have expanding impacts under global warming predictions.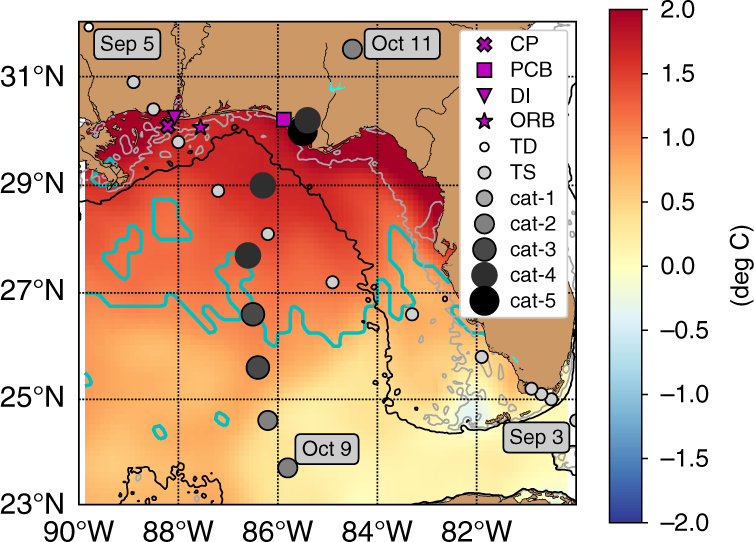 This article has generated a large amount of interest within the scientific community including mentions in news media (The New York Times and the Guardian) and National Geographic, as well as the United Nations Office for Disaster Risk Reduction.
---
Tuesday, December 01, 2020
Drones are Helping Scientists Understand Major Weather Events
When it comes to data collection, uncrewed aerial systems, known as UAS or drones, are critical research tools. They've
helped
scientists take surveys of fur seal and polar bear populations, mapped important salmon habitat, and are even in testing to improve hurricane forecasts. Drones can take large amounts of high-quality, high-resolution images, can reach areas that are dangerous or difficult for scientists to reach themselves, and can do so efficiently and cost-effectively.
Now, these drones are helping NOAA scientists get a better understanding of two major weather events: derechos and flooding.
A few days after Hurricane Delta made landfall in Louisiana on October 9, scientists from NOAA and the
Northern Gulf Institute
(NGI), a NOAA Cooperative Institute based out of Mississippi State University, launched a TigerShark XP3 UAS platform near the banks of the Mississippi River. The TigerShark, a large drone, flew over long stretches of the river, collecting imagery of the riverbanks that would give scientists details about the flooding impact Delta had caused.
As it turned out, Delta didn't cause much flooding in the region. But the area is
particularly vulnerable
to flooding, so getting accurate data after events like Hurricane Delta is critical. The drone flight was part of an
ongoing research partnership
between NOAA and NGI to improve flooding forecasts while also providing forecasters real-time information about how severely an area is being impacted by flood. Imagery collected by the drone is sent to forecasters at the NOAA National Weather Service Lower Mississippi River Forecast Center (RFC) in Slidell, Louisiana, who then use the data to fine-tune their models and better predict the next flood.
The flight was the latest in a series of efforts to use drones to collect imagery during a flood. Previous flights in February and May of 2019 also provided National Weather Service (NWS) forecasters real-time imagery of flooding in Mississippi, helping NWS experts update flood warnings and generate more accurate forecasts.
To Learn more about NOAA's use of drones, visit the
UAS Program website
.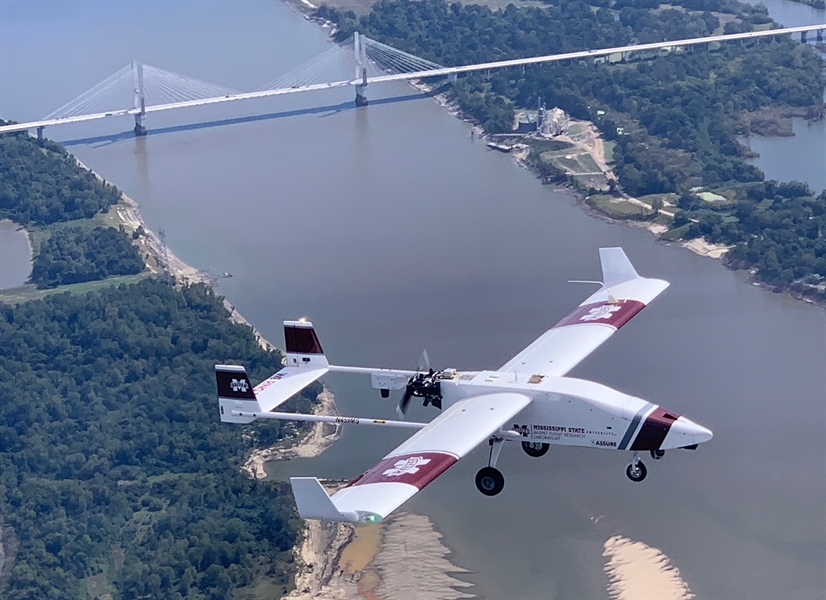 You can view the full story at:
https://research.noaa.gov/article/ArtMID/587/ArticleID/2687/Drones-are-helping-scientists-understand-major-weather-events
---
Tuesday, December 01, 2020
New Coral Reef Monitoring Guide Will Help Measure Restoration Progress
The guide, developed by the Coral Restoration Consortium's Monitoring Working Group, provides scientific guidance for monitoring coral reef restoration projects and measuring their success.
NOAA and partners have released a new comprehensive guide that outlines best practices for monitoring coral restoration efforts and measuring progress toward meeting restoration goals. Practitioners, managers, and scientists worldwide can use this guide to evaluate the success of coral restoration efforts.
NOAA has been a leader in coral research, conservation, and restoration for decades. Coral restoration efforts have continued to scale up in size and number in recent years. This has resulted in a growing need to define what effective restoration looks like and how to evaluate progress towards success.
Coral restoration practitioners can use the monitoring guide to:
Measure the success of their restoration goals or objectives
Compare metrics between projects, programs, and regions
Increase the efficiency of restoration and data collection
Make informed decisions about restoration efforts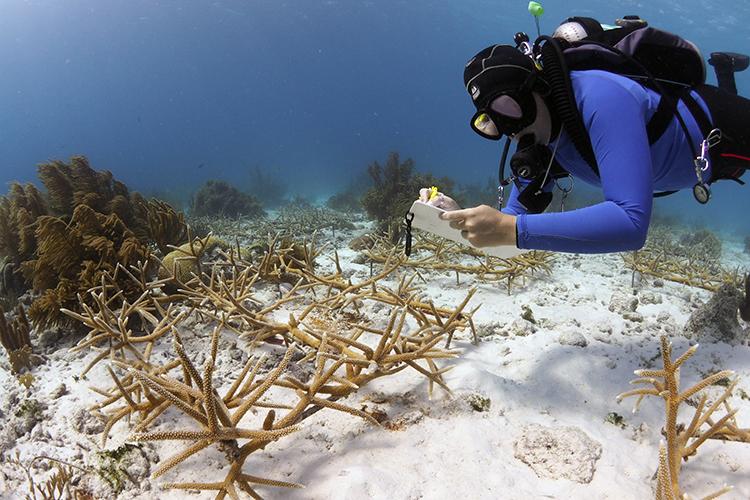 View the full story here:
https://www.fisheries.noaa.gov/feature-story/new-coral-reef-monitoring-guide-will-help-measure-restoration-progress
---
Tuesday, December 01, 2020
Dauphin Island Sea Lab Reports Historic Mass Dolphin Stranding after Hurricane Sally
Dauphin Island Sea Lab reported that six Atlantic spotted dolphins were found dead in the marsh on the north side of the Island on Friday, September 25. The spotted dolphins, all females, appeared to have stranded alive several days before they were discovered.

Atlantic spotted dolphins are offshore dolphins and it is considered rare for this species to strand on the coast of Alabama, with the last stranding documented in January of 2018.

DISL states that if you find a sick, injured, or deceased marine mammal in the Southeast United States, call 1-877-WHALE-HELP (942-5343) as soon as possible. DISL said to never push a live stranded animal back into the water because it can prevent trained responders and veterinarians from providing timely care. Mass strandings are rare along the northern Gulf Coast, and information collected by ALMMSN from this stranding of will be crucial to better understand the effects of storm events on marine mammals in the Gulf of Mexico.

Be sure to report any sick, injured, and/or deceased marine mammals in Alabama to the 24/7 ALMMSN Stranding Hotline at 1-877-WHALE-HELP (942-5343).
---
Tuesday, December 01, 2020
Dauphin Island Discovery Hall K-12 Virtual Learning Opportunities
Let Discovery Hall Programs bring coastal and ocean science to you and your group of learners virtually. We offer a wide variety of classes for all ages of learners. Classes address everything from our coast's natural history, for example, Coastal Invertebrates or Gulf of Mexico Fishes, to important scientific concepts, Coastal Food Webs or Making Friends and Enemies. They include STEM activities, for example, Waves and Currents or Underwater Robots, and important environmental issues such as Marine Debris and Microplastics or Climate Change and Ocean Impacts.
Given prior notice, Discovery Hall can also work with you to address other specific ocean-related topics of interest.
Classes are approximately one hour long and include time for participants to ask questions of the instructor. Classes make use of DISL resources, including live or preserved specimens, discussion of current research, demonstrations, and where appropriate, hands-on activities for your classroom or learning environment. We have Zoom and Google Meet capabilities and can arrange to connect via other apps if necessary. Once booked, we will arrange a test call with you to ensure a trouble-free connection.
Please contact our Scheduling Coordinator Jennifer Latour at
scheduler@disl.org
or by phone at (251) 861-2141, x7511, to book a class. Get additional information and share specific requests with us via
DISLvirtualfieldtrips@disl.org
or (251) 861-2141, x7515.
---
Tuesday, December 01, 2020
Dauphin Island Sea Lab Offering Field Classes for K12 Students
The K-12 Field Classes at DISL are available through Discovery Hall with a variety of field trips, labs, and lectures designed especially for students of those ages. These programs are available from September through May and are by reservation only.
Each program consists of a half-day field/lecture or a half-day lab/lecture experience. Programs may be incorporated into short day trips, or into 1 to 4-day field trips for groups staying overnight. Due to the availability of classroom space, the maximum number of participants allowed per activity is 35, unless otherwise stated.
Reservations must be confirmed one month before arrival. Additional information on programs, nearby educational attractions, preparing your students for their trip, etc., available upon request by contacting Scheduling Coordinator Jennifer Latour at
scheduler@disl.org
or by phone at (251) 861-2141 x7511. See our
Academic Year Field Trip FAQs
for more help planning your trip and download forms.

---
Tuesday, December 01, 2020
Dauphin Island Sea Lab - Science Fridays
Come and join us for a Friday of marine science! Discovery Hall Programs is offering a day of drop-in classes for home school students, for parents looking for enrichment activities for their children, for students who can join us after a day of virtual learning, or just for folks who love to learn about all things marine science.
On the first and third Fridays of each month, we are offering three different field classes each approximately two hours long. Each month, we offer two different themes Ocean Animal Biology and Ocean STEM. Learners can participate in only one class, take two or three classes on the same day or take all six classes over the course of a month, Some of the classes are appropriate for all ages, while younger students will benefit from working with an accompanying adult for others.
---
Ocean Animal Biology
Gulf Coast Marine Animals 9:30-11:30 am

Join us for an entertaining and informative introduction to a variety of marine species from the coast of Alabama and the Gulf of Mexico. After introducing local species of invertebrate and vertebrate animals such as the sponge, jellyfish, sea star, clam, snail, crab, shark, fish, octopus, and more, participants will be able to touch, hold, and examine specimens. This curiosity generating activity will have participants learning about the animals adaptations, life cycles, and basic marine ecology.

What to bring: a water bottle and excitement!

Suitable for all ages.

The Microscopic World of Plankton 1:00-3:00 pm

Join us for an exciting look at some of the smallest and most amazing creatures on the planet - plankton. The word plankton comes from the Greek word planktos meaning to wander. The more we learn about the ocean, the more we realize how incredibly important plankton are. They are the base of many ocean food chains and they are responsible for much of the oxygen in our atmosphere, but they do have their dark side. Come practice your collecting and microscope skills as we explore the world of plankton.

What to bring: a water bottle and curiosity!

Suitable for ages 10 and up, or for all ages with an accompanying adult.

Wetland Ecology: The Salt Marsh 3:00-5:00

Come explore with us and learn about an essential and fascinating local habitat - the salt marsh. During our exploration, we'll discuss the critical role of wetland ecosystems, we'll investigate the plants and animals found in this stressful habitat, and get firsthand experience examining its food web. After a brief chat setting the stage, we'll head to the marsh on our science bus and explorers will have the opportunity to 'sink into their explorations by dragging seine nets, sieving mud, scooping up animals, and becoming up close and personal with marsh grasses.

What to wear and bring: old clothes that you don't mind getting wet and muddy, sneakers that lace tightly for walking in the mud, (no flip-flops, Crocs, Tevas, etc.), a hat to shade the sun while outside, sunscreen, a water bottle and your sense of adventure!

Suitable for ages 10 and up, or for all ages with an accompanying adult.
Ocean STEM
Ocean Drifters - 9:30-11:30 am

There's motion in the ocean! And it's important! Ocean currents determine the distribution of ocean animals, suspended and dissolved materials as well as heat and energy. Drifters are a type of technology that scientists use to study ocean currents. Come build with us as we design, build, and test our own mini-drifter using our engineering skills. We'll also track a full-size ocean drifter using satellites and an app and discuss the significance of nearshore currents in barrier island dynamics.

What to wear and bring: comfortable shoes that can get wet and sandy, a hat to shade the sun while outside, sunscreen, a water bottle, and your creativity.

Suitable for ages 10 and up, or for all ages with an accompanying adult.

Trash (in) the Ocean - 1:00-3:00 pm

Marine debris is a huge problem that impacts marine life everywhere. Join us to learn more about marine debris and microplastics. We'll play the role of a beach dwelling animal and understand how hard trash is to avoid. We will explore how scientists collect and analyze data by collecting our own and comparing it to that collected across the world as we take part in a citizen science project using NOAA's Marine Debris Tracker app.

What to wear and bring: a device (if you can), comfortable shoes that can get wet and sandy, a hat to shade the sun while outside, sunscreen, a water bottle, and your sense of stewardship.

Suitable for ages 10 and up, or for all ages with an accompanying adult.

ROVing the Gulf - 3:00-5:00 pm

Do you like to build things and then see if they work? If so, then this class is for you! Scientists, ocean engineers, and explorers use remotely operated vehicles (ROVs) as they visit, study, and work in the ocean, especially in the deep sea. In this class, we will learn more about ROVs, buoyancy, and hydrodynamics and then team up to build and drive a ROV in the Sea Lab pool.

What to wear and bring: a hat to shade the sun while outside, sunscreen, a water bottle, and your building skills.

Suitable for ages 10 and up, or for all ages with an accompanying adult.
---
We do ask that you pre-register
here
for these class(es) so we know how many individuals to expect, but we also recognize that sometimes you just have to head to the beach. If you find yourself in a day before planning situation, please just give us a ring before heading down to make sure there is space available in the program for that day. Please note that the weather on Dauphin Island can be different from that in Mobile or areas farther north: only severe weather conditions result in cancellation. Cancellations due to weather will be posted on our
Facebook page.
Many of your questions will likely be answered in the registration form, but contact us at
DHPSummer@disl.org
or (251) 861-2141, x 7515 if you need additional information.
If you have trouble using the link above, please register at
https://bit.ly/SeaLabFridays
.
DISL has implemented a number of procedures and precautions to minimize the risk of COVID19 transmission during visits to the Sea Lab. Activities will take place primarily outdoors, groups will be limited in size to facilitate social distancing, and masks will be required for indoor activities, and when social distancing is not possible. Please feel free to contact us for additional information.
---
Tuesday, December 01, 2020
Now Available! Middle School Science Curriculum Highlights Ocean Modeling
Students' engagement with science that connects with something that is relevant in their lives can increase the meaningfulness of science application and help solidify its importance. With that goal in mind, outreach coordinators and researchers with the Consortium for Ocean-Microbial Interactions in the Ocean (CSOMIO) developed a middle school science curriculum "Modeling the Gulf of Mexico" based on their efforts to improve oil transport and fate modeling. The curriculum targets students living in Florida and other Gulf states and introduces them to science that impacts their own lives.
"Our scientific team is working to produce a comprehensive framework for simulating and understanding the role that microbes play in mitigating the impacts of oil spills, so the topics covered in this curriculum align with that research," said CSOMIO principal investigator Dr. Eric Chassignet.
The curriculum contains five complete lessons: "Go with the Flow," "Oil Remediation," "Visualizing Ocean Currents," "The Gulf of Mexico Ecosystem," and "Refining an Ocean Model." Each lesson includes materials such as teacher guides, student worksheets, maps (courtesy of Ocean Conservancy), and answer keys with grading rubrics.
The CSOMIO outreach team collaborated with educators to design lesson plans and activities that meet the Florida State Board of Education's Standards for Science to ensure that the materials are easily used in Florida classrooms. The curriculum follows the instructional model, in which each represents a different phase of the learning process: Engage (grab students interest), Explore (students self-study the material), Explain (students become more familiar with the material with teacher guidance), Elaborate (students apply what they learned), and Evaluate (students demonstrate their understanding of the material).
The CSOMIO outreach coordinators field-tested the lesson plans through collaboration with Florida State University's Sea-to-See program, which introduces students to Florida's diverse marine life and promotes the importance of conservation. The curriculum also includes an Accommodations section in the appendices that offer vocabulary, modified questions, and alternate procedures for each lesson. These accommodations are designed to assist students who require a 504 Plan, an Individualized Education Plan, or who are learning English as a second language.
"Our intent was to provide practical lessons that can help make the complex world of computer modeling more approachable to middle grades students," said CSOMIO science educator Karolyn Burns. "Ultimately, the feedback from both practicing teachers and oceanographic researchers was invaluable, and I hope that it proves useful to educators, as well as engaging for learners."
"This middle school curriculum complements a high school science curriculum released in 2015 by the Deep Sea to Coast Connectivity in the Eastern Gulf of Mexico (Deep-C) consortium", said Tracy Ippolito, who coordinated outreach for both Deep-C and CSOMIO. The Deep-C team compiled and developed the 144-page multi-disciplinary high school curriculum around the five main research areas of its consortium (geomorphology, geochemistry, ecology, physical oceanography, and modeling) and draws connections between science and real-world applications for handling issues such as environmental disasters, their ecosystem impacts, and recovery.
A downloadable PDF version of the CSOMIO middle school science curriculum is available at
CSOMIO
By Stephanie Ellis and Nilde Maggie Dannreuther. Contact
sellis@ngi.msstate.edu
for questions or comments.
************
The Gulf of Mexico Research Initiative (GoMRI) is a 10-year independent research program established to study the effect, and the potential associated impact, of hydrocarbon releases on the environment and public health, as well as to develop improved spill mitigation, oil detection, characterization, and remediation technologies. An independent and academic 20-member Research Board makes the funding and research direction decisions to ensure the intellectual quality, effectiveness, and academic independence of the GoMRI research. All research data, findings, and publications will be made publicly available. The program was established through a $500 million financial commitment from BP. For more information, visit
http://gulfresearchinitiative.org/
.
Copyright 2010-2020 Gulf of Mexico Research Initiative (GoMRI) - All Rights Reserved. Redistribution is encouraged with acknowledgment to the Gulf of Mexico Research Initiative (GoMRI). Please credit images and/or videos as done in each article. Questions? Contact web-content editor Nilde "Maggie" Dannreuther, Northern Gulf Institute, Mississippi State University (
maggied@ngi.msstate.edu
).
---
Tuesday, December 01, 2020
NGI - MSU Education & Outreach Opportunities
STEAM: Science Through the Arts
STEAM programs add art to the STEM curriculum by drawing on design principles and encouraging creative solutions. In 2013, a joint resolution was introduced in the United States House of Representatives expressing the sense that adding art and design into Federal programs that target the STEM fields encourages innovation and economic growth in the United States.
The Travelling Trunk Education & Outreach Program
NGI has developed loanable "Travelling Trunk Shows" which include Art and Science-based curriculum designed to support the national college and career readiness standards. We typically include the "science, literature and arts behind the scenes" that includes targeted classwork and lessons of discovery for oceanography, marine and fisheries science, and weather. These trunks provide STEAM-focused interaction with large numbers of schoolchildren, their parents, teachers, and administrators.
NGI Art and Design Competition
The Northern Gulf Institute (NGI) at Mississippi State University is proud to announce a STEAM art competition, where original drawings, paintings, photography, or other renderings, depicting the natural environment, marine, avian, or aquatic species, the ocean, or weather, as related to the Mississippi River, The Gulf Coast, or the Gulf of Mexico Basin, are to be submitted for review. The winner of the competition will have their art featured in the "Portal" Newsletter.
Continuing Education Opportunities
The Northern Gulf Institute (NGI) has joined with the Department of Geosciences and the Center for Distance Education at Mississippi State University to provide Continuing Education and/or 4 hours of Graduate College Credit to teachers and professionals wishing to undertake a 7-10 day geosciences field course. The course locations for this year are Bahamas (split undergrad/grad), Western WA, NY, and Great Plains Storm Chase. A science background is helpful to successfully complete these courses and costs $1250 plus tuition (4 hours of in-state graduate credit). (approximately $2978 total) Additionally, for most of the trips, the students pay for their meals, but the Bahamas trip includes meals. Students are also responsible for getting to the start location on their own (e.g Seattle, Nassau, Oklahoma City, etc.).
Visiting Scientists to your Classroom or Organization
The NGI can provide assistance in locating a guest speaker for your classroom or organization meeting to discuss various topics including Coastal Hazards, Geospatial Data Integration and Visualization, Ecosystem Management Climate Change, and use of UAV/AUVs in the environmental and agricultural sciences.
Lesson Plan Database
NGI along with the INSPIRE program is developing a database of approximately 500 Mississippi Science Curriculum-based lesson plans and assignments for k-12 classrooms. These will be linked to our website in the near future. Click Here for Lesson Plans:
http://gk12.msstate.edu/lessonplans.html
For More information please contact the Education & Outreach Office at
EandO@ngi.msstate.edu
---
Tuesday, December 01, 2020
Northern Gulf Institute Seeking to Fill Co-Director Position
Position Function:
The Co-Director of NGI and Associate Director for GRI is a full-time position located at the John C. Stennis Space Center (SSC), MS. This position functions as the MSU Technical Site Lead, supervising all MSU research programs at SSC and serving as the MSU advocate to federal and state agencies at SSC and throughout the Gulf of Mexico area.
Salary Grade:
20
Area of Specialization:
Technical Site Lead, Stennis Space Center
Essential Duties and Responsibilities:
Provide management and oversight for all the Geosystems Research Institute (GRI) and Northern Gulf Institute (NGI) personnel and research programs at SSC.
Oversee and provide daily supervision for all personnel housed in the MSU Science and Technology Building at SSC.
Provide the agencies located at the SSC with an on-site point-of-contact for MSU to facilitate agency-university interaction.
Develop and maintain coordinated extension and outreach functions to expand and enhance multi-faceted inter-agency, center, and departmental multi-disciplinary projects; i.e. projects that integrate research, education, and extension.
Develop and enhance relationships with federal, state, local, and private sector entities to the fullest extent possible, forming collaborations and coordinating relationships resulting in research and extension activities with local and national teams related to the GRI and NGI Mission.
Assist in strategic planning activities with the GRI and NGI Director.
Perform delegated responsibilities assigned by the GRI and NGI Director.
Participate in GRI and NGI research opportunity development.
Supervise the efficient execution of contracts managed by MSU at SSC.
Minimum Qualifications:
Earned doctorate in Atmospheric Science, Ocean/Marine Science, Earth/Geoscience, or closely associated discipline, with demonstrated experience in:
Strategic planning
Leading and supporting strategic planning processes.
Implementation development
Designing implementation approaches for a multi-agency, multi-center research programs.
Program management
Managing a multi-million dollar technology and applications development programs focused on delivering geospatial-based solutions to resource managers.
Team development
Developing multi-disciplinary teams that focus on requirements for information, implement technical approaches, test and validate applications, deliver final products, and assess economic impacts.
Performance assessment and reporting
Establishing goals, measuring performance, and reporting results.
Leadership
Representing Institutional interest in a national program, managing program and project-level activities, and supervising employees.
Proven record of research accomplishment.
Instructions for Applying:
Link to apply:
http://explore.msujobs.msstate.edu/
Apply online by submitting a cover letter, resume, and a copy of your transcript(s). Any social security numbers included on requested transcripts should be redacted prior to submitting online. For questions, please contact Crisler Herndon at
crisler@hpc.msstate.edu
.
Restricted Clause:
Position contingent upon funding availability.
Equal Employment Opportunity Statement:
MSU is an equal opportunity employer, and all qualified applicants will receive consideration for employment without regard to race, color, ethnicity, sex, religion, national origin, disability, age, sexual orientation, genetic information, pregnancy, gender identity, status as a U.S. veteran, and/or any other status protected by applicable law. We always welcome nominations and applications from women, members of any minority group, and others who share our passion for building a diverse community that reflects the diversity in our student population.
Please click the following link for more information:
https://explore.msujobs.msstate.edu/cw/en-us/job/500723/codirector-ngi-associate-director-gri-associate-research-professor
---
Tuesday, December 01, 2020
Announcement for Opportunity - Fiscal Year 2022 National Sea Grant College Program Dean John A. Knauss Marine Policy Fellowship from the Department of Commerce
The National Sea Grant College Program was enacted by U.S. Congress in 1966 (amended in 2008, Public Law 110-394) to support federal and state partnerships that harness the intellectual capacity of the nation's universities and research institutions to solve problems and generate opportunities in coastal communities.
This notice announces that applications may be submitted for the 2022 National Sea Grant College Program Dean John A. Knauss Marine Policy Fellowship (Sea Grant Knauss Fellowship Program). The National Sea Grant College Program (Sea Grant) anticipates funding not less than 35 applicants, of which approximately 17 will be assigned to the Legislative branch. Application packages will each propose a total of $84,000 in funding. Detailed breakout of this funding is described in Section II.A and Section III.F of this announcement.
Applicants are strongly encouraged to reach out to the Sea Grant Program in their state/territory at least one to two months prior to the state application deadline to receive application support and provide notification of intent to apply. The applicant should allow sufficient time to schedule an interview with the eligible Sea Grant program at the program's request.
This document describes requirements for submitting to NOAA-OAR-SG-2022-2006631. Additional guidance and tips on how best to prepare an application are provided in the Sea Grant General Application Guide available at:
https://seagrant.noaa.gov/Portals/1/Guidance/SeaGrantGeneralApplicationGuide.pdf
Eligibility:
Any student, regardless of citizenship, is eligible to submit to this opportunity if:
The student is enrolled towards a degree in a graduate program at any point between the onset of the 2020 Fall Term (quarter, trimester, semester, etc.) and February 19, 2021;
The graduate degree will be awarded through an accredited institution of higher education in the United States or U.S. Territories, and;
The student has an interest in ocean, coastal, and Great Lakes resources and in the national policy decisions affecting those resources.
Application submission is through an application to the Sea Grant program in the state in which the student is earning their degree. If there is no Sea Grant program, a Sea Grant program will be assigned (see Section IV.D.)The National Sea Grant College Program champions diversity, equity, and inclusion (DEI) by working to create a marine science workforce that reflects the communities we serve. We are recruiting, retaining, and preparing a diverse workforce, and proactively engaging and serving the diverse populations of coastal communities. Sea Grant is committed to building inclusive research, extension, communication, and education programs that serve people with unique backgrounds, circumstances, needs, perspectives, and ways of thinking. We encourage applicants of all ages, races, ethnicities, national origins, gender identities, sexual orientations, disabilities, cultures, religions, citizenship types, marital statuses, education levels, job classifications, veteran status types, and income, and socioeconomic status types to apply for this opportunity.
Please follow the link for further information:
https://www.grants.gov/web/grants/view-opportunity.html?oppId=329537
---
Tuesday, December 01, 2020
NOAA Live Wednesdays at 4 pm ET (Informative Science Education Webinars)
The National Oceanic and Atmospheric Administration (NOAA)'s Regional Collaboration Network in conjunction with Woods Hole Sea Grant and the Woods Hole Oceanographic Institution is offering this series on
Wednesdays at 4 pm ET
during the 2020-2021 school year. We are also pleased to highlight the
NOAA Live! Alaska Series
, sponsored by NOAA's Alaska Fisheries Science Center, NOAA's Regional Collaboration Network, and the National Weather Service, which will be offered on
Tuesdays at 3 pm ET
.
https://seagrant.whoi.edu/suggested-educational-resources-for-use-during-school-closures/webinars-noaa-live/
Each webinar will feature a different NOAA expert/topic and a moderated question and answer session throughout so that you can get a peek at what our NOAA scientists do in all the various NOAA offices. These webinars are geared toward grades 2-8 and allow students to connect with scientists. Webinars are streamed via GoToWebinar, are ~45 minutes in length, and will be recorded (and then posted with English captions and Spanish subtitles). Teachers can sign up for a webinar and then share their link with their students so they can join the webinar.
#NOAALive4Kids
To view the entire list of NOAA Educational Webinars Click below:
https://www.youtube.com/playlist?list=PL1CGd4Scv4GICVRODGA8RRvzocNN1lL8H
***ALL RECORDED WEBINARS INCLUDE ENGLISH CAPTIONS AND SPANISH SUBTITLES***
---
Tuesday, December 01, 2020
NGI Begins Rollout of limited Face-to-Face Outreach Activities at NASA Infinity Science Center.
NGI Personnel took part in the NASA
Infinity Science Center
Home School Mondays Program, last week. It was one of our first opportunities to undertake a face-to-face activity since the onset of the pandemic. The Infinity Science Center invited homeschooled children and their families to attend their Home School Monday educational event concerning the "OCEANS". We utilized the
What's the Catch
activity modified by our own Madalyn Newman, at the request of the Infinity Science Center who said, "It is their favorite activity we've put forward so far".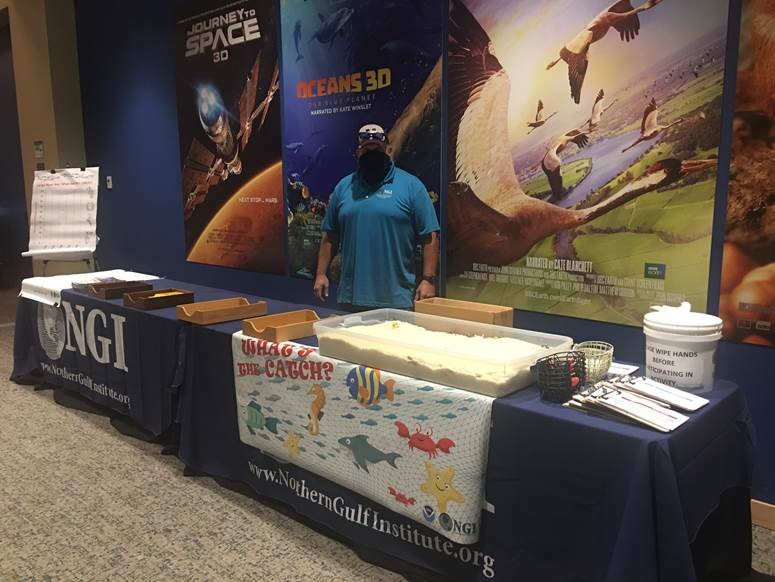 The activity involves a simple ocean filled with different species of marine life, where the students trawl with different mesh sizes of nets and quantify the species sampled. The activity allows us to discuss biodiversity, bycatch, and sampling techniques in our work offshore. It uses concepts from problem-solving, coastal biology, basic mathematics, and graphing/charting.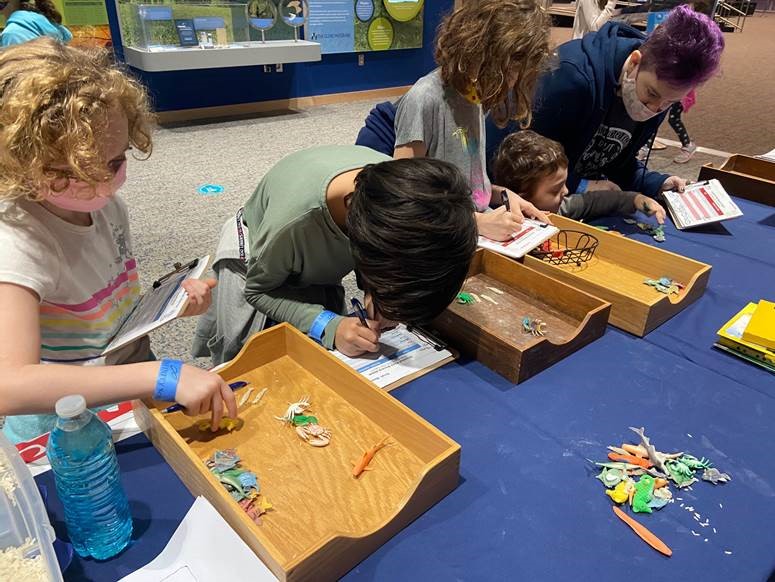 There were 207 registered students along with their families and siblings in attendance.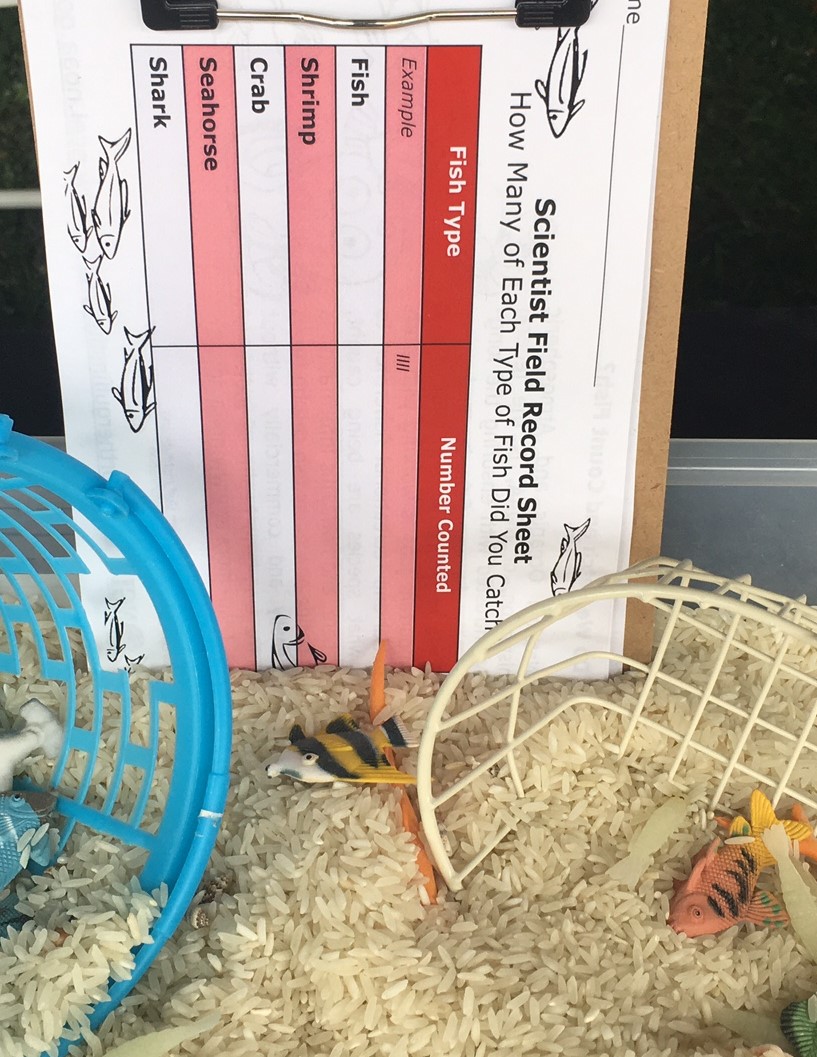 This activity provided an excellent opportunity to get live science and interactions with NGI scientists into the hearts and minds of students in homeschool programs across the Gulf Coast region to help stir their imagination and possibly spark an interest in the Marine, Earth, and Atmospheric Sciences.
NGI Personel are scheduled to undertake an additional Homeschool Event at the new
Mississippi Aquarium
on February 23rd and 25th of 2021 for more information you can follow the link here:
https://www.msaquarium.org/homeschool-days
.
---