Wednesday, July 24, 2019
With Second Workshop, NCCOS Continues Focus on Hypoxia Effects on Fish and Fisheries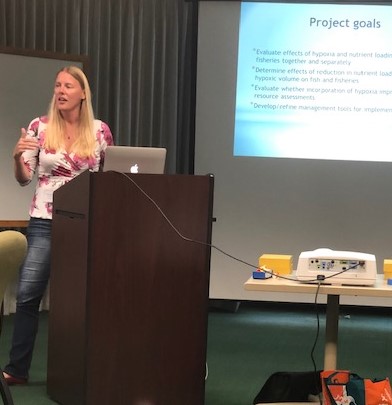 Dr. Kim de Mutsert (George Mason University), Project Lead on User-Driven Tools to Predict and Assess Effects of Reduced Nutrients and Hypoxia on Living Resources in the Gulf of Mexico presenting results during Advisory Panel workshop at Rosenstiel School of Marine and Atmospheric Science, Miami, FL, June 25-26, 2019.
Credit. D. Hilmer, NOAA NCCOS.
Click to view full page:
https://coastalscience.noaa.gov/news/with-second-workshop-nccos-continues-focus-on-hypoxias-effects-on-fish-and-fisheries/
Building on results of an
initial 2017 workshop
, a second advisory panel workshop concerning the effects of low dissolved oxygen in water (hypoxia) was held June 24-25, 2019, in Miami, Florida. The workshop focused on introducing new user tools and training.
Expanding hypoxia
in the northern Gulf of Mexico continues to affect ecologically and economically important living resources, but the magnitude, predictability and even the direction of these changes remain elusive. Managers and stakeholders need readily available and quantitative tools to predict and evaluate the effects on living resources of planned nutrient reduction strategies aimed to minimize the hypoxic zone. To resolve these uncertainties, NCCOS is
sponsoring research
on developing user-driven, management-relevant, tools to accurately predict and assess effects of reduced nutrients and hypoxia on living resources in the Gulf of Mexico.
---
Thursday, July 18, 2019
Register now to become a Mississippi Master Naturalist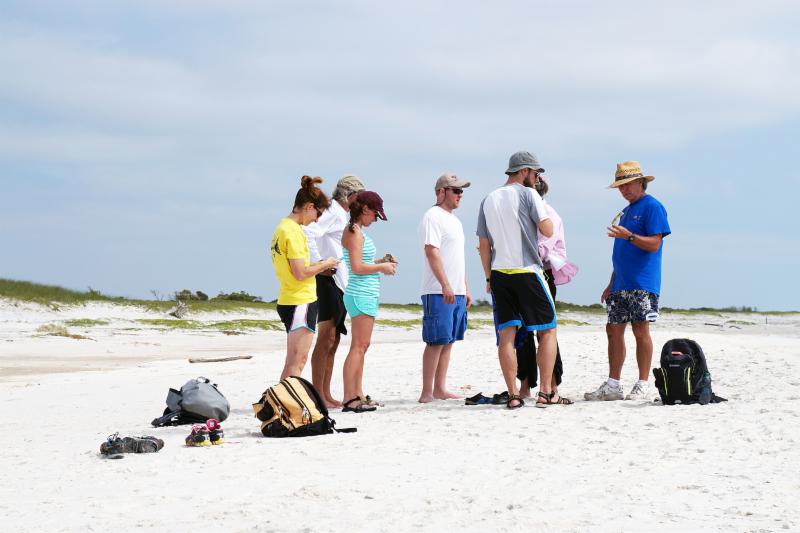 Master Naturalist students and instructors spend a day in the field on Horn Island.
This year's class Mississippi Master Naturalist course on the coast will run from Sept. 5-Oct. 11. The class will meet at different locations and meet once a week on either a weeknight or Saturday (there will be one Friday day class).
Mississippi Master Naturalists commit to volunteering their time to teach others about natural resources, encourage environmental stewardship and provide technical assistance to natural resource organizations. Current naturalists are helping monitor beaches, forests and wetlands through conducting bird, amphibian and terrapin surveys, water quality monitoring and other citizen science activities.
Students this year will learn about forest ecology, coastal and estuarine ecology, entomology, human impacts, fish, wildlife management, forest management, coastal habitats, and ornithology. Field trips will include inshore and offshore boat trips and hiking through the forest.
Four Continuing Education Units (CEUs) are available with this course. The course cost is $300 and includes course manuals and supplies.
Register here
---
Thursday, July 18, 2019
Mississippi - Alabama Sea Grant - Fact sheets about harmful algal blooms (HABs) in the Gulf of Mexico.
Algal bloom resources available
Mississippi
| | |
| --- | --- |
| | |
| | A sign in Bay St. Louis, Miss., tells beachgoers not to swim in the water. |
- Alabama Sea Grant has written two fact sheets about harmful algal blooms (HABs) in the Gulf of Mexico. The documents and several videos of experts talking about harmful algal blooms are available online.
In response to the recent blue-green HABs occurring in parts of the Gulf, staff members put together a fact sheet of frequently asked questions to answer common concerns people have about blue-green algae and algal blooms.
The publication explains what blue-green algae is, where to find water contact warnings in Alabama and Mississippi, and what health concerns exist regarding the algae.
Mississippi-Alabama Sea Grant also has a Q&A publication on harmful algal blooms that cause red tide. The publication answers questions about conditions that influence HAB events, how shellfish harvests are affected, how to best clean up fish kills and how seafood safety issues are addressed.
Videos from Mississippi-Alabama Sea Grant's June seminar, "Harmful Algal Blooms in Coastal Alabama and Mississippi," are also available. They feature experts talking about the history of HABs and the Harmful Algal BloomS Observing System (HABSOS), red tide forecasting, tourism industry needs, marine biotoxin management and control, a shellfish grower's perspective on HABs, HAB biotoxin monitoring and management in Florida, the roles of Mississippi state agencies during HABs, the BEACH Act, and balancing the needs of human health and local economies. Find the videos here.
---
Thursday, July 18, 2019
SeaGram Newsletter by Mississippi-Alabama Sea Grant Consortium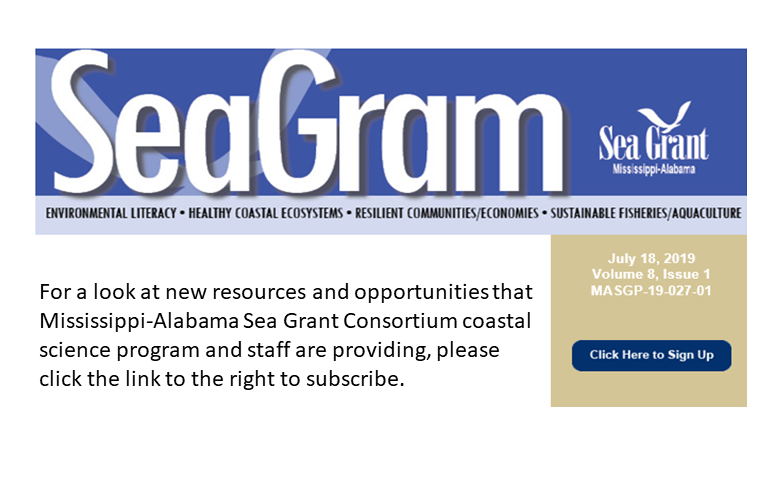 ---
Wednesday, July 17, 2019
Mississippi Aquarium - Making Waves for Education
Coming in August 2019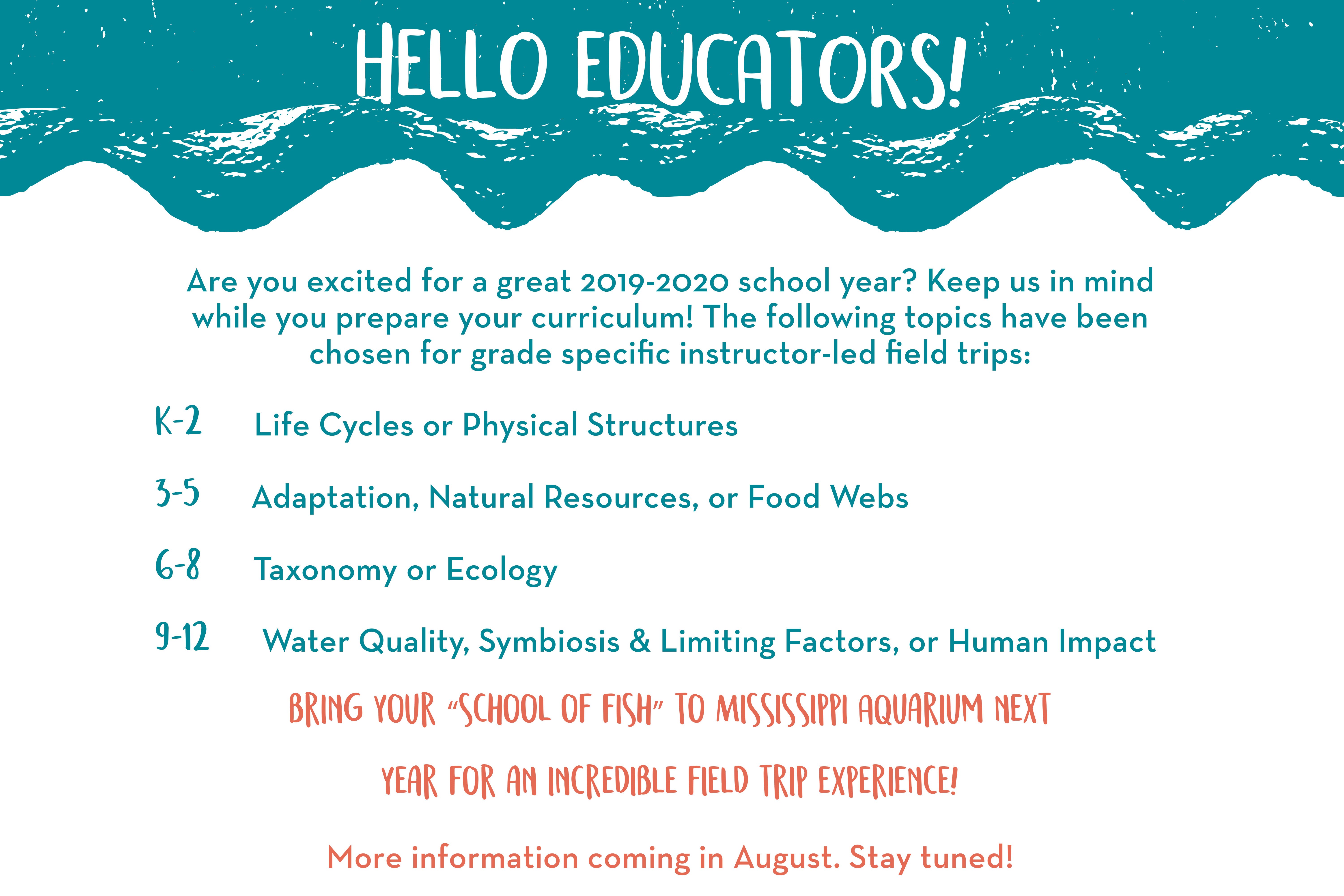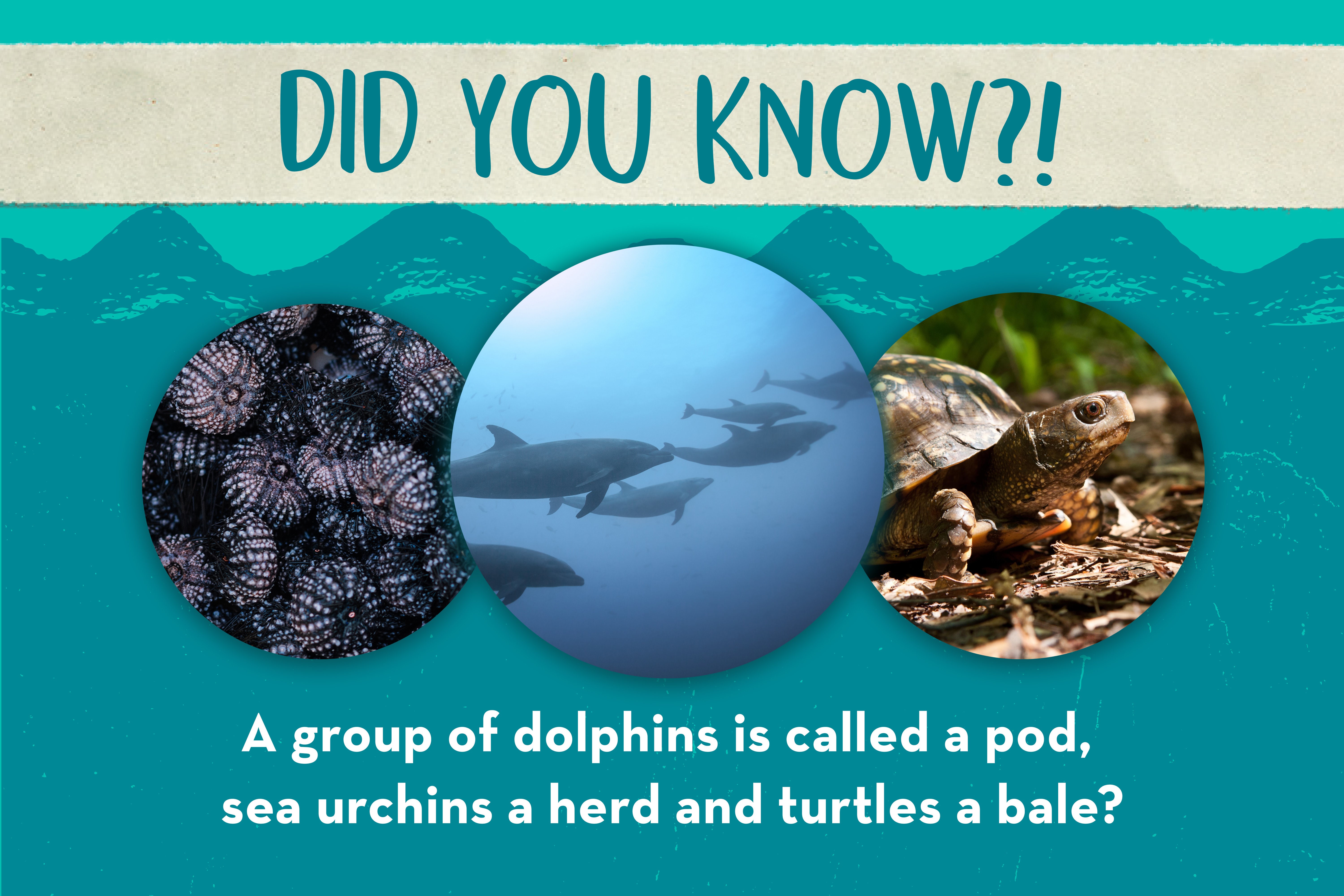 ---