Friday, August 17, 2018
Investigating the Role Submarine Geologic Deposits Play in Coastal Groundwater Flow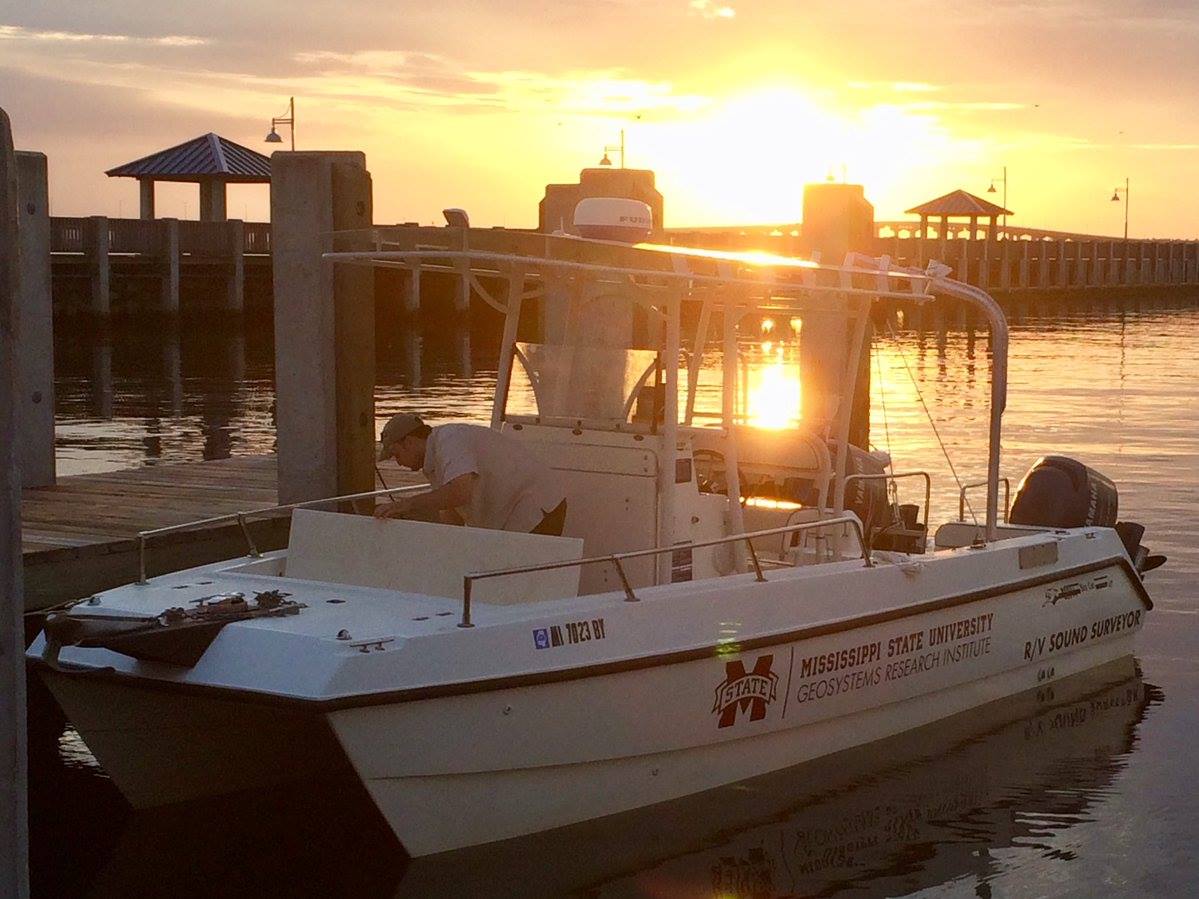 Adam Skarke and Daniel Adcock from the Mississippi State University Department of Geosciences, alongside the Northern Gulf Institute and Geosystems Research Institute are investigating the role submarine geologic deposits play in coastal groundwater flow and how that influences oyster reef locations. This research includes time spent aboard the R/V Sound Surveyor collecting Side-Scan and Sub-Bottom sonar data.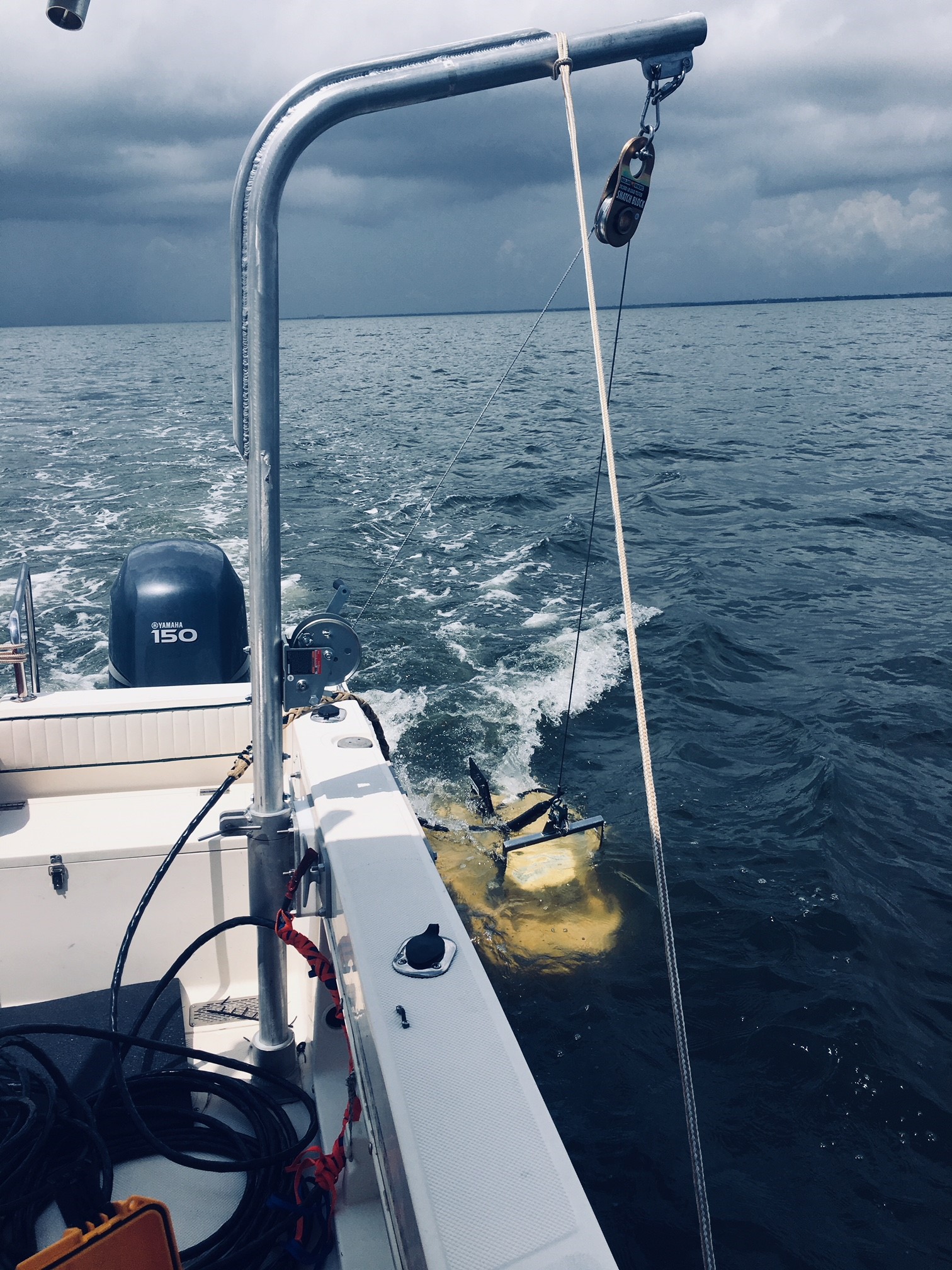 Sub-bottom profiling systems identify and measure various marine sediment layers that exist below the sediment/water interface. These acoustic systems use a technique that is similar to single beam echo sounders. A sound source emits an acoustic signal vertically downwards into the water and a receiver monitors the return signal that has been reflected off the sea floor. Some of the acoustic signal will penetrate the seabed and be reflected when it encounters a boundary between two layers that have different acoustic impedance. The system uses this reflected energy to provide information on sediment layers beneath the sediment-water interface.
Acoustic impedance is related to the density of the material and the rate at which sound travels through the material. When there is a change in acoustic impedance, such as the water-sediment interface, part of the transmitted sound is reflected. However, some of the sound energy penetrates through the boundary and into the sediments. This energy is reflected when it encounters boundaries between deeper sediment layers having different acoustic impedance. The system uses the energy reflected by these layers to create a profile of the marine sediments.

Data collected during this research is beign used to create detailed geological cross sections of the Mississippi Sound. These cross sections are then combined into fence diagrams which are are graphical representations of vertical slices through the earth used to clarify or interpret geological relationships with accompanying maps. As with other tools, cross sections and fence diagrams are then used to portray geological information in a visual form so that sub-surface characteristics can be readily interpreted.
The end goal of this research is to locate ancient, burried groundwater channels and acertain any interaction they may have had in the development and or overall health of oyster populations in the Mississippi Sound.

---
Friday, August 03, 2018
Squalls Out on the Gulf Stream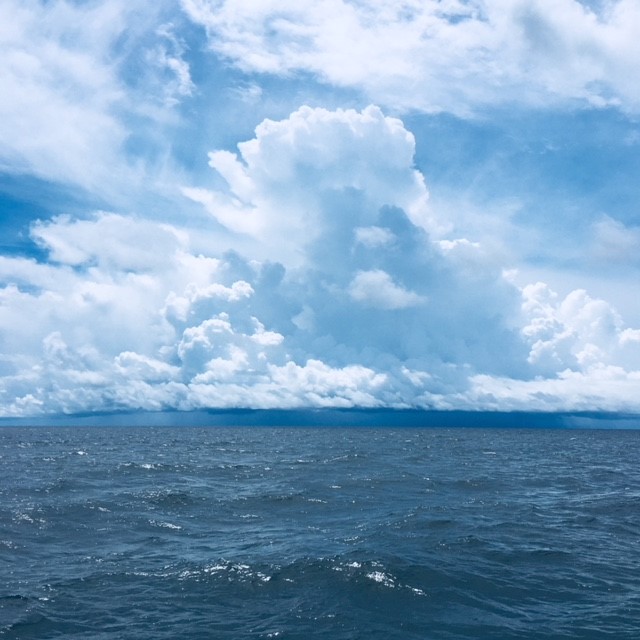 Sometimes nature has other plans for when and where you are allowed to undertake certain projects.
A large series of squalls move onshore from the Gulf into the Mississippi Sound offshore Pass Christian, Mississippi.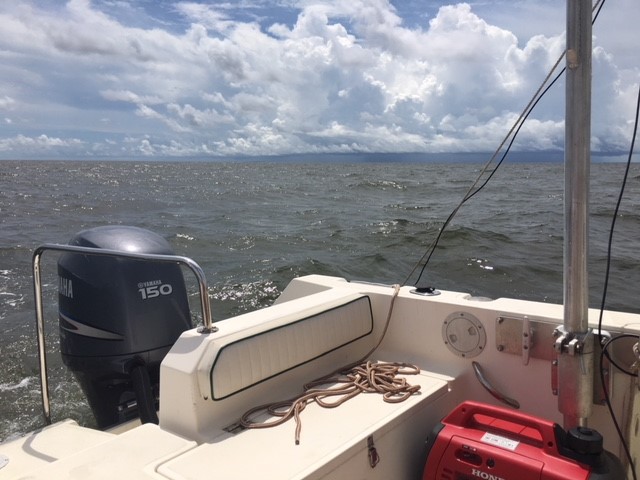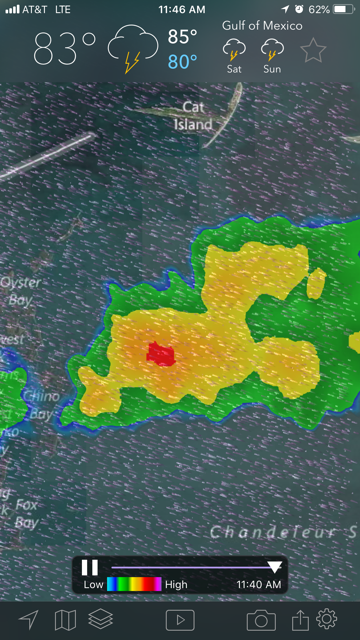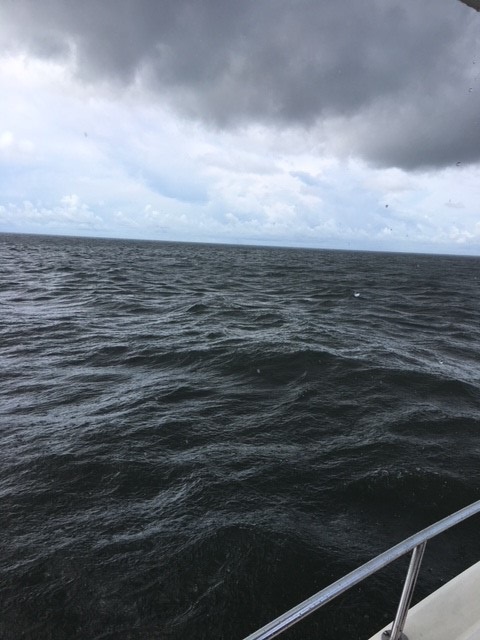 ---
Wednesday, August 01, 2018
The Northern Gulf Institute Supports NOAA Okeanos Explorer, America's Ship for Exploration
The Okeanos Explorer at sea. Image courtesy of NOAA/OER/Art Howard, OER.
The deep sea is the last undiscovered frontier on Earth that has the potential to harbor undiscovered biodiversity and significant geological features. In fact, NOAA scientists report that 95 percent of the ocean is unexplored, unknown and unseen by human eyes. To address this, NOAA's Office of Ocean Exploration and Research (OER) has operated the NOAA Ship
Okeanos Explorer
over the last ten years with a mission to systematically explore our largely unknown oceans for the purpose of discovery and the advancement of knowledge.
In the spring of 2018, the
Okeanos Explorer
explored the Gulf of Mexico. Researchers from Mississippi State University along with the Northern Gulf Institute collaborated with OER to share their combined scientific knowledge, technology and infrastructure to help scientists collect critical baseline information about unknown and poorly understood deep-water areas of the Gulf of Mexico.
The
Okeanos Explorer
embarked on two expeditions in the Gulf of Mexico between March and May of 2018. OER's Data Management Team, based in NOAA's National Centers for Environmental Information (NCEI), helped to ensure that the ship's newly-updated network continued to successfully transmit live images and scientific data over satellite and high-speed Internet to scientists observing at various land-based Exploration Command Centers throughout the country. NGI's Susan Gottfried, who works with NCEI as one of the data team leads, described how the team supported the two cruises, which produced over 11 terabytes of data.
We have been involved with the
Okeanos
Explorer
from when it was first acquired by NOAA from the U.S. Navy and was being re-fit for ocean exploration. As a result, we have had the unique ability to assist in setting up the data pipelines off the ship so we could manage the data as best as possible with the most recent advances in technology,Gottfried said. Exploration increases the breadth of knowledge and research increases the depth of knowledge. The
Okeanos Explorer
is an exploration vessel that will hopefully catalyze further research. Our team is responsible for managing the data collected by the
Okeanos Explorer
and seeing that it is made available to a wide audience.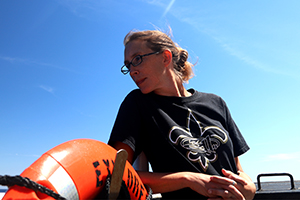 MSU's NGI Scientist Megan Cromwell on the deck of the Okeanos Explorer. Image courtesy of NOAA/OER.
Before the Gulf of Mexico 2018 expedition disembarked from port, the data collection and transmission equipment and two-way communication links had to be tested. Megan Cromwell, NGI research project manager, supported the
Okeanos Explorer
Gulf of Mexico Technology Demonstration as the onboard data team management lead. During this cruise from March 23-April 5, the
Okeanos Explorer
conducted its first emerging technology demonstration projects with partners including the Naval Undersea Warfare Center, Cooperative Institute for Ocean Exploration, Research & Technology, and the Center for Coastal and Ocean Mapping at the University of New Hampshire. Cromwell was onboard the ship to coordinate and supervise the data management processes.
"We work with the shipboard data and equipment management team, the Global Foundation for Ocean Exploration. GFOE is a nonprofit that develops the tools and equipment that gives the marine science community the capabilities to explore the deepest depths of the ocean that have never been studied before. For instance, they manage the ROV, the sensors that send data via low internet broadcast streams like WiFi or Bluetooth, and satellite connections aboard the ship," Cromwell explained. "In turn, we work with them to ensure what sensors we are going to use, and that our digital data management systems are successfully interacting with the underwater and collection equipment. Im ensuring we have the best data quality control via our digital data management systems."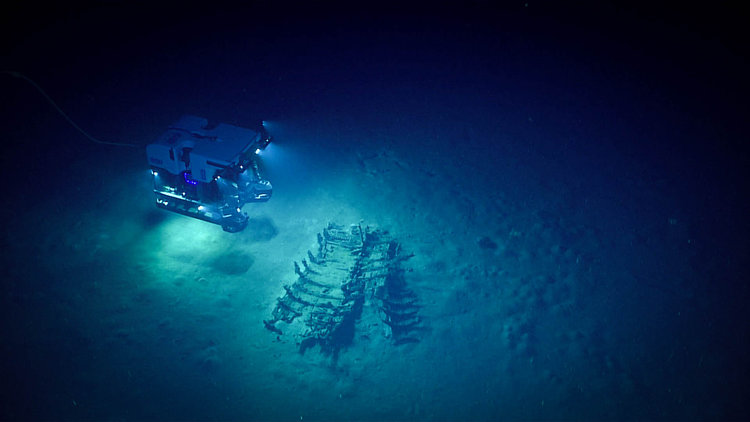 ROV Deep Discoverer explores the cultural heritage site during Dive 02 of the Gulf of Mexico 2018 expedition. Image courtesy of the NOAA/OER.
During the expedition the team performed operational tests to ensure data like dissolved oxygen, nutrient profiles and chemical as well as physical oceanographic profiles could be collected, were of the best quality available and were transmitted to shore successfully. When not onboard, the team is responsible for ensuring that the data collected with the remotely operated vehicle (ROV), Deep Discoverer, along with a lineup of other digital instruments including ADCP, XBT and CTD casts, multi-beam, sub-bottom, and single-beam sonars, surface oceanographic and meteorological sensors, video, imagery, and processed dive and video data products are successfully collected and transmitted to shore.
After the onboard and shore-based high-tech equipment passed inspection, the Gulf of Mexico 2018 cruise set off to explore new frontiers within deep coral and sponge communities, bottom fish habitats, undersea canyons, shipwrecks, and a variety of chemosynthetic habitats including cold seeps, mud volcanoes and brine pools. Using NOAA Ship
Okeanos Explorer'
s unique capabilities, scientists and audiences onshore viewed the expedition live via real-time video footage from deep-water areas (up to 3,010 meters) of the Gulf of Mexico.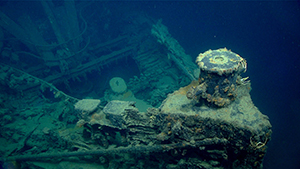 Bow end view into the hull of the wreck of the tugboat New Hope. In 1965, the U.S. Coast Guard performed a daring helicopter rescue of the New Hope's crew during Tropical Storm Debbie and saved everyone aboard. Dive 01 included the first ever collection of images at this submerged maritime heritage site. Image courtesy of NOAA/OER.
NGI's Matt Dornback organized a group of scientists, including from within NGI, to actively participate in the dives by annotating the video as it is recorded with biological and geological observations. During a few of the expedition's 15 dives, NGI senior research associate and NCEI habitat specialist, Kate Rose annotated with keywords identifying geological features in real time from the NOAA Exploration Command Center at the MSU Science and Technology Center located at the John C. Stennis Space Center, while biologists at the NOAA Deep Coral Ecology Lab in Charleston, South Carolina identified and annotated the biological species.
Every sixty seconds a still image generated from the video feed would pop up, and we have to identify and tag that still image. It is a challenge when a new species shows up, Rose explained. The annotators are trained to use the video annotation software, which is preprogrammed with keywords from the Coastal and Marine Ecological Classification Standard that gives us keyword options and categories to select from, which does make the categorizations and digital catalogs more organized because we all use the same classification system and language.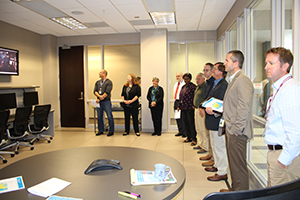 Clint Edrington, Jonathan Jackson and Kate Rose organized a NOAA Okeanos Explorer and ECC Open House. Staff from CNMOC, NVO, NRL, and NOAA at Stennis interacted with scientists onboard the Okeanos Explorer at the NOAA Ocean ECC at the MSU Science and Technology Center. Image courtesy of NGI's Barbara Ambrose.
Lauren Jackson, an NGI scientist, was the sample data manager onboard the
Okeanos Explorer
. Working in the ship's wet lab, she collected the physical specimens off the ROV and made sure they were properly imaged, labeled, categorized and cataloged in the Sampling Operations Database Application, which NOAA's National Center's for Environmental Information developed and deployed. The
Okeanos Explorer
was exploring the Gulf of Mexico with a focus on unmapped areas, deep-sea coral and chemosynthetic communities, when they discovered a sea star, which experts think is likely a new species.
Working on the
Okeanos
is pretty much my dream job; it is one of those life goals that was on my bucket list. I feel really fortunate because it is a very amazing thing to be a part of pure exploration. I never thought in my lifetime that I would get to explore the unknown because most of the Earth's terrestrial base has been discovered, Jackson explained. It is essential to make sure everything is logged in to the database correctly so the public can easily access whatever we discover and that nothing is lost. The biggest part of my job is to catalog correctly so the public and the scientists can retrieve the information easily.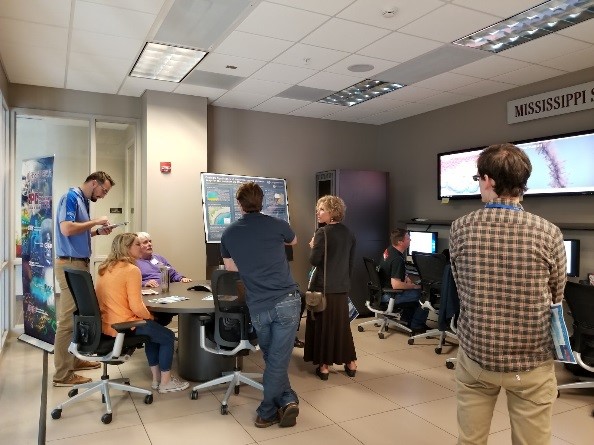 Kate Rose and Jonathan Jackson hosted on shore expeditions with scientists from the Bureau of Ocean Energy Management. BOEM interacted with the Okeanos Explorer at the NOAA Ocean Exploration Command Center at the Mississippi State University Science and Technology Center. Image courtesy of NOAA/Angela Sallis, NCEI.
Another Mississippi State NGI research scientist that was part of the NOAA
Okeanos Explorer
expedition team is Adam Skarke. The Mississippi State professor is a marine geologist and served as the ship's co-lead scientist. On prior NOAA expeditions, Skarke served as an NOAA scientist and used sonar systems and robotic submarines to investigate seafloor methane seeps that he helped discover. In the role as co-lead scientist on this expedition, Skarke facilitated scientific discussions between onboard researchers and shore based scientists, environmental managers, archeologists, and students interacting through telepresence technology from the exploration command centers around the country including the one at Stennis Space Center. The expedition was also streamed live over the internet to participating scientists as well as the general public, and Skarke's voice was one that people were likely to hear during the live video feed of the expeditions.
"I was in this public role on a day-to-day basis. As the participating scientists were sharing their high-level expertise on what we were observing in the deep-sea, there were numerous members of the general public, including students, watching from aquariums and schools and following along. I tried to explain our exploration work and clarify technical terminology in a way that was easy to understand," Skarke said. In managing the scientific aspects of the expedition, the other co-lead scientist and I were representing the research interests of hundreds of participating scientists, and synthesizing all of their requests into one exploration plan. We of course had to make some compromises to reach a consensus, but made sure that participating scientists recognized that their proposed exploration ideas were valued and heard.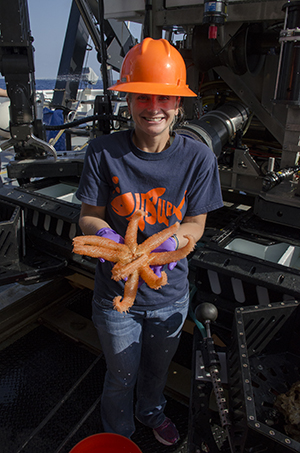 Lauren Jackson manages specimens collected in the Gulf of Mexico, like this sea star, which may be a new species. Image courtesy of NOAA/OER/NCEI.
Over the course of the 2018 Gulf of Mexico expedition
Okeanos Explorers
team participated with over 85 scientists, managers, and students in the United States, Japan, Russia, Norway, the United Kingdom, and Canada participated as members of the science team through telepresence.
One of the most exciting and rewarding things about participating in an
Okeanos Explorer
expedition is that you are continually exploring locations in the ocean that on one has ever seen before. Because of this, there is always a possibility that you may see a new species of animal or previously undiscovered seafloor feature, and very often you do.
Mississippi State, the NGI and NOAA's OER are planning to work together along with NOAA's NCEI to share resources and scientific knowledge on future
Okeanos Explorer
expeditions that will explore new areas of the Gulf with the hope to discover new marine species or geological features that advance the knowledge of ocean science. To learn more about how NGI and NCEI scientists support OER, visit
www.ncei.noaa.gov
.
The Northern Gulf Institute conducts high impact research and education programs in the Gulf of Mexico region focused on integration of the land-coast-ocean-atmosphere continuum; integration of research to operations; and integration of individual, organizational strengths into a holistic program.
The NOAA Office of Ocean Exploration and Research is the only federal organization dedicated to ocean exploration. By using unique capabilities in terms of personnel, technology, infrastructure and exploration missions, OER is reducing unknowns in deep-ocean areas and providing high-value environmental intelligence needed by NOAA and the nation to address both current and emerging science and management needs.
---
Wednesday, August 01, 2018
NGI Researchers Publish on "Processes Driving the Seasonal Cycle of Phytoplankton Biomass in the Gulf of Mexico"
The manuscript "Seasonal Patterns in Phytoplankton Biomass across the Northern and Deep Gulf of Mexico: A Numerical Model Study" by Fabian A. Gomez, Sang-Ki Lee, Yanyun Liu, Frank J. Hernandez Jr., Frank E. Muller-Karger, and John T. Lamkin, has been recently published in Biogeosciences (
https://doi.org/10.5194/bg-15-3561-2018
). This study examines underlying processes driving the seasonal cycle of phytoplankton biomass in the Gulf of Mexico, using a realistic high-resolution ocean-biogeochemical model that explicitly represent small- and large-size plankton components. The role of silica as limiting nutrient of diatom growth was simulated by first time in the region. The model results indicate that 1) diatom growth is silica-limited in the deep Gulf during winter, and near the Mississippi delta during spring, 2) zooplankton grazing plays a key role modulating phytoplankton biomass seasonality, 3) dominant physical processes influencing the local rate of change of phytoplankton are horizontal advection in the northern shelf and vertical mixing in the deep Gulf. The study highlights the needs for an integrated analysis of biologically and physically driven biomass fluxes to better understand phytoplankton biomass phenologies.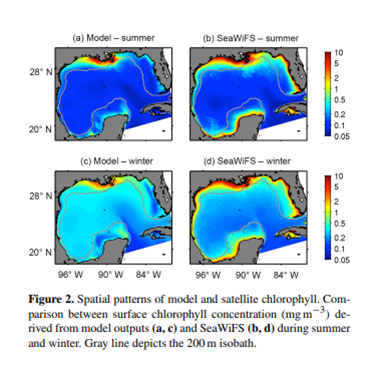 ---
Wednesday, August 01, 2018
NGI Researcher Jamie Dyer Receives Fulbright Grant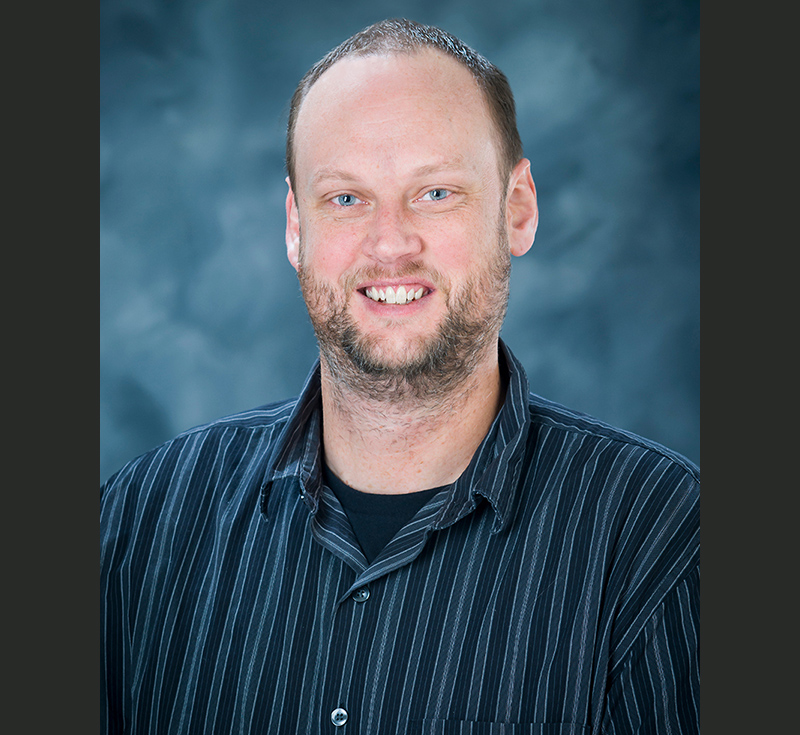 Jamie Dyer, a professor in Mississippi State's Department of Geosciences and NGI Researcher, is continuing the university's history of participation in the U.S. Department of State's flagship Fulbright international exchange program.
As the recipient of a Fulbright Specialist Grant, MSU's Jamie Dyer traveled to Poland this summer to collaborate on meteorology and climatology research with colleagues at Maria Curie Sktodowska University (UMCS). While in Poland, Dyer will developed research projects related to the assessment and prediction of climate extremes such as droughts and heatwaves, extreme rainfall events and surface-atmosphere interactions over agricultural areas.
"Receiving this Fulbright is a milestone in my research career and a unique opportunity to extend my existing expertise to address environmental challenges in other geographic regions," Dyer said. "At the same time, the award gives me the chance to broaden my research interests and develop new international collaborations, paving the way to new projects that add to the overall mission of Mississippi State University and the Department of Geosciences."
Dyer was selected for the Fulbright Specialist Grant by the J. William Fulbright Foreign Scholarship Board. The grant is administered by the Department of State's Bureau of Educational and Cultural Affairs with the cooperation of World Learning. This trip marks a return to Poland for Dyer, who served as a visiting professor at UMCS in 2015.
"The knowledge gained from the travel and research associated with the award will be useful in developing future grant proposals and publications with an international focus, especially as they relate to shared water resource issues and challenges between the U.S. and Europe," Dyer said.
Since arriving at MSU in 2005, Dyer has been published in a variety of peer-reviewed journals and has received funding from agencies including the U.S. Army Research Laboratory, U.S. Geological Survey and the National Oceanic and Atmospheric Administration. He received his bachelor's, master's and doctoral degrees from the University of Georgia.
For more on the Fulbright program, visit
www.eca.state.gov/fulbright
.
---
Wednesday, August 01, 2018
Seminar: Dr. Adam Greer, University of Southern Mississippi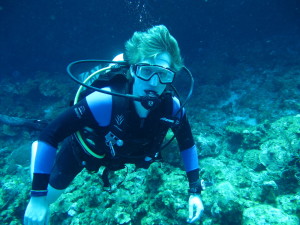 Event Date:
Thursday, September 6, 2018
Event Time:
11:00 am - 12:00 pm
Location:
Shelby Auditorium at Dauphin Island Sea Lab
Working as a postdoctoral researcher under the supervision of Dr. Monty Graham and Dr. Ian Church at the USM Department of Marine Science, Dr Adam Greer's research involves analyzing the biological and physical drivers of plankton distributions using in situ imaging and acoustic sampling technologies.
Connect to the University Programs Seminar Series
Host: Dr. Jeffrey Krause
Seminars set up by University Programs faculty cover a variety of topics throughout the year. Students on and off campus are invited to attend to learn more about what is happening in the marine science community. Topics include oysters, restoration, hypoxia, and more. The majority of seminars are streamed live and archived to the Dauphin Island Sea Lab YouTube channel.
---
Wednesday, August 01, 2018
Embrace the Gulf 2020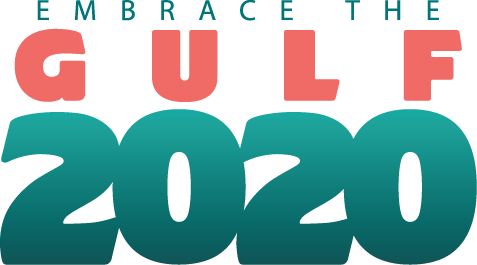 Like phytoplankton in the ocean, the smallest things can have the biggest impacts. Your charitable gift to the Embrace the Gulf campaign will help the Gulf of Mexico Alliance realize a year of celebration in 2020.
Every amount counts.
Support Embrace the Gulf
---
Wednesday, August 01, 2018
Education & Outreach Opportunities
The Travelling Trunk Education Outreach Program
Mr James Comans at Desoto Central Middle School, in Mississippi has been chosen to be the first recipient of the Atmospheric Sciences Trunk. This trunk provides a Portable Weather Station and state science curriculum targeted projects and classroom lesson plans as well as a literature component. The trunk program is designed to provide student with direct observation and lessons on understanding and interpretation of the atmospheric sciences.
STEAM: Science Through the Arts, Art Competition
STEAM programs add art to STEM curriculum by drawing on design principles and encouraging creative solutions.

In 2013, a joint resolution was introduced in the United States House of Representatives expressing the sense that adding art and design into Federal programs that target the STEM fields encourages innovation and economic growth in the United States.

The Northern Gulf Institute (NGI) at Mississippi State University is proud to announce a STEAM art competition, where original drawings, paintings , photography, or other renderings, depicting the natural environment, marine, avian, or aquatic species, the ocean, or weather, as related to the Mississippi River, The Gulf Coast, or the Gulf of Mexico Basin, are to be submitted for review. The winner of the competition will have their art featured in the "Portal" Newsletter.
Continuing Education Opportunity
The Northern Gulf Institute (NGI) has joined with the Department of Geosciences and the Center for Distance Education at Mississippi State University to provide Continuing Education and/or 4 hours of Graduate College Credit to teachers and professionals wishing to undertake a 7-10 day geosciences field course. The course locations for this year are Bahamas (split undergrad/grad), Western WA, NY, and Great Plains Storm Chase. A science background is helpful to successfully complete these courses and cost $1250 plus tuition (4 hours of in-state grad credit). (approximately $2978 total) Additionally, for most of the trips the students pay for their meals, but the Bahamas trip includes meals. Students are also responsible for getting to the start location on their own (e.g Seattle, Nassau, Oklahoma City, etc.).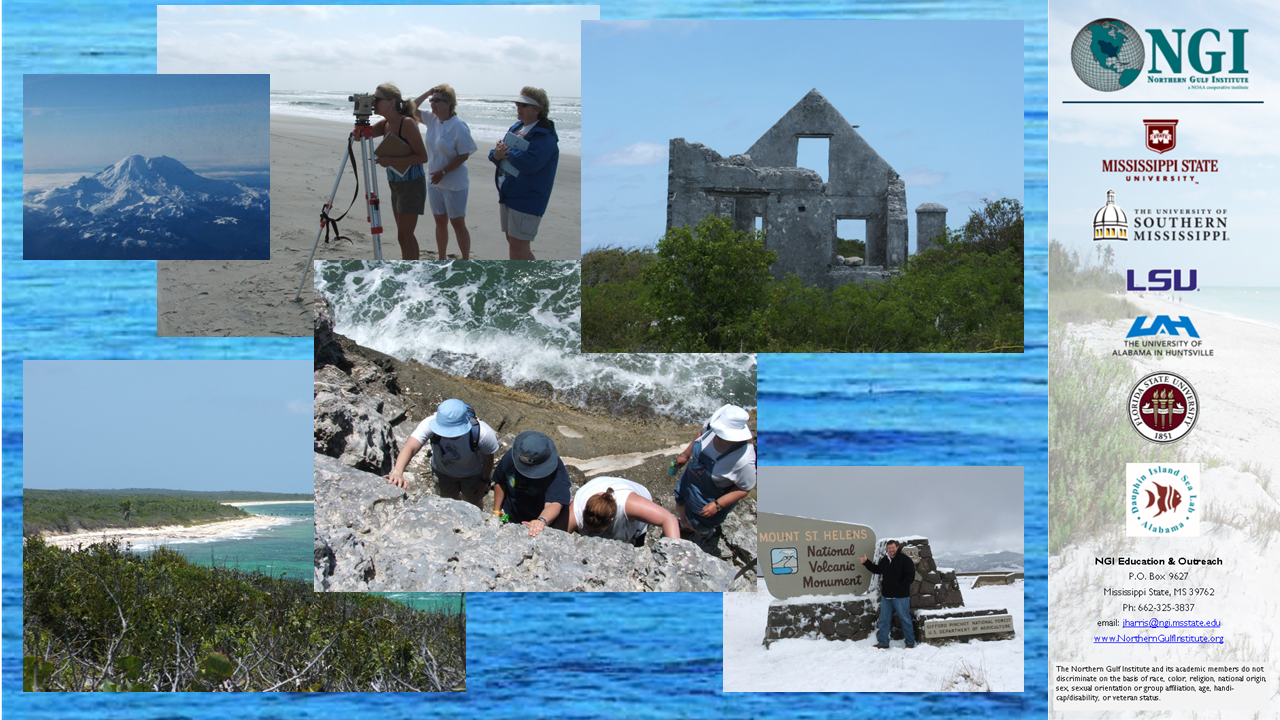 Visiting Scientists to your Classroom or Organization
The NGI can also provide assistance in locating a guest speaker for your classroom or organizations meeting to discuss various topics including Coastal Hazards, Geospatial Data Integration and Visualization, Ecosystem Management Climate Change, and use of UAV/AUVs in the environmental and agricultural sciences.
Lesson Plan Database
NGI along with the INSPIRE program is developing a database of approximately 500 Mississippi Science Curriculum based lesson plans and assignments for k-12 classrooms. These will be linked from our website in the near future.
Click Here for Lesson Plans
---
Wednesday, August 01, 2018
USM ~ Marine Education Center Field Trips ~ 2018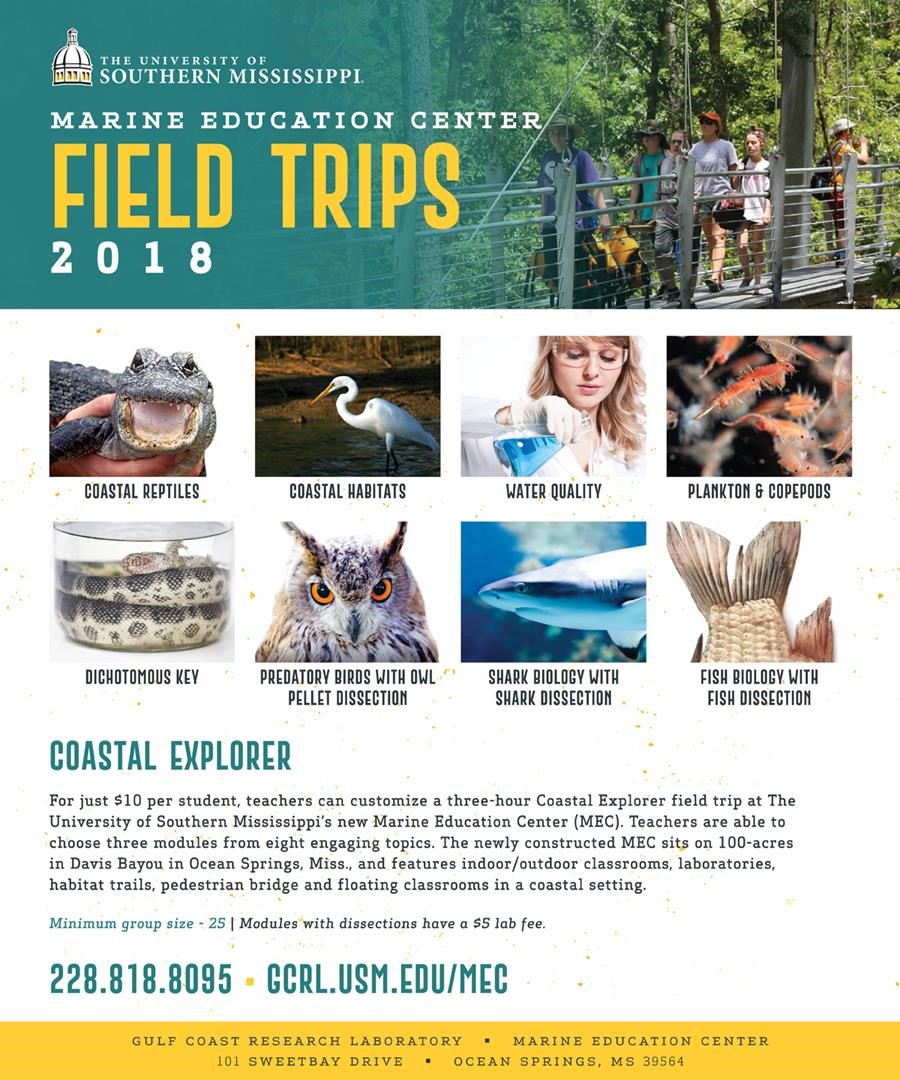 For more information about registration, call 228.818.8095 or email
marine.education@usm.edu
.
Check out our website at
gcrl.usm.edu/mec
.
The Marine Education Center at the Gulf Coast Research Laboratory is part of the
USM School of Ocean Science and Engineering.
Sign up today
to have the School's quarterly newsletter emailed to you.
---
Wednesday, August 01, 2018
FSU Center for Ocean-Atmospheric Prediction Studies (COAPS) Welcomes Campers from the Oasis Center's "Girls Can Do Anything" Camp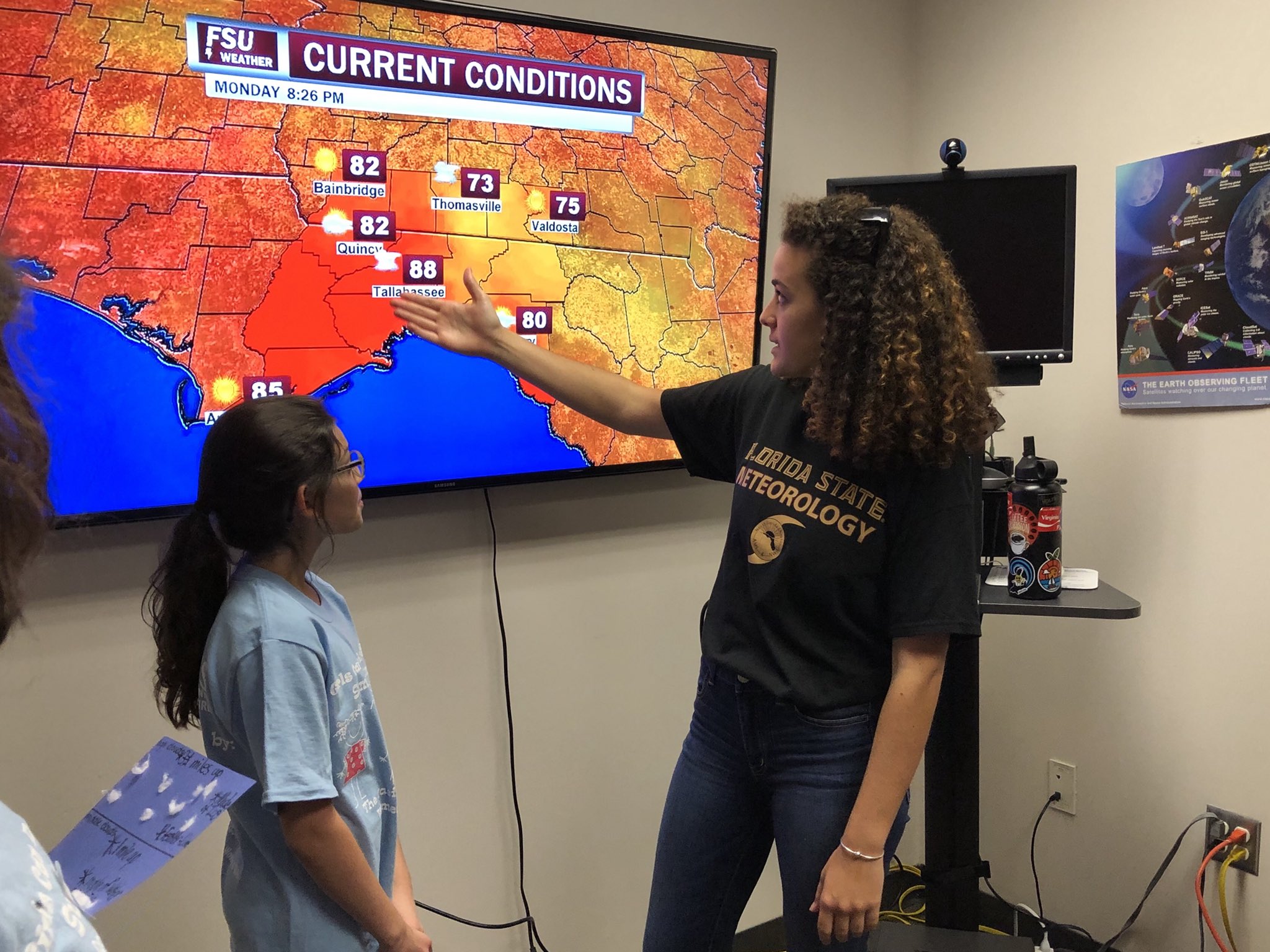 In what has become an annual outreach tradition, the FSU Center for Ocean-Atmospheric Prediction Studies (COAPS) welcomed more than two dozen campers from the Oasis Center's "Girls Can Do Anything" camp this July. A series of activity stations designed to introduce the girls to weather and climate were set up and manned by COAPS research scientists and students.
Through hands-on demonstrations, the campers learned about working with wind, keeping an eye on hurricanes, and all about clouds. They also had the opportunity to be an on-camera weather broadcaster thanks to the FSU Weather Team, a student-produced weather station. And finally, campers learned about pseudo-coding and what it takes to program computers using COAPS' Lego EV3 robot, Ada.
Hosting student groups is a wonderful way to introduce and excite kids about science and technology!
Watch YouTube Video of "Girls Can do Anything"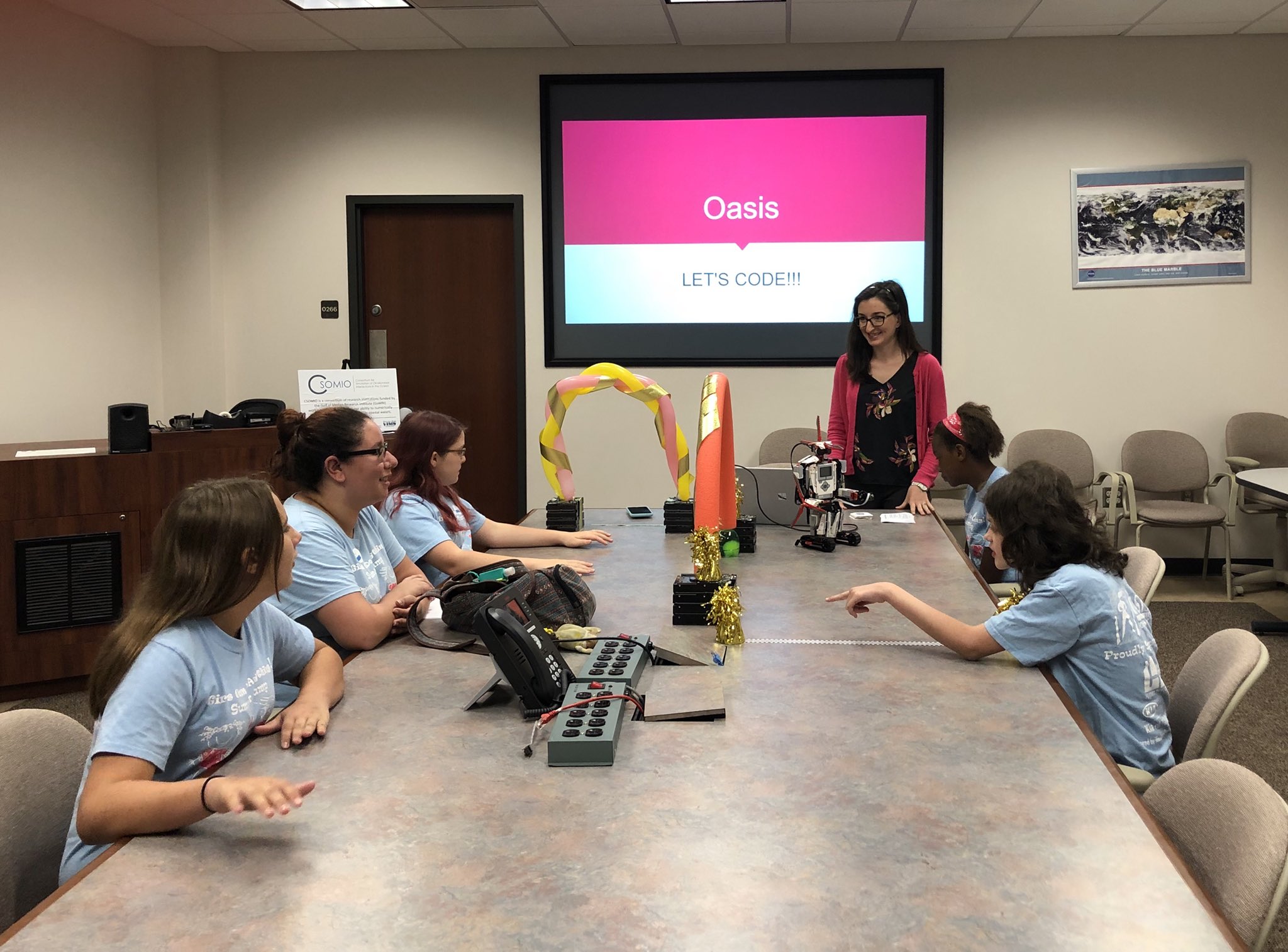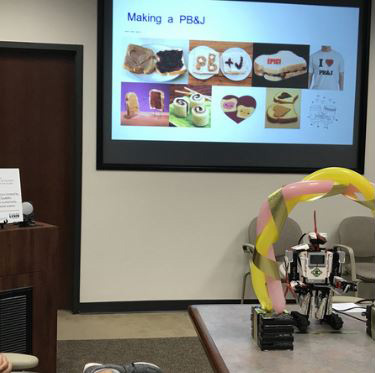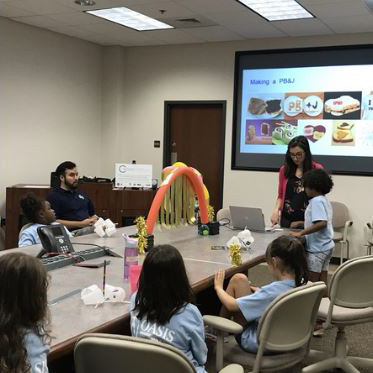 ---
Wednesday, August 01, 2018
Interactive Web Mapping Applications Available from the Geospatial Education and Outreach Project
The Geospatial Education and Outreach (GEO) Project offer training in GIS (ESRI products and open source QGIS), provide technical support to the Mississippi geospatial community and develop user-friendly, web-based geospatial applications. Description and schedule of upcoming workshops may be found at
http:/geoproject.hpc.msstate.edu
. Please note the schedule is dynamic in that additional workshops may be added at any time.
Three web applications have been developed through the GeoProject:
GeoDawg
,
GeoExtension
and
GeoCoast
. A brief description of each is presented in the following paragraphs.
GeoDawg
Proper utilization of GIS requires experience with concepts as well as with software.
GeoDawg
was developed as an online GIS with a relatively short learning curve.
GeoDawg
contains several capabilities, such as generate linear and area measurements, display data from several layers listed in the Layer Catalog, generate thematic maps from the 2016 Community Survey, import/export data from/to the users computer and search for geospatial data on the Internet.
GeoDawg
may be accessed through
http://geoproject.hpc.msstate.edu/GeoDawg/
. For additional information about
GeoDawg
, contact Randall McMillen at 662-325-4585 or
randall@gri.msstate.edu
.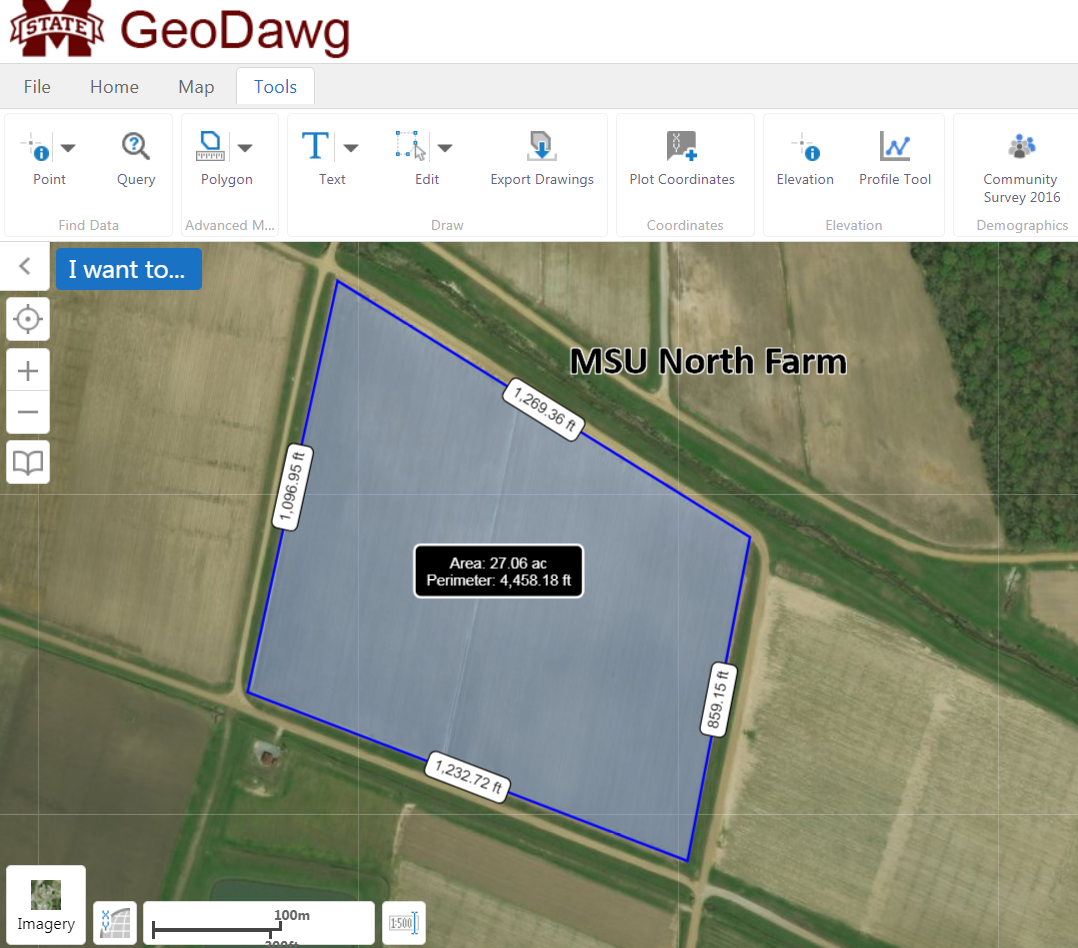 GeoExtension
An enhancement to
GeoDawg
,
GeoExtension
was developed for the MSU Extension Service personnel in the 82 county extension service offices.
GeoExtension
provides users with the option to save map edits to the GEO Project server and share data with other
GeoExtension
users. Project files may be created to save work in progress and to restore the project state by uploading the project file. For additional information about
GeoExtension
, contact John Cartwright at 662-325-5447 or
johnc@gri.msstate.edu
.
GeoCoast
Storm surges and sea-level rise are realities for those living on the Mississippi Gulf Coast, one of the largest concentration of population in the state. The web-based application,
GeoCoast
, was developed for local and state decision-makers, as well as the coastal residents, to examine the impact of rising water on the coastal infrastructure. The resources found at
GeoCoast
allow one to: graphically display sea-level rise (1 to 15 feet), assess sea-level rise on the routing of traffic, identify facilities listed in the EPA's Toxic Release Inventory located in inundated areas and find surface elevation at a user-specified point.
GeoCoast
may be accessed through
http://geoproject.hpc.msstate.edu/GeoCoast/
. For additional information about
GeoCoast
, contact Gunnar Olson at 228-668-3420 or
gunnar@gri.msstate.edu
.
GeoCoast3D
provides a 3-dimensional view of coastal inundation and the impact on buildings in the affected areas. A color coding scheme is used to display water depth and the number of feet at ground level a building is under water.
GeoCoast3D
may be accessed through
http://geoproject.hpc.msstate.edu/GeoCoast3D/
. For additional information about
GeoCoast3D
, contact John Vander Zwaag at 662-325-2579 or
vanderz@gri.msstate.edu
.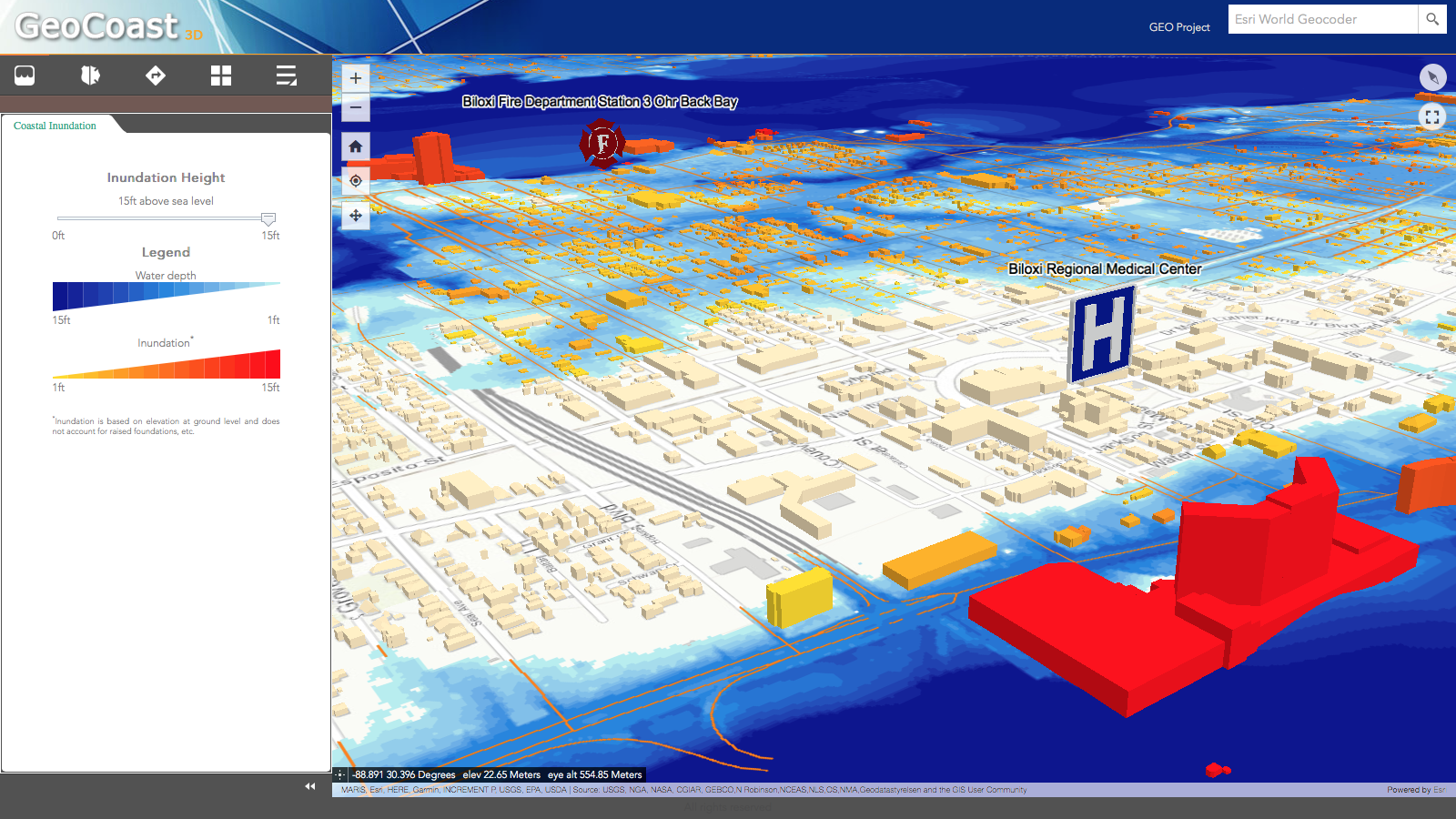 ---
Wednesday, August 01, 2018
ArtSealab Festival - Scheduled for October 26-28, 2018
We believe in the power of the creative arts to raise awareness of the Gulf's beauty, resources, and the ecological challenges it faces.
- Artsealab Creative Advocacy
ARTSealab
is a collaboration between
Art Does It (ADI)
, a nonprofit arts organization, and Alabama's Marine Science Consortium, the
Dauphin Island Sea Lab (DISL)
.
ARTSealabs mission is to enhance the public understanding of the ecological challenges facing the Northern Gulf of Mexico and its coast through the dialogs of art, science, and folk life.
The first annual three day ARTSealab festival is scheduled for October 26-28, 2018 at the DISL campus on 101 Bienville Boulevard, Dauphin Island, AL 36528.
The ARTSealab festival will kick-off with an October 26, Friday night Forks and Corks culinary event at the DISL estuarium featuring a live Mobile County High School Culinary Arts seafood competition and aquaculture education.
On October 27
th
and 28
th
, the DISL 36-acre campus will host a two-day indoor and juried outdoor arts festival. This festival will feature: live music, hands-on art and science learning experiences, a Marine Debris 3D competition, Gulf Folk Life demonstrations, community booths. Also featured are visual artists and their works related to the marine and estuarine life of Alabama, from the Deltas to the Deep Ocean Blue. A middle and high school online arts competition, Love Our Gulf
www.loveourgulf.org
, and a live open mic featuring Marine Science Consortia eco-poets, community poetry writing projects, and chapbook print making will be held in the DISL Shelby auditorium and Estuarium Schooling Room.
Proceeds from the festival will support Arts and Science Scholarships and Artist in Residency programs at the Dauphin Island Sea Lab.
If you are an artist or community group interested in exhibiting, or a potential arts event sponsor, please contact Regina Kollegger at ADI, 251-214-6485,
regina@artdoesit.com
.
If you are interested in sponsoring the Forks and Corks Culinary Competition, please contact Lori Angelo at DISL, 251-861-2141,
langelo@disl.org
.
For more information on ARTSealab, see
http://artsealab.org/
.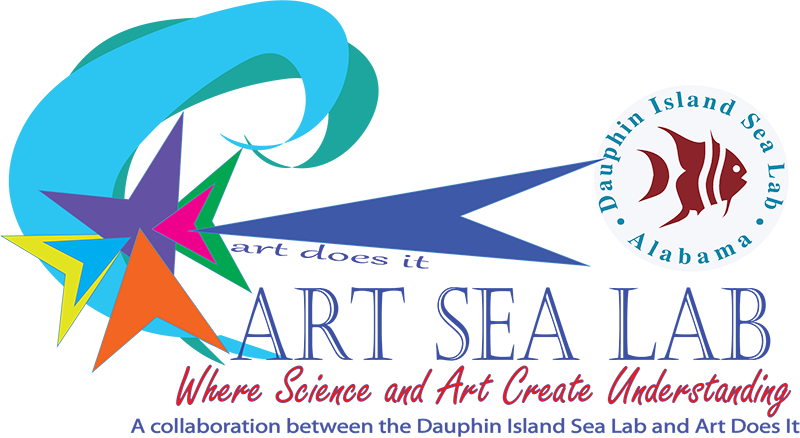 ---
Wednesday, August 01, 2018
STEAM Integrated Arts and Sciences Competition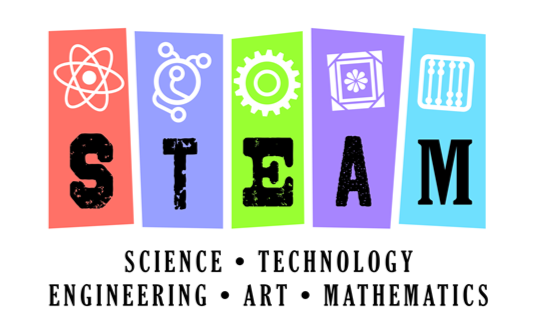 STEAM fields are science, technology, engineering, and mathematics, together with art. STEAM is designed to integrate STEM subjects and the art of design in education.
STEAM programs add art to STEM curriculum by drawing on design principles and encouraging creative solutions.
In 2013, a joint resolution was introduced in the United States House of Representatives expressing the sense that adding art and design into Federal programs that target the STEM fields encourages innovation and economic growth in the United States.
The Northern Gulf Institute (NGI) at Mississippi State University is proud to announce a STEAM art competition, where original drawings, paintings, photography, or other renderings, to be sized at 4.25 inches by 11 inches vertically, depicting the natural environment, marine avian, or aquatic species, the ocean, or weather, as related to the Mississippi River, The Gulf Coast, or the Gulf of Mexico Basin, are to be submitted for review. The winner of the competition will have their art featured in the Newsletter. There is an open submission date as the newsletter is published quarterly.
Please forward submissions digitally to
EandO@ngi.msstate.edu
or submit them by mail to:
Jonathan Harris
Education and Outreach
Northern Gulf Institute
Box 9627
Mississippi State, MS 39762
Innovation depends on the problem solving, risk taking and creativity that are natural to the way artists and designers think.
~ John Madea
August (Quarterly) Submission by Walker Harris of Starkville High School
"Squalls Out on The Gulf Stream"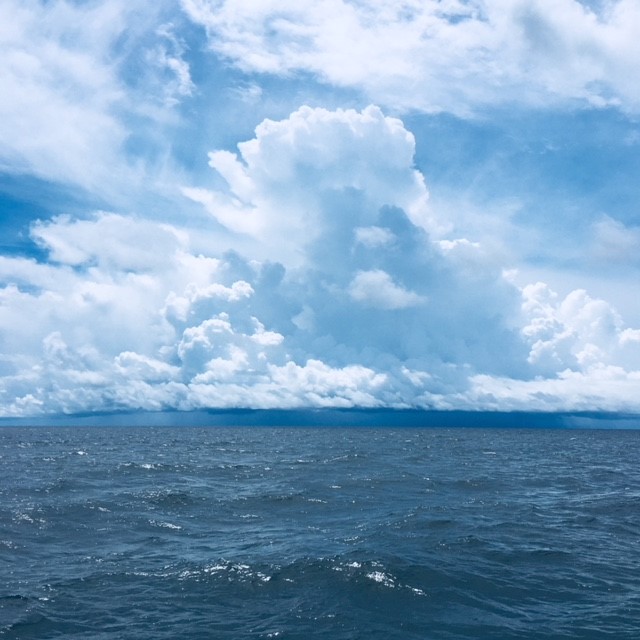 ---
Wednesday, August 01, 2018
NGI Mourns Loss of Rear Admiral Kenneth Barbor, USN Retired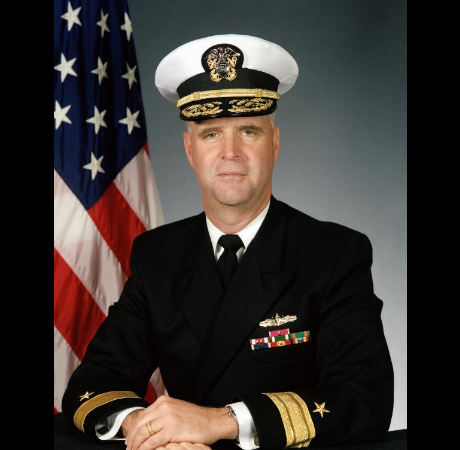 Obituary of Rear Admiral Kenneth Barbor, USN Retired
After a hard fought battle with melanoma, Ken passed away on July, 22nd 2018 in his Bay St. Louis home, guarded by his faithful dogs, Gunner and Navigator, while in the loving arms of his wife, Leslie.
Rear Admiral Barbor served with distinction in the United States Navy, including four sea duty tours, multiple shore staffs, and command of two shore facilities. He also culminated as the Commander of the Naval Meteorology and Oceanography Command at the Stennis Space Center in Mississippi from 1998 until his retirement in 2001.
Following his service to our country in uniform, Ken answered another calling, to become an educator. He joined the University of Southern Mississippi's Department of Marine Sciences as Director of the Hydrographic Research Center, where he both developed an internationally recognized research program and led the Department's Master's Degree in Hydrographic Science to a position of international prominence.
In 2002, he was asked to serve his country for nearly six years as the United States Representative to the International Hydrographic Organization in Monaco. He served in this role with distinction and returned to USM once again to educate students from all over the world and to develop MS graduates in Hydrographic Science that are recognized internationally for their expertise. Additionally, the program at USM was designated by the government as a national center of hydrographic expertise.
He was very active in the community as President of the Bay St. Louis Harbor Commission and board member of the Bay St. Louis Habitat for Humanity. Ken will always be remembered as an exceptional leader, sailor, visionary, mentor, and a compassionate friend by anyone who had the pleasure of his company.
Ken was preceded in death by his father, D. D. Barbor; his mother and step father, Mary E. and Jack Tick; nephew, Johnny; and his faithful boat dog, Bosun.
He is survived by his wife, Leslie; his son, Matthew (Hattie); his two daughters, Margaret (Johnny) and Melissa (Jeremy); six grandchildren, with a seventh on the way; his brother, Dave; sister, Bobbie; two nephews, Danny (Bridget) and Joe (Kelly); six grand nephews; and his extended family from Monaco and New Zealand. He will be fondly remembered by those he held closest as a Shipmate Extraordinaire.
In memory of Kenneth E. Barbor, contributions may be made to MD Anderson Cancer Center, Melanoma Moon Shot, P.O. Box 4486, Houston, TX 77210-4486 or
www.mdanderson.org/gifts
, Habitat for Humanity, Bay-Waveland Area, or the Ken Barbor Scholarship Fund at USM.
Robert J. Moorhead II
Director, Geosystems Research Institute * Director, Northern Gulf Institute
Work: (662) 325-2850 * Cell: (662) 312-3066 *
rjm@gri.msstate.edu
Mississippi State University
---