Tuesday, December 20, 2022
NGI Researchers and MS Aquarium Host Experiential Learning Field Opportunities on Gulf Coast
NGI Researchers along with Educators from the Mississippi Aquarium are providing regional students with the opportunity to experience marine science sampling and research firsthand along the Mississippi Gulf Coast.
It is our belief that experiential learning and the hands-on nature of this program will generate positive educational outcomes and excitement, invigorate student interest in the natural sciences and their environment, and potentially impact students' long-term (college) educational interests and career goals (an important NOAA workforce development goal).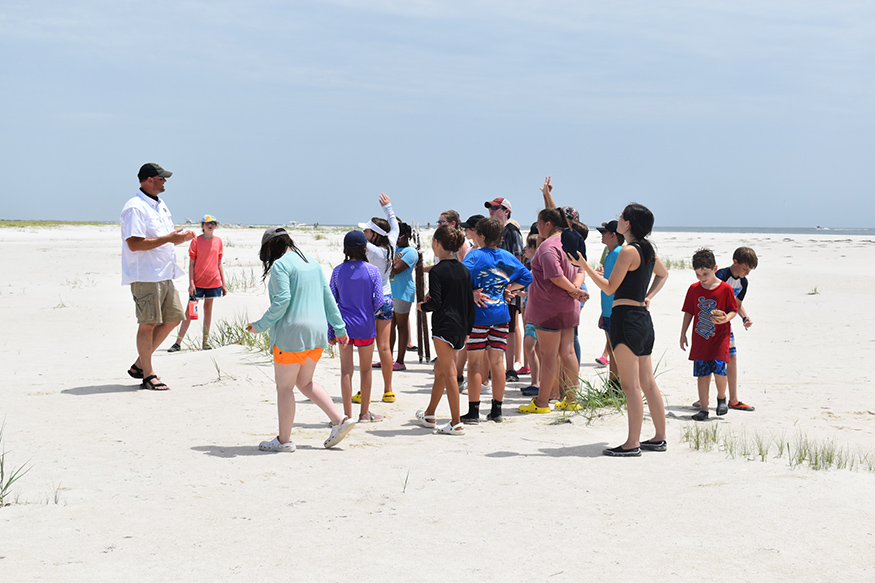 This program allows students to experience sampling and data collection and lively lectures that include Gulf Coast history, geography, geology, biology, and ecology concepts, as well as environmental and climate factors.
The 2022 MSU-SEAS Program Conducted by the Northern Gulf Institute, E&O team, several faculty members from the Mississippi State University Department of Geosciences, and staff members from the Mississippi Aquarium. Took 30 Middle, Highschool and Homeschooled students out as the third and fourth cohort of learners, experiencing a hands-on marine science excursion, while learning positive behavioral practices that promote sustainable choices in safeguarding the Gulf of Mexico's marine ecosystem. The day-long excursion traveled out into the Mississippi Sound and onshore along the beaches of Cat and Ship Island aboard Ship Island Excursions Vessels operating out of Gulfport, MS.
https://msshipisland.com/cruises/
"We believe an engaged and informed public is a great partner in the effort to protect the Gulf of Mexico's environment," said Jonathan Harris, Northern Gulf Institute outreach director. "By giving students access to this kind of learning, NGI and the Mississippi Aquarium is making its research relevant to the students who will become the stakeholders and citizens of the future."
students were immersed in hands-on activities which included collection of marine scientific data, water quality samples and seafloor sediment, and identification of various marine species, as well as invasive aquatic plants. Program organizers and education experts said another program priority is to practice one of the main tenets of modern educational theory, the concept of experiential learning, in which students are engaged when learn by doing.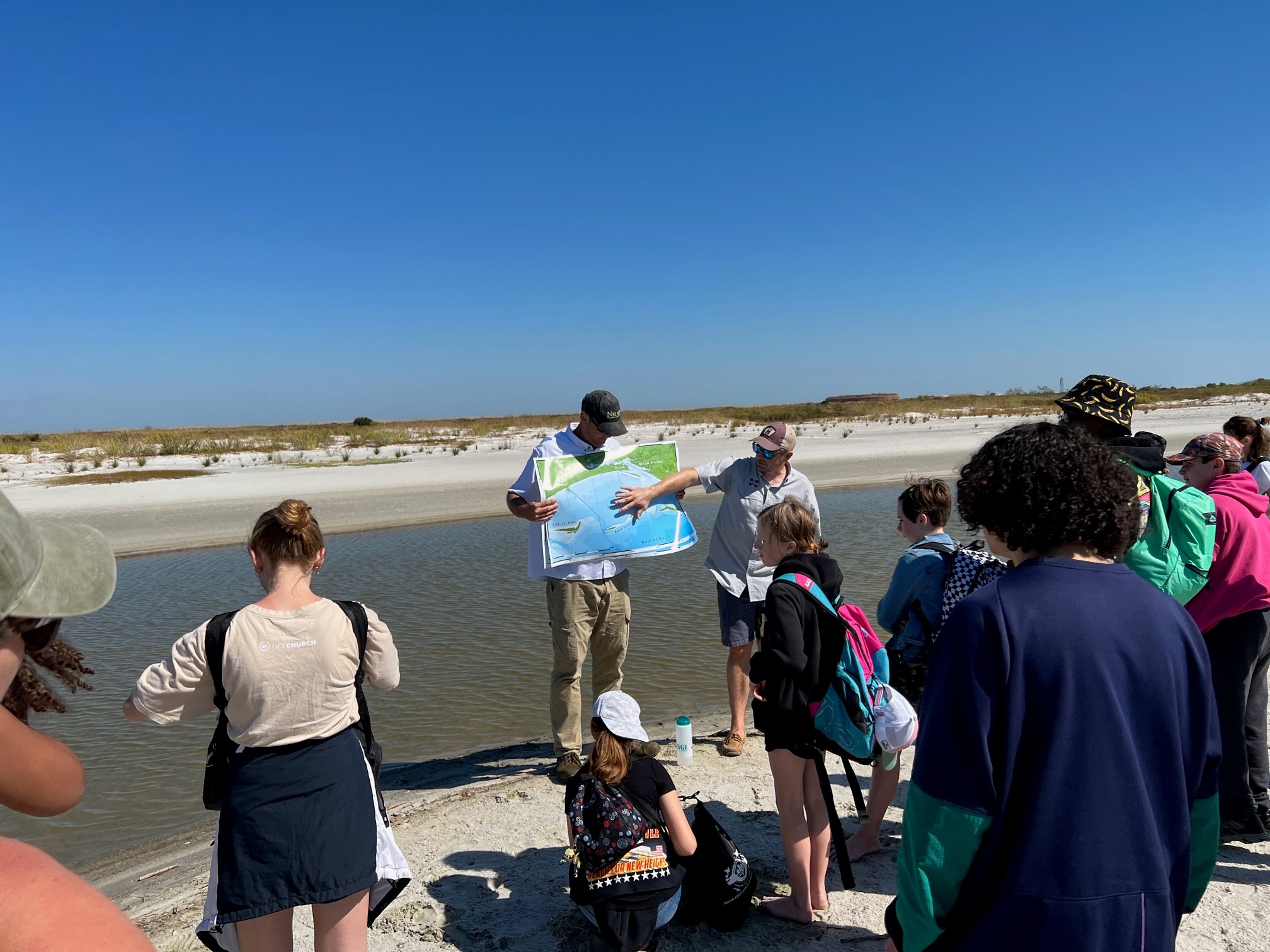 "The idea is that through exposure to real-life scientific sampling techniques and locally relevant lesson content, we can remove the shadow of classroom learning and spark an interest in the sciences that will impact not only their future educational choices, but also their life-long interest and hopefully their career pathways"
NGI and the Mississippi Aquarium offer the program twice a year to public and homeschooled students. Student participants in this cohort were from all along the Alabama, Louisiana and Mississippi Coastal Counties, as well as several students from as far north as Tupelo and Kosciusko.
---
Tuesday, December 20, 2022
NGI Researcher Chen publishes article: Performance of an Improved TKE-based Eddy-Diffusivity Mass-Flux (EDMF) PBL Scheme in 2021 Hurricane Forecasts from Hurricane Analysis and Forecast System
Journal: Weather and Forecasting
Expected Publication Date: Online: December 2022
Authors: Xiaomin Chen, Andrew Hazelton, Frank D. Marks, Ghassan J. Alaka, Jr, and Chunxi Zhang
Significance Statement: This study examined how changes to the planetary boundary layer (PBL) scheme based on information from large-eddy simulations affected hurricane model forecast performance during the 2021 Atlantic hurricane season. The modified PBL scheme produced more realistic storm structures, on average, when compared to best-track information and observations from Hurricane Hunter Aircraft. The modified PBL physics also produced better forecasts of rapid intensification. The findings showed that, in the future, we need to work to adjust PBL and cumulus schemes together, "unifying" them for the most accurate tropical cyclone prediction.
Summary:
Computer models forecast the weather on a series of regularly spaced points. The computer time needed to make forecasts increases as the forecast points get closer together. To create forecasts quickly, we create forecasts at points that are relatively far apart; but that requires approximations to the small-scale features in the models, what we call parameterization schemes.
Air flowing into tropical cyclones in the lowest 1 - 2 km of the atmosphere, what we call the planetary boundary layer or PBL, is the main source of heat and moisture that allows the system to intensity and maintain itself. It is very important to understand how the transfer of heat and moisture occurs, especially for modeling and predicting tropical cyclone evolution. We need to observe what is happening to understand it, but we have limited observations in the PBL due to the safety of flying close to the ocean surface. So, to understand the small-scale processes, we used a new technique based on a large-eddy simulation (LES), a research computer model run with points close enough together so that the processes do not need to be approximated. We examined how a modified scheme in NOAA's new Hurricane Analysis and Forecast System (HAFS) changed the model's forecasts of hurricane track, intensity, and structure. HAFS is scheduled to become an operational hurricane model as soon as 2023, and these modified PBL physics have been included in the version of the model that is being tested.
We ran HAFS with the modified PBL physics (HAFY) for the 2021 Atlantic hurricane season, and compared it with the default (HAFA) configuration. In addition, we looked at a few cases in more detail, like Hurricanes Ida (Fig. 1) and Henri. We compared the model forecasts of Ida with Doppler radar data collected during NOAA P-3 Hurricane Hunter flights into Ida to learn why the forecasts were improved. Henri was investigated to learn why the new scheme had track forecasts that were worse than those using the old scheme and how to improve them. The findings showed that, in the future, we need to work to adjust PBL and cumulus physics (how the model approximates thunderstorms and the heat they generate) together, "unifying" them for accurate tropical cyclone prediction.
Important Conclusions:
Intensity and structure forecasts from HAFY were 10-15% better than those from HAFA, especially early in each forecast. This was because the inflow (air flowing into the hurricane at low levels) was stronger and more realistic in HAFY than in HAFA.
HAFY was also able to better forecast rapid intensification and produced a deeper and more realistic circulation (Fig. 2) than HAFA,
Model forecast tracks were not changed significantly by the modified new physics, but some forecasts of Hurricane Henri were made slightly worse. This shows that the interplay between the cumulus physics and PBL physics can be very important for TC track forecasts.
Full abstract:
Continuous development and evaluation of planetary boundary layer (PBL) parameterizations in hurricane conditions are crucial to improving tropical cyclone (TC) forecasts. A turbulence kinetic energy (TKE)-based eddy-diffusivity mass-flux (EDMF-TKE) PBL scheme, implemented in NOAA's Hurricane Analysis and Forecast System (HAFS), was recently improved in hurricane conditions using large-eddy simulations. This study evaluates the performance of HAFS TC forecasts with the original (experiment HAFA) and modified EDMF-TKE (experiment HAFY) based on a large sample of cases in the 2021 hurricane season. Results indicate that HAFY has better intensity and structure forecast skill overall than HAFA, including during rapid intensification. Composite analyses demonstrate that HAFY produces shallower and stronger boundary layer inflow, especially within 1–3 times the radius of maximum wind speed(RMW). The stronger inflow and more moisture in the boundary layer contribute to stronger moisture convergence near the RMW. These boundary layer characteristics are consistent with stronger, deeper, and more compact TC vortices as well as a more humid mesoscale core in HAFY than in HAFA. Nevertheless, track skill in HAFY is slightly reduced, mostly attributable to the cross-track error from a few early cycles of Hurricane Henri that exhibited ~400 n mi track error at longer lead times. Sensitivity experiments based on HAFY demonstrate that turning off the cumulus schemes notably reduces the track errors of Henri while turning off the deep cumulus scheme reduces the intensity errors. This finding hints at the necessity of unifying the mass fluxes in PBL and cumulus schemes in future model physics development.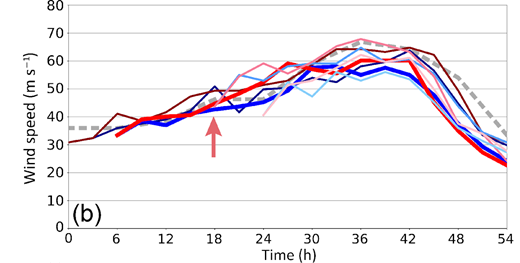 Figure 1: Intensity forecasts from the original (blue tone) and modified (red tone) versions of HAFS for Hurricane Ida, initialized at âˆ'12 h, âˆ'6 h, +6 h, and +12 h relative to 12 UTC 28 August. The arrow shows when the intensity of Ida in the original and modified versions of HAFS began to diverge, with the modified PBL physics leading to a stronger storm despite similar track.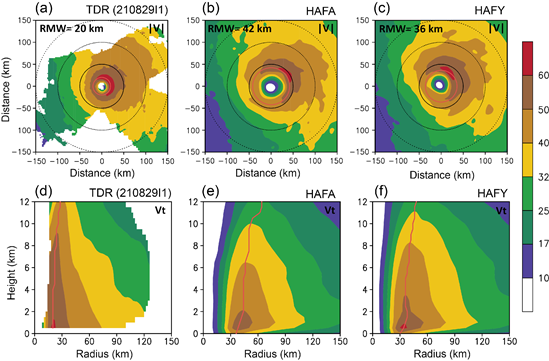 Figure 2: a) Wind speed (|V|) analysis at 2 km altitude from airborne Doppler radar data from a NOAA P-3 Hurricane Hunter mission into Hurricane Ida on 29 August 2021, b) the 2-km wind-speed forecast from HAFA c) The 2-km wind forecast from HAFY. Note the smaller RMW that is closer to the observations in a). d) Average wind speed (vt) around the center of Ida from the analysis of airborne Doppler radar data from the same flight (with the RMW at each height shown in red), e) the same calculation from HAFA, and f) from HAFY. Note the stronger wind field and that the strong winds extend higher into the atmosphere in HAFY compared to HAFA, closer to the TDR analysis.
---
Tuesday, December 20, 2022
Education and Outreach Opportunities with Mississippi State University and NGI
STEAM: Science Through the Arts
STEAM programs add art to the STEM curriculum by drawing on design principles and encouraging creative solutions. In 2013, a joint resolution was introduced in the United States House of Representatives expressing the sense that adding art and design into Federal programs that target the STEM fields encourages innovation and economic growth in the United States.
The Travelling Trunk Education & Outreach Program
NGI has developed loanable "Travelling Trunk Shows" which include Art and Science-based curriculum designed to support the national college and career readiness standards. We typically include the "science, literature and arts behind the scenes" that includes targeted classwork and lessons of discovery for oceanography, marine and fisheries science, and weather. These trunks provide STEAM-focused interaction with large numbers of schoolchildren, their parents, teachers, and administrators.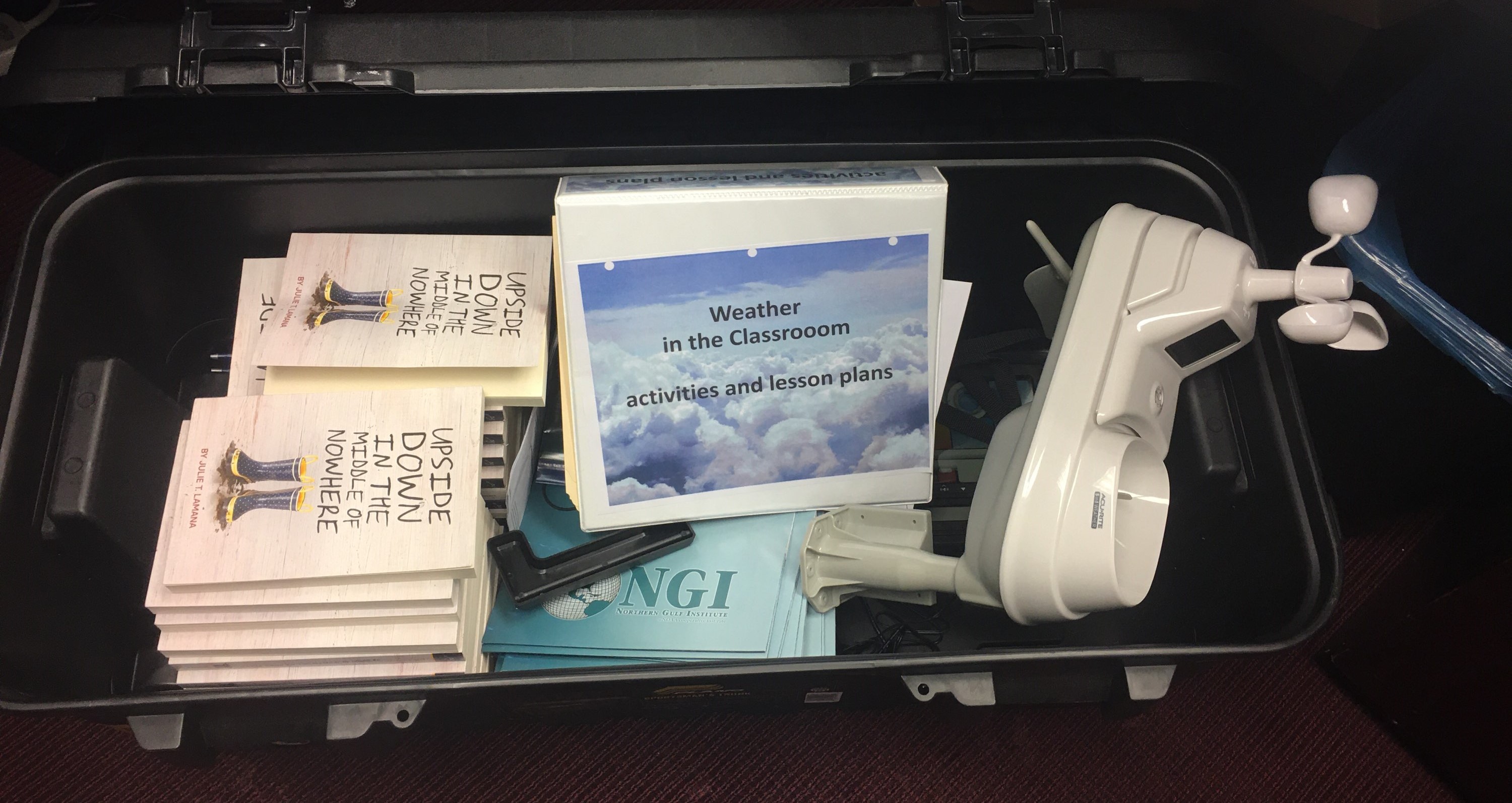 NGI Art and Design Competition
The Northern Gulf Institute (NGI) at Mississippi State University is proud to announce a STEAM art competition, where original drawings, paintings, photography, or other renderings, depicting the natural environment, marine, avian, or aquatic species, the ocean, or weather, as related to the Mississippi River, The Gulf Coast, or the Gulf of Mexico Basin, are to be submitted for review. The winner of the competition will have their art featured in the "Portal" Newsletter.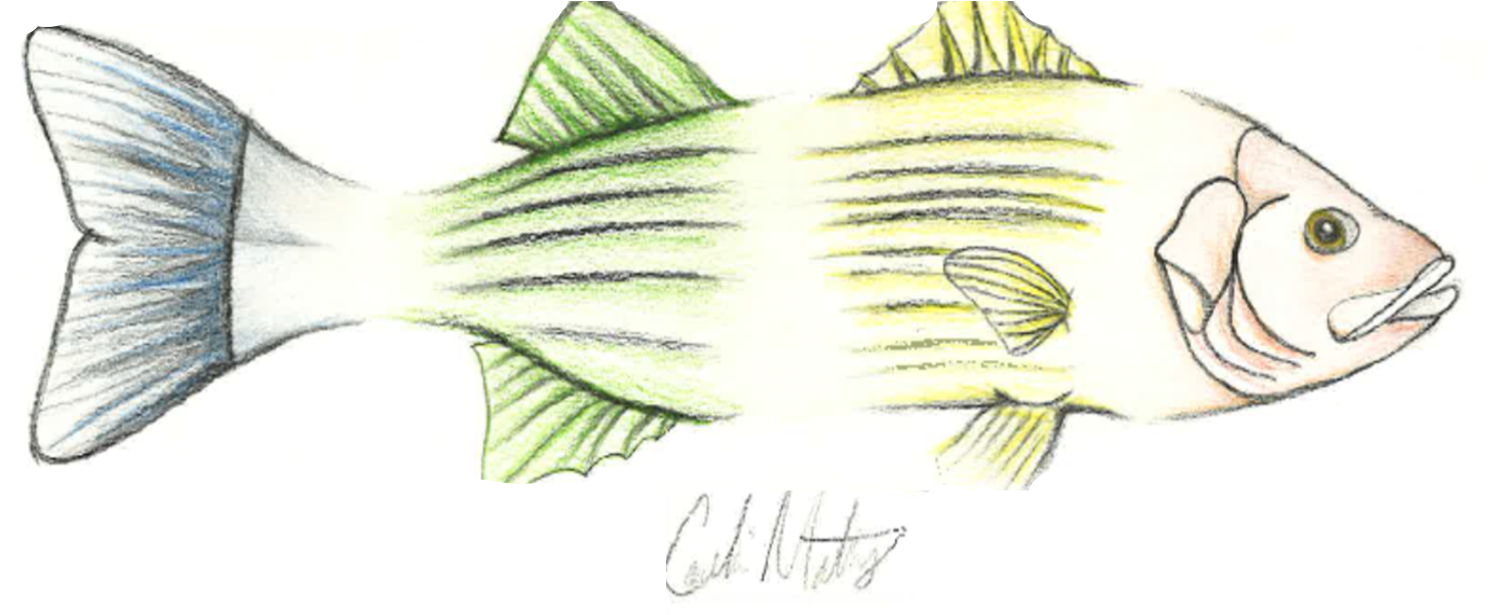 Continuing Education Opportunities
Computational Thinking with 3D Weather Teacher Workshop (Summer 2022). This Workshop is part of the 3D Weather project funded by the National Science Foundation (NSF) to develop instructional materials for teaching computational thinking to K-12 students through explorations of atmospheric science and weather data using Unidata's Integrated Data Viewer (IDV). We will use IDV to create 3D weather visualizations from freely available, real-world weather data.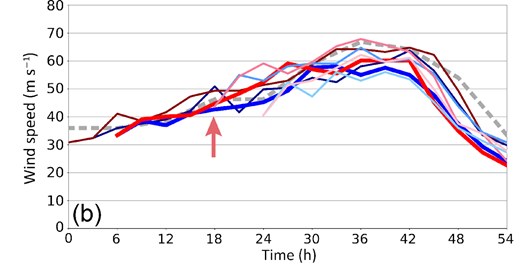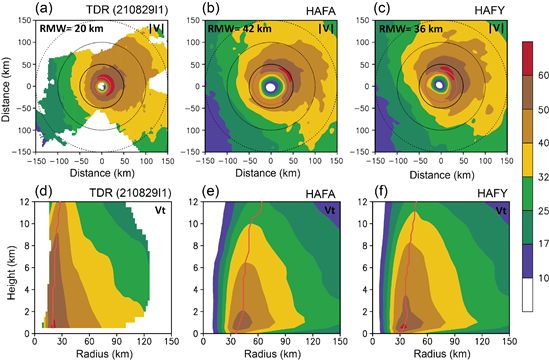 The objective of the 3D Weather project is to use meteorology and IDV to enable teachers to teach computational thinking skills to K-12. During the online portion of this workshop (July 5-11), you will learn background information for computational thinking and the meteorology topics we will discuss during the in-person workshop. During the in-person portion of this workshop (July 12-16), you will learn how to use IDV to visualize data for different meteorology topics and how to analyze the data using 11 computational thinking skills. Then, you will modify an existing lesson plans in order to incorporate computational thinking skills into the lesson.
This Workshop provides the requisite background information on computational thinking, meteorology topics, and IDV so that you can use 3D Weather visualizations to teach computational thinking to your students. (Earn up to 8 CEUs).
The Northern Gulf Institute (NGI) has joined with the Department of Geosciences and the Center for Distance Education at Mississippi State University to provide Continuing Education and/or 4 hours of Graduate College Credit to teachers and professionals wishing to undertake a 7-10 day geosciences field course. The course locations for this year are Bahamas (split undergrad/grad), Western WA, NY, and Great Plains Storm Chase. A science background is helpful to successfully complete these courses and costs $1250 plus tuition (4 hours of in-state graduate credit). (approximately $2978 total) Additionally, for most of the trips, the students pay for their meals, but the Bahamas trip includes meals. Students are also responsible for getting to the start location on their own (e.g Seattle, Nassau, Oklahoma City, etc.).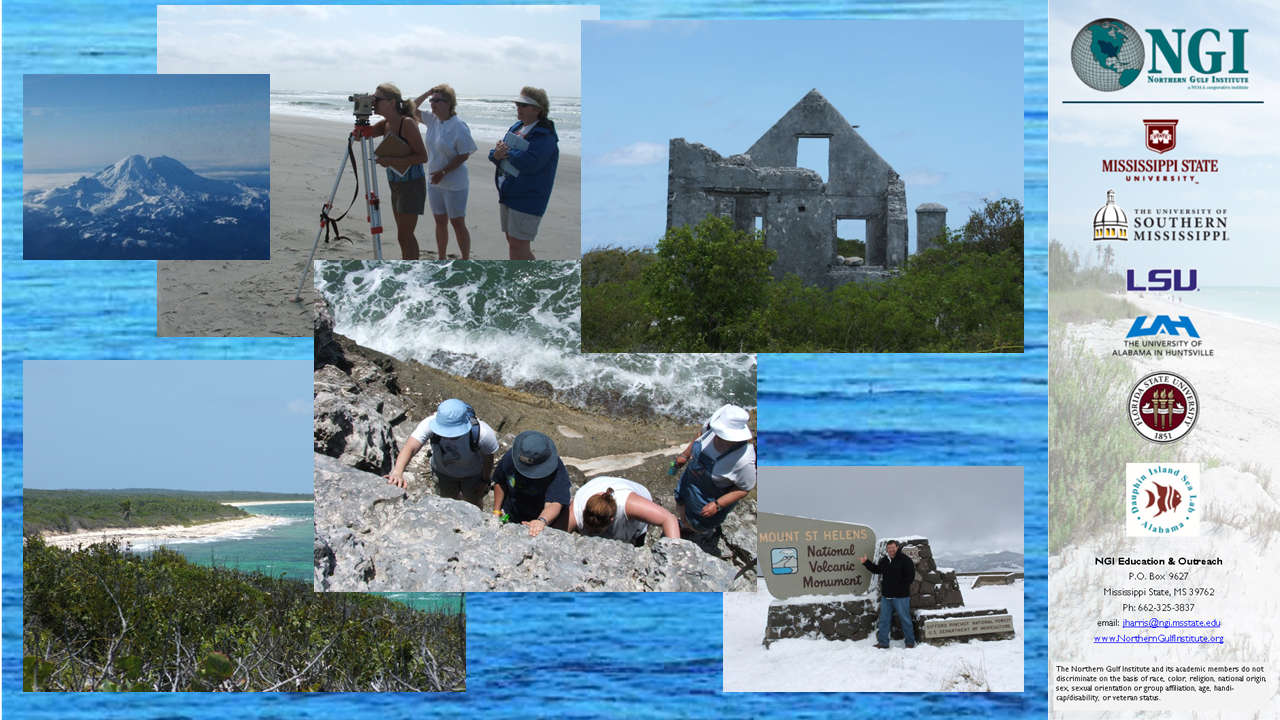 ---
Tuesday, December 20, 2022
NGI Continues Providing Visiting Scientists and Field Trip Opportunities to Gulf Coast Region
The NGI can provide assistance in locating a guest speaker for your classroom or organization meeting to discuss various topics including Coastal Hazards, Geospatial Data Integration and Visualization, Ecosystem Management Climate Change, and use of UAV/AUVs in the environmental and agricultural sciences.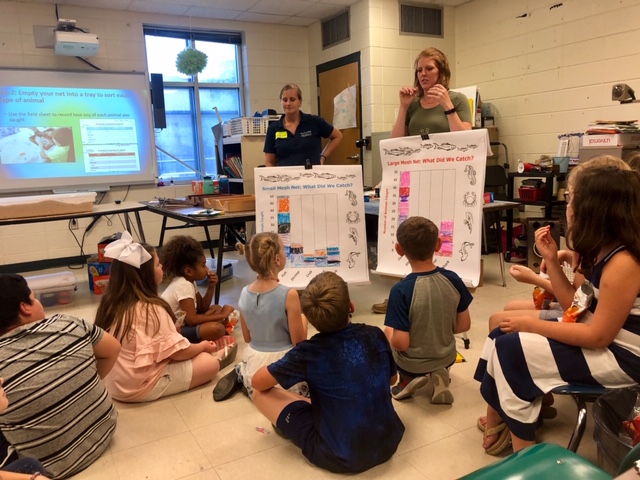 We can also arrange intensive field trips covering general coastal and marine science or tailored to your classroom need in coastal, atmospheric, and marine science, aquatic plants, and biology.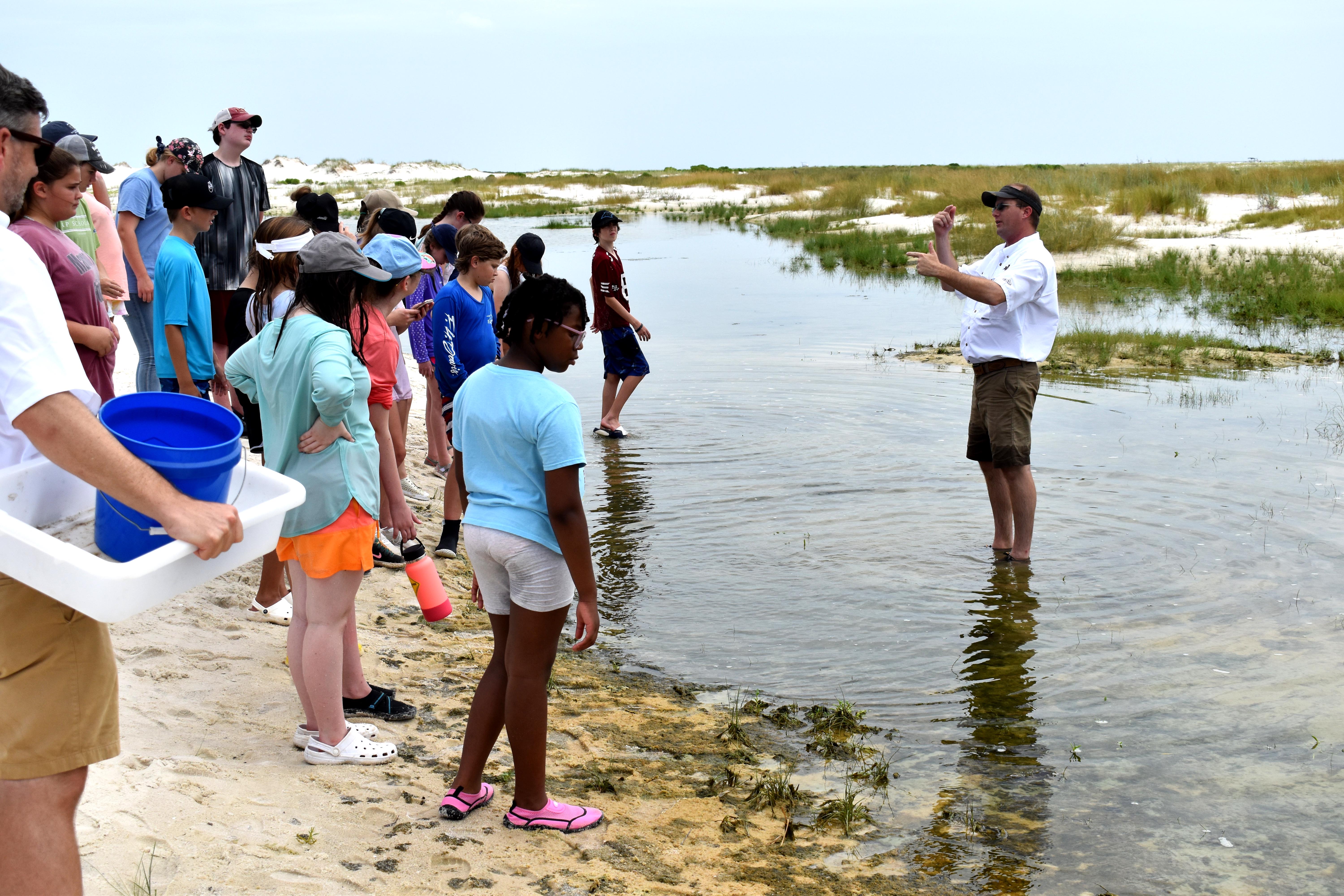 ---
Tuesday, December 20, 2022
NGI Hosts online Lesson Plan Database for Educators and Homeschoolers
NGI along with the INSPIRE program is developing a database of approximately 500 Mississippi Science Curriculum-based lesson plans and assignments for k-12 classrooms. Click Here for Lesson Plans:
http://gk12.msstate.edu/lessonplans.html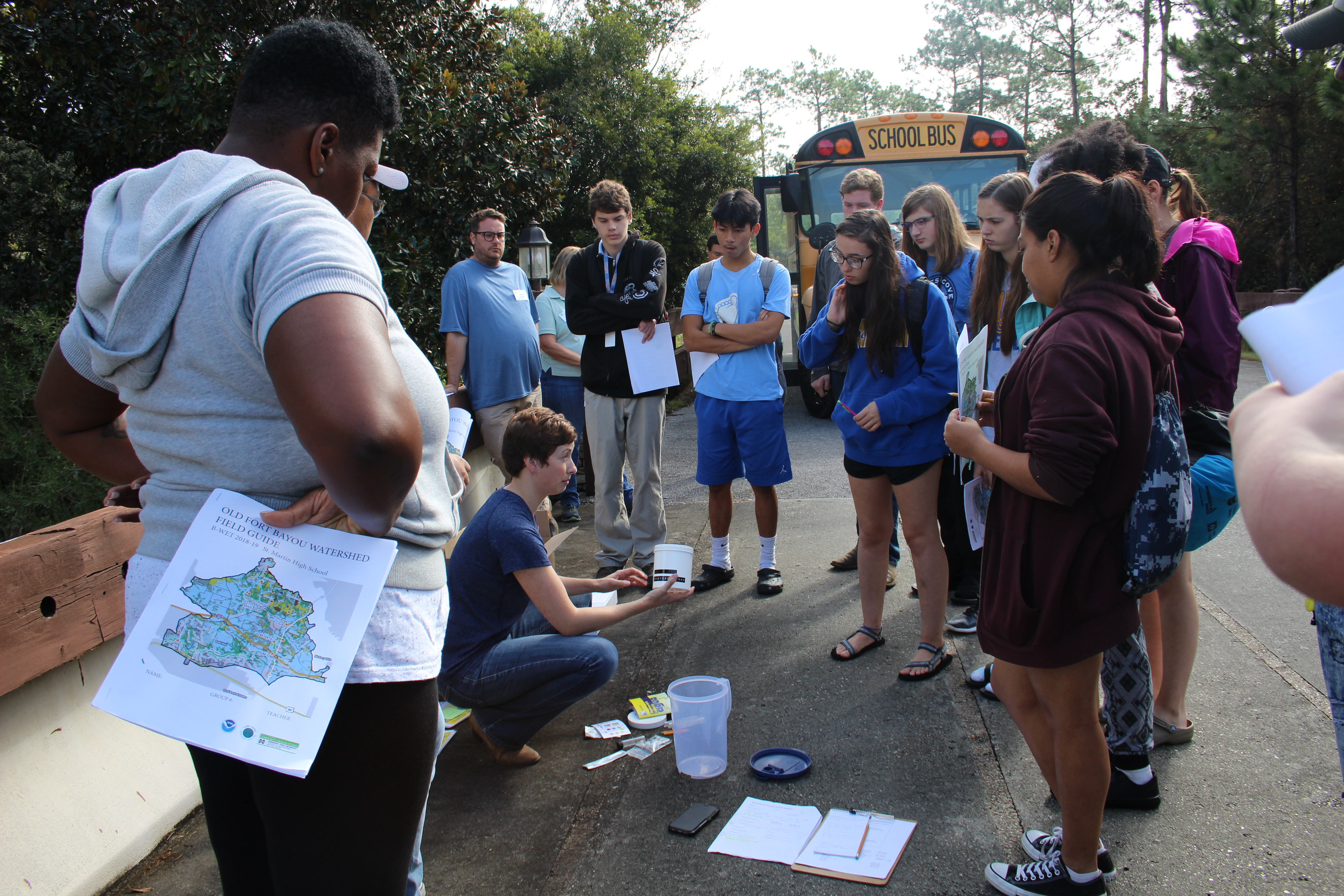 Click Here for Lesson Plans:
http://gk12.msstate.edu/lessonplans.html
For More information please contact the Education & Outreach Office at
EandO@ngi.msstate.edu
---
Tuesday, December 20, 2022
Stephanie Ellis and Nilde Maggie Dannreuther Provide Marine Science Curriculum
Students' engagement with science that connects with something that is relevant in their lives can increase the meaningfulness of science application and help solidify its importance. With that goal in mind, outreach coordinators and researchers with the Consortium for Ocean-Microbial Interactions in the Ocean (CSOMIO) developed a middle school science curriculum "Modeling the Gulf of Mexico" based on their efforts to improve oil transport and fate modeling. The curriculum targets students living in Florida and other Gulf states and introduces them to science that impacts their own lives.
"Our scientific team is working to produce a comprehensive framework for simulating and understanding the role that microbes play in mitigating the impacts of oil spills, so the topics covered in this curriculum align with that research," said CSOMIO principal investigator Dr. Eric Chassignet.
The curriculum contains five complete lessons: "Go with the Flow," "Oil Remediation," "Visualizing Ocean Currents," "The Gulf of Mexico Ecosystem," and "Refining an Ocean Model." Each lesson includes materials such as teacher guides, student worksheets, maps (courtesy of Ocean Conservancy), and answer keys with grading rubrics.
The CSOMIO outreach team collaborated with educators to design lesson plans and activities that meet the Florida State Board of Education's Standards for Science to ensure that the materials are easily used in Florida classrooms. The curriculum follows the instructional model, in which each represents a different phase of the learning process: Engage (grab students interest), Explore (students self-study the material), Explain (students become more familiar with the material with teacher guidance), Elaborate (students apply what they learned), and Evaluate (students demonstrate their understanding of the material).
The CSOMIO outreach coordinators field-tested the lesson plans through collaboration with Florida State University's Sea-to-See program, which introduces students to Florida's diverse marine life and promotes the importance of conservation. The curriculum also includes an Accommodations section in the appendices that offer vocabulary, modified questions, and alternate procedures for each lesson. These accommodations are designed to assist students who require a 504 Plan, an Individualized Education Plan, or who are learning English as a second language.
"Our intent was to provide practical lessons that can help make the complex world of computer modeling more approachable to middle grades students," said CSOMIO science educator Karolyn Burns. "Ultimately, the feedback from both practicing teachers and oceanographic researchers was invaluable, and I hope that it proves useful to educators, as well as engaging for learners."
"This middle school curriculum complements a high school science curriculum released in 2015 by the Deep Sea to Coast Connectivity in the Eastern Gulf of Mexico (Deep-C) consortium", said Tracy Ippolito, who coordinated outreach for both Deep-C and CSOMIO. The Deep-C team compiled and developed the 144-page multi-disciplinary high school curriculum around the five main research areas of its consortium (geomorphology, geochemistry, ecology, physical oceanography, and modeling) and draws connections between science and real-world applications for handling issues such as environmental disasters, their ecosystem impacts, and recovery.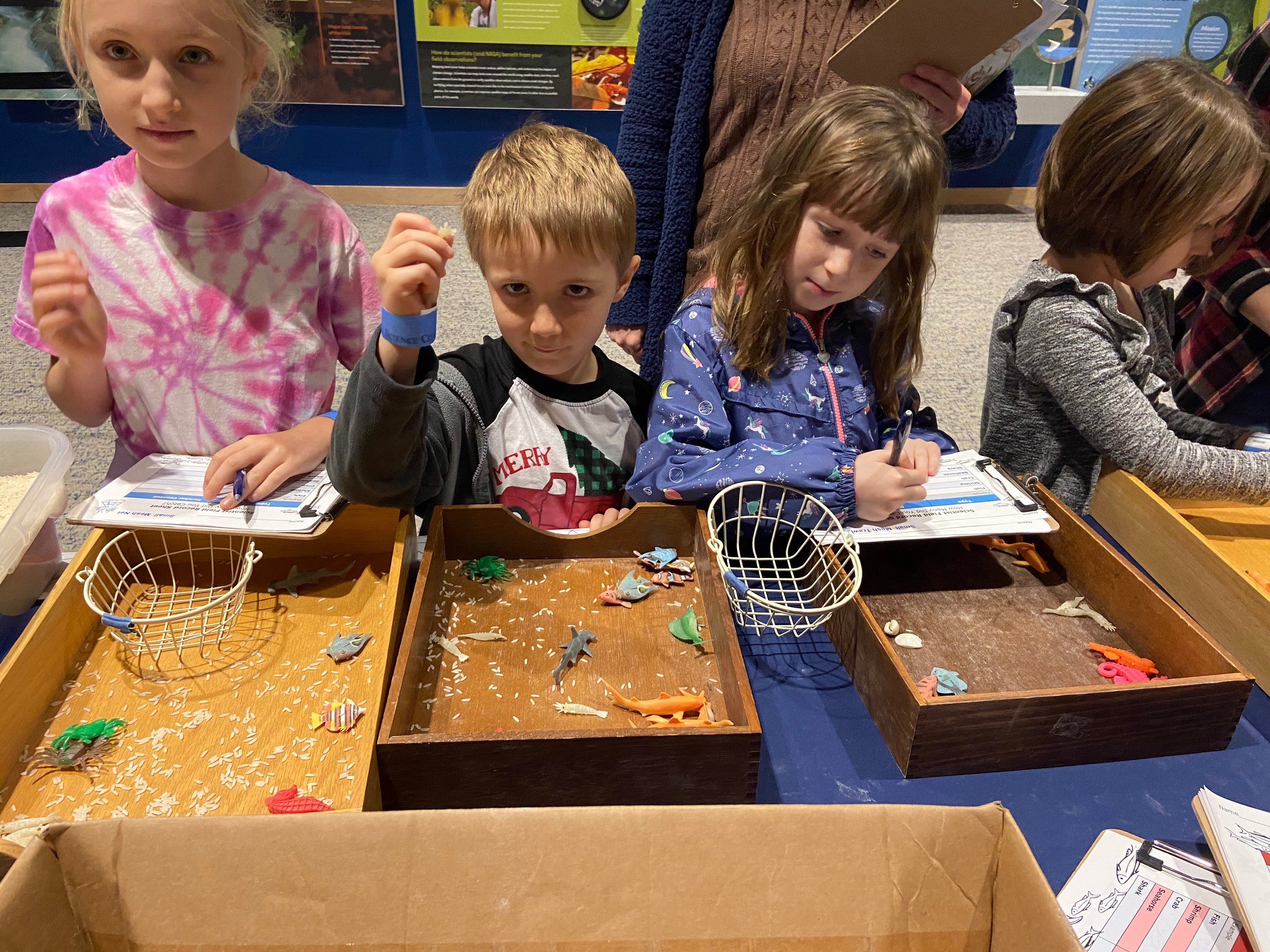 A downloadable PDF version of the CSOMIO middle school science curriculum is available at
CSOMIO Curriculum
.
By Stephanie Ellis and Nilde Maggie Dannreuther. Contact
sellis@ngi.msstate.edu
for questions or comments.to the Gulf of Mexico Research Initiative (GoMRI). Please credit images and/or videos as done in each article. Questions? Contact web-content editor Nilde "Maggie" Dannreuther, Northern Gulf Institute, Mississippi State University (
maggied@ngi.msstate.edu
).
---
Tuesday, December 20, 2022
NGI Faculty Participates in GEO Blue Planet 5th Symposium
NGI associate research professor, Ebenezer (Eben) Nyadjro, recently participated in the Group on Earth Observations (GEO)
Blue Planet 5th Symposium
held 24-28 October 2022 in Accra, Ghana. GEO Blue Planet is a network of ocean and coastal-observers, social scientists, and end-user representatives from a variety of stakeholder groups, including international and regional organizations, NGOs, national institutes, universities, and government agencies. This year's symposium, themed Local Action in Support of Global Traction, was specifically geared towards improving GEO Blue Planet's engagement with African nations in an effort to expand the Earth Observation (EO) community of practice, strengthen local capacity and provide access to resources, tools, and services. Eben gave talks on "The issue of microplastics, and the potential role for satellite data" and "Introduction to remote sensing for environmental decision making". He also co-chaired a workshop on "Earth Observations for Marine Litter Monitoring" and led a tutorial session on "Open-source tools for fisheries, biodiversity and conservation, and coastal erosion applications", which introduced participants to NOAA National Centers for Environmental Information (NCEI)'s vast data products and tools for environmental monitoring.
---
Tuesday, December 20, 2022
Dauphin Island Sea Lab to host SeaPerch Competition
Event Date: March 18, 2023
Event Time: 8:00 am - 5:00 pm
Location: UMS-Wright Preparatory School, 65 Mobile St N, Mobile, AL 36607
Discovery Hall Programs and UMS Wright Preparatory School will co-host the Alabama* SeaPerch ROV Competition on March 18, 2023. In this competition, students drive (fly) an ROV based on the SeaPerch design that they have built to complete pool-based courses. This single-day competition is open to middle and high school teams in the PVC class and will include the two pool courses (obstacle and mission) and the technical design report, which will be due in advance.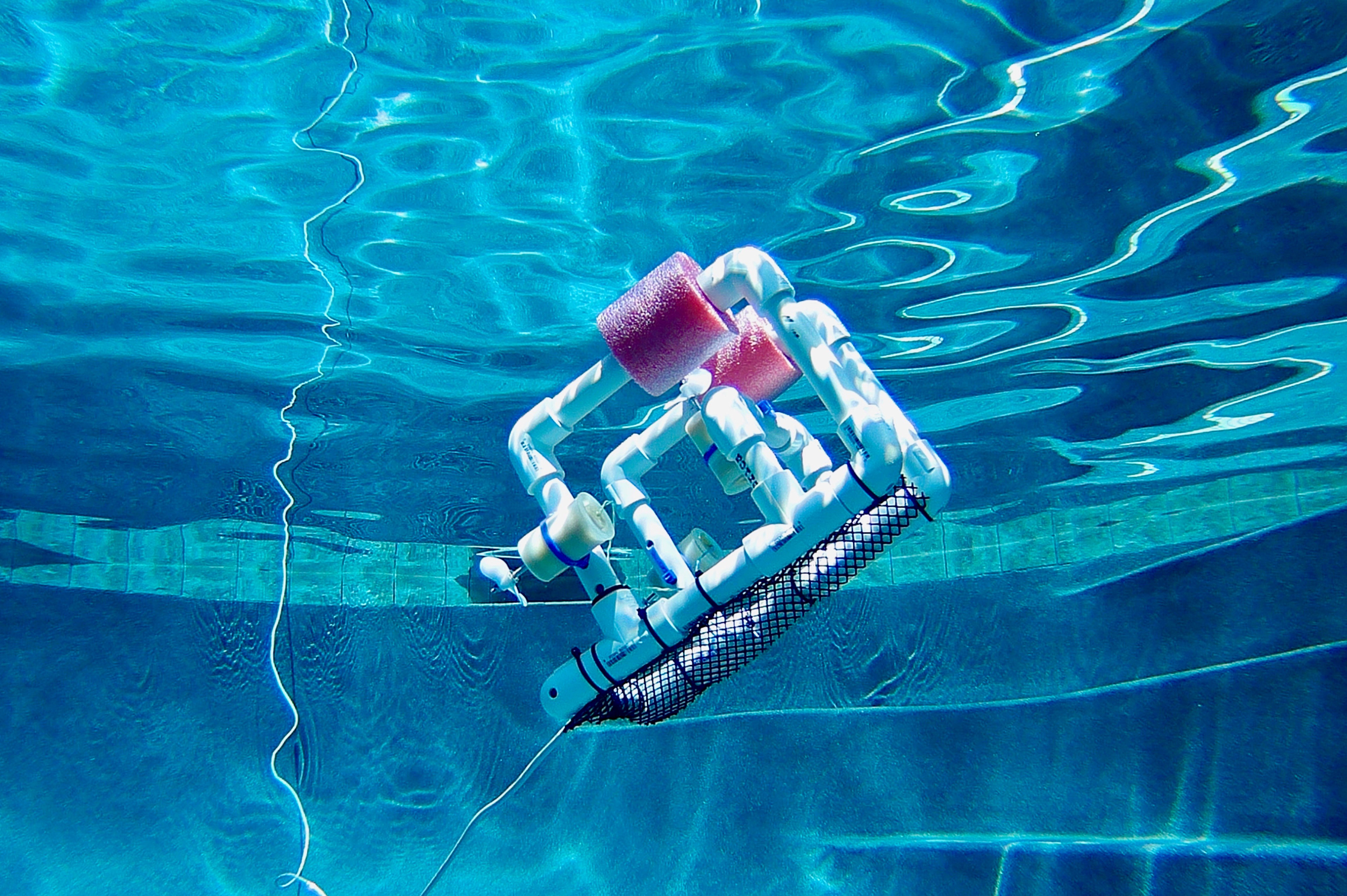 *Please note that this competition is not limited to Alabama teams, but is open to teams across the region.
For more information visit,
click here.
https://www.disl.edu/events/seaperch-rov-competition
---
Tuesday, December 20, 2022
Upcoming DISL "Sea Lab Science Fridays" Events
Please register at
bit.ly/SeaLabScienceFridays
.
Upcoming Dates:
February 17, 2023
May 12, 2023
Ocean Drifters - 9:30-11:30 am
There's motion in the ocean! And it's important! Ocean currents determine the distribution of ocean animals, suspended and dissolved materials as well as heat and energy. Drifters are a type of technology that scientists use to study ocean currents. Come build with us as we design, build, and test our own mini-drifter using our engineering skills. We'll also track a full-size ocean drifter using satellites and an app and discuss the significance of nearshore currents in barrier island dynamics.
What to wear and bring: comfortable shoes that can get wet and sandy, a hat to shade the sun while outside, sunscreen, a water bottle, and your creativity.
Suitable for ages 10 and up, or for all ages with an accompanying adult.
Trash(in) the Ocean - 1:00-3:00 pm
Marine debris is a huge problem that impacts marine life everywhere. Join us to learn more about marine debris and microplastics. We'll play the role of a beach-dwelling animal and understand how hard trash is to avoid. We'll explore how scientists collect and analyze data by collecting our own and comparing it to that collected across the world as we take part in a citizen science project using NOAA's Marine Debris Tracker app.
What to wear and bring: a device (if you can), comfortable shoes that can get wet and sandy, a hat to shade the sun while outside, sunscreen, a water bottle, and your sense of stewardship.
Suitable for ages 10 and up, or for all ages with an accompanying adult.
ROVing the Gulf - 3:00-5:00 pm
Do you like to build things and then see if they work? If so, then this class is for you! Scientists, ocean engineers, and explorers use remotely operated vehicles (ROVs) as they visit, study, and work in the ocean, especially in the deep sea. In this class, we'll learn more about ROVs, buoyancy, and hydrodynamics and then team up to build and drive a ROV in the Sea Lab pool.
What to wear and bring: a hat to shade the sun while outside, sunscreen, a water bottle, and your building skills.
Suitable for ages 10 and up, or for all ages with an accompanying adult.
---
Tuesday, December 20, 2022
Coral Reef Biology and Ecology Information Session
Event Date: Tuesday, January 31
Event Time: 6:00 pm - 7:00 pm
Location: Zoom (email khoadley@disl.edu for link)
Students interested in attending the information session should email
Dr. Kenneth Hoadley
for the Zoom link.
The Coral Reef Biology and Ecology Course will explore the ecology and evolution of coral reef communities with a view to understanding what is happening on reefs today.
This four-credit course will begin with self-paced online course lectures and activities available beginning April 1, 2023. The online portion can be taken alone but is required for participation in the field component.
In May, students will travel to San Salvador in the Bahamas and stay at the Gerace Research Center. While there, students will have access to numerous coral reef and seagrass/mangrove systems to explore and conduct short experimental projects. The field component of this course will expose students to field research techniques and specialized tools for assessing coral health and biology.
Overall, the course will cover energy flow across reefs, biogeochemical cycling important for continual reef development, microbial Interactions that govern the flow of carbon and nitrogen through coral reefs, and current threats from climate change.
Both the online and field course technically ends on May 20, 2023, but it is encouraged that students complete the majority of the online course prior to the start of the field component.
There is no assigned textbook and most readings will be research articles posted prior to the lecture.
The prerequisite for the course is two semesters of general biology or the equivalent. A general ecology course is recommended.
---