NSF Survey: Mississippi State Ranked Among the Nation's Top 100 Research Institutions
November 21, 2016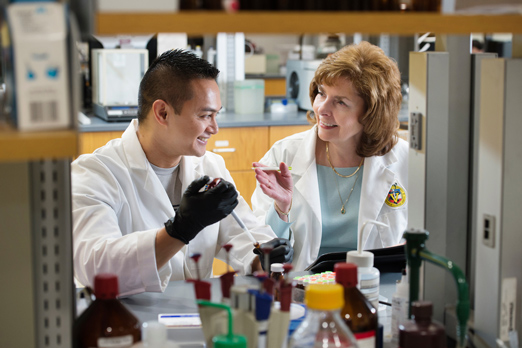 Mississippi State ranks among the nation's top 100 research institutions and is the Magnolia State's leading research university, according to a new report from the National Science Foundation.
(Photo by Megan Bean)
The recently released NSF Higher Education Research and Development Survey for Fiscal Year 2015 places the university at 94th overall among public and private institutions in the country, based on $226.4 million in total research and development expenditures. It is ranked 59th among non-medical school institutions, and 64th among public institutions. MSU research accounts for 55 percent of the total $408.2 million of expenditures reported by all Mississippi institutions, the survey found.
"The current funding environment for research across all disciplines has never been more competitive, and so it's gratifying to see our faculty competing well against our peers," said David Shaw, vice president for research and economic development.
"Of course, we're working on ways to enhance our success rate by giving researchers the resources they need to write winning funding proposals," he said.
Mississippi State's research funding comes from a wide range of sources, including business and industry, trade groups, and local governments, state offices and federal agencies, including the USDA, National Institutes of Health, Federal Aviation Administration, NASA, National Science Foundation and the Department of Defense, to name a few examples, Shaw explained.
"We are always looking at ways to diversify our research funding portfolio," he said.
The survey is the primary source of information about research and development expenditures at U.S. colleges and universities, according to the NSF.
The survey also affirms Mississippi State's commitment to the state's $8-billion agriculture and forestry industry.
The latest report lists the 138-year-old land-grant institution at No. 6 in the nation for research and development expenditures in agricultural sciences among public and private institutions — climbing two places from FY14. MSU has ranked among the top 10 in this category for 18 consecutive years, spending $106.4 million in agriculture-related research in FY 2015.
Our researchers, faculty and Extension specialists are working to address real-world problems that affect people across our state and around the globe," said Greg Bohach, vice president of the Division of Agriculture, Forestry and Veterinary Medicine at MSU.
"We're developing innovative and practical solutions to the agricultural challenges of producing food, fiber and fuel in the 21st century," he said.
Other inclusions in the NSF survey included:
— Three Bagley College of Engineering disciplines were rated in the top 50 for R&D expenditures, including mechanical at 24th, aeronautical and astronautical at 37th, and electrical at 49th.
— Additionally, expenditures in computer science were nearly $10 million — placing Mississippi State in the top 50 nationally.
— MSU was ranked No. 22 in the social sciences with $25.2 million in expenditures.The complete NSF report may be read at
https://ncsesdata.nsf.gov/herd/2015
.
In addition to its high NSF status, Mississippi State is the only university in the state to achieve Innovation and Economic Prosperity University status from the Association of Public and Land-grant Universities and its Commission on Innovation, Competitiveness and Economic Prosperity. The designation — attained after a rigorous review process — recognizes Mississippi State for working to advance engagement and economic well-being in the state, region and nation.
MSU is Mississippi's leading university, available online at www.msstate.edu.
Story by
Jim Laird
JLaird@opa.msstate.edu