GRI and NGI Researcher is Awarded with Early Career Research Fellowship
October 31, 2016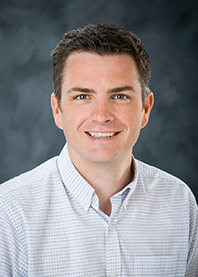 Adam D. Skarke
A Mississippi State geosciences faculty member is among 10 recipients of the prestigious Early Career Research Fellowship awarded by the Washington, D.C.-based National Academies of Sciences, Engineering and Medicine (NASME).
Adam D. Skarke joins other pre-tenure professionals being recognized for exceptional leadership, past performance, and potential for future contributions to improving oil system safety, human health and well-being, and environmental protection.
Along with a $76,000 two-year grant for research expenses and professional development, Skarke is receiving mentorship from Robert J. Moorhead, professor and director of the university's Geosystems Research and Northern Gulf institutes.
Moorhead also holds the Billie J. Ball Professorship in the Department of Electrical and Computer Engineering in MSU's Bagley College of Engineering.
Skarke uses satellite imagery and acoustic instrumentation to investigate the oceanographic and geologic processes that control sediment erosion, transport and deposition in marine environments. His work includes studying how coastal storms alter the shape of coastlines and how gas release from seafloor sediments impacts water quality.
Results of Skarke's research may help scientists and environmental managers better understand and mitigate processes detrimental to the health and resilience of marine ecosystems, commercial fisheries, and coastal property and infrastructure.
"This fellowship award will allow me to extend and enhance these efforts through the purchase of oceanographic field instrumentation and support of data collection fieldwork in the Gulf of Mexico and along the Gulf Coast," Skarke said.
Giselle Thibaudeau, associate dean for research in the College of Arts and Sciences, commended Skarke for his leadership and research contributions on a statewide and national level.
"Dr. Skarke's research has impact on issues of central importance to Mississippi and the United States," Thibaudeau said. "He represents the Department of Geosciences, College of Arts and Sciences and MSU exceptionally well, and we appreciate the National Academies for crediting him for his excellence on a national level."
Before joining MSU in 2013, Skarke gained experience in planning and leading research cruises as a physical scientist for the National Oceanic and Atmospheric Administration's Office of Ocean Exploration and Research.
This past summer, he participated in a University National Oceanographic Laboratory System (UNOLS) Chief Scientist Training Cruise Program.
Skarke also serves as a research fellow for the university's Geosystems Research Institute, where he worked as a postdoctoral associate prior to becoming an assistant professor in the Department of Geosciences.
Along with serving on various committees within the College of Arts and Sciences and its Department of Geosciences, Skarke has served as a judge for the university's Undergraduate and Graduate Research symposiums.
Originally from Austin, Texas, Skarke holds a bachelor's degree in geology with honors from New York's Colgate University, as well as master's and doctoral degrees in geology from the University of Delaware. For additional biographical information, visit
www.adamskarke.com
.
Celebrating its 100th anniversary, MSU's Department of Geosciences offers courses and expertise in several areas of earth sciences, including climatology, geocognition, geography, geology, geospatial analysis and meteorology. For more, visit
www.geosciences.msstate.edu
.
MSU is Mississippi's leading university, available online at
www.msstate.edu
.
Sasha Steinberg | Public Affairs