Northern Gulf Institute Named NOAA's Cooperative Institute for the Gulf of Mexico Region
July 18, 2016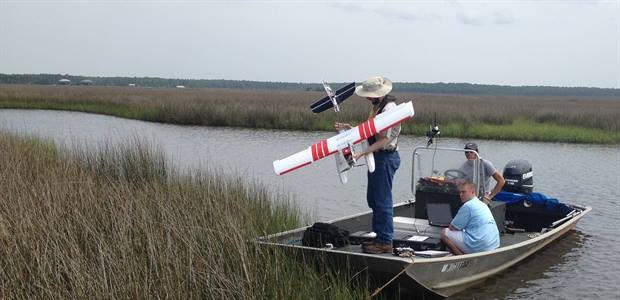 The National Oceanic and Atmospheric Administration today announced it has selected Mississippi State University to host NOAA's cooperative institute for the Gulf of Mexico region – called the Northern Gulf Institute.
The Northern Gulf Institute
, which has been a NOAA cooperative institute for the last decade, will lead a consortium that includes the University of Southern Mississippi, Florida State University, Louisiana State University, Dauphin Island Sea Lab and the University of Alabama in Huntsville.
The NOAA award comes with a commitment of $7 million for the first year of a five-year award that can be renewed for another five years based on successful performance. NOAA made its selection after an open competition prompted by the expiration of NGI's current award this September. In its successful proposal, NGI has committed to expand its research to encompass the entire Gulf of Mexico region.
NOAA's Cooperative Institute (CI) Program
is a unique and powerful tool designed to address emerging research and development needs of NOAA's mission.
"Our cooperative institutes provide real partnership, expertise and flexibility, which is very important in achieving NOAA's mission," said Craig McLean, NOAA's assistant administrator for NOAA Research. "They provide a talented body of scientists, diverse thinking, and nimble responsiveness to our needs while helping to train the next generation of researchers."
NGI will focus on research in four thematic areas to help create more resilient ecosystems, communities and economies for the region:
Climate change and climate variability effects on regional ecosystems
Coastal hazards
Ecosystem management
Effective and efficient data management systems to support a data-driven economy
NGI will address research gaps such as improving technologies to sample fish stocks in challenging environments, developing methods to improve large-scale data integration and dissemination, improving habitat restoration and coastal resiliency by determining the impacts of climate change on coastal areas, and studying how algal blooms affect ecosystem health.
NOAA supports 16 cooperative institutes consisting of 42 universities and research institutions across 23 states and the District of Columbia. These research institutions provide strong educational programs that promote student and postdoctoral scientist involvement in NOAA-funded research. For more information on cooperative institutes, please go online to the
NOAA Policy on Cooperative Institutes.
For more information please contact Monica Allen, director of public affairs for NOAA Research, at 301-734-1123 or by email at monica.allen@noaa.gov
Also few this story on the NOAA's
website
.