ASSURE Partner, Mississippi State NGI and NOAA Transform Science with UAS
July 15, 2016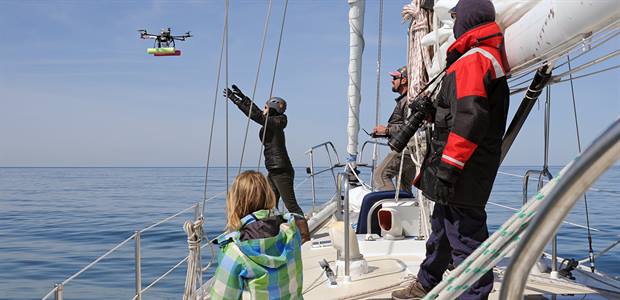 NOAA researchers launching UAS
by Alison Gillespie, NOAA Research Communications
At first glance they might be mistaken for toys, but these remote-controlled devices aren't for play. Unmanned aircraft and watercraft are being put to work by NOAA scientists to gather astonishing new data from our wildlands and waterways.
Cost-effective and easy to deploy, these new technologically advanced tools are expanding our knowledge of the environment while minimizing the potentially harmful human footprint that we leave behind when studying remote areas and the sensitive plants and animals that live there.
Here are 3 ways NOAA is using unmanned systems from sea and sky:
Tracking Arctic change on the high sea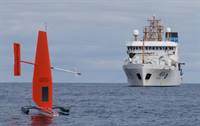 Saildrone sets off
The Saildrone is carrying multiple sensors to collect information on ocean conditions, marine mammals and fisheries in the Bering Sea this summer. Here the unmanned system sails with NOAA Ship Oscar Dyson in the background. (NOAA)
This Saildrone looks like a recreational catamaran. Instead of catching waves, this bright orange vessel captures data from the Arctic, where extreme cold, rough seas and remote locations make research hazardous and expensive, and beams it back to scientists at NOAA's
Pacific Marine Environmental Laboratory.
"It's big, fast, and durable, which helps us reach distant locations that we couldn't spend much time in before," said NOAA oceanographer Jessica Cross.
This summer, the Saildrone is gathering data in the Bering Sea on changing ocean conditions as well as monitoring populations of whales, fur seals and Alaskan fisheries.
Checking whale health from high above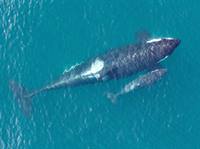 Monitoring Whales
NOAA uses a hexacopter to get this detailed overhead image of a newborn killer whale and its mother. Taken under NOAA Fisheries research permit and FAA flight authorization. (NOAA, Vancouver Aquarium)
John Durban from NOAA's
Southwest Fisheries Science Center
has been using a small unmanned hexacopter to
photograph
and gather
breath samples
from whales.
The quiet hexacopter, which uses six small propellers to fly, allows him to get closer to whales without disturbing them. By using the aircraft, he can check on the nutritional status and reproductive success of endangered killer whales off the Pacific Northwest as well as assess the health effects of entanglements in fishing gear to endangered North Atlantic right whales.
Until recently, scientists could only infer a whale's condition by looking at dead carcasses.
"We can't put a live whale on a scale to assess its weight and overall health," Durban says, "But now we can give it a remote checkup without it even knowing we are there."
Mapping marshes where humans shouldn't go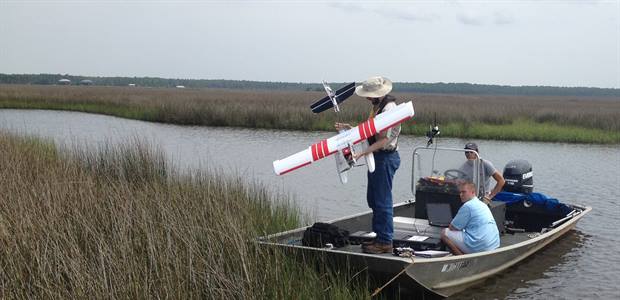 Mapping the marsh
A team of scientists from NOAA's Northern Gulf Institute prepare to launch a small unmanned plane to map vegetation in a Mississippi marsh. (Northern Gulf Institute)
At NOAA's
Northern Gulf Institute,
Robert Moorhead has been launching unmanned aircraft from a small boat, so his team of researchers can map marshes without dragging heavy equipment over the fragile landscapes.
The aerial images his team collected in 2015 helped determine what the conditions were like immediately following a large marsh fire along the Mississippi coast after a lightning strike.
"In less than one day, and during just two flights, we were able to map the entire 1,700 acre burn site at a 2-inch resolution," Moorhead says.
Other data gathered by unmanned systems might potentially be used to improve flood forecasts and enhance the emergency response to chemical spills in remote areas.
"A small shed of tools and a small team of people can accomplish a lot of environmental science in a much shorter period of time using these unmanned technologies," Moorhead says.
Learn more about NOAA's Unmanned Aircraft Systems Program.
For more information, please contact Monica Allen, director of public affairs for NOAA Research at 301-734-1123 or by email at monica.allen@noaa.gov