Mississippi State Honors Funderburk and Fitzpatrick at 2015 Ralph E. Powe Research Excellence Awards Ceremony
May 5, 2015
Mississippi State Celebrates Research Success
Forty-nine Mississippi State students, faculty and staff are 2015 selections for exceptional research and leadership honors. Honorees, their guests and senior administrators gathered for the
2015 Ralph E. Powe Research Excellence Awards Ceremony
. NGI researcher Dr. Patrick Fitzpatrick received the University Centers and Institutes faculty award.
As a major student-oriented research university, Mississippi State is improving the quality of life "for millions of people here at home and around the world," MSU President Mark E. Keenum said.
"Your research is helping make our public schools better, our communities stronger, our food safer, our vehicles more efficient, our critical infrastructure more secure, and our farms and factories both more profitable and more environmentally friendly," he said.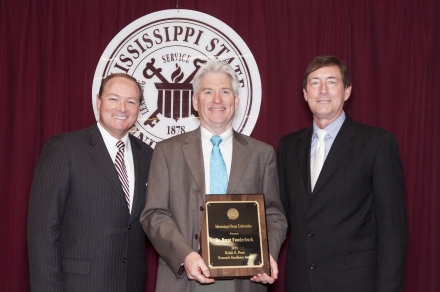 Mississippi State President Mark E. Keenum, left, and Greg Bohach, right, vice president for agriculture, forestry, and veterinary medicine, presented art professor Brent Funderburk with the 2015 Ralph E. Powe Research Excellence Awards Ceremony. The Powe Award is the university's top research honor and is named for the late MSU alumnus and longtime research vice president. Photo by: Beth Wynn.