MSU-led Institute Partners with Mexican Researchers
March 13, 2014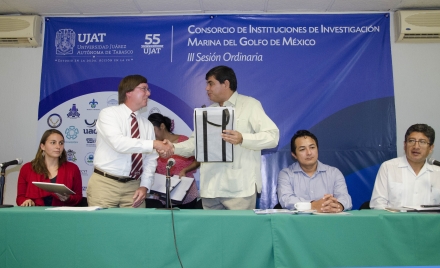 A research consortium led by Mississippi State University has partnered with a group of institutions in Mexico to advance further the study of the Gulf of Mexico's ecosystem.

The Northern Gulf Institute and the Consorcio de Instituciones de Investigación Marina del Golfo de México (CiiMar-GoM) signed recently a memorandum of agreement to support joint research activities of the Gulf of Mexico Alliance, the National Oceanic and Atmospheric Administration, the Environmental Protection Agency and other organizations and governmental agencies with an interest in research and educational programs for the Gulf of Mexico region.

"This agreement will facilitate an effective working relationship between NGI and Mexican researchers who share our focus on issues affecting the gulf," said Steven Ashby, co-director of the NGI.

"We expect to develop projects related to water quality, habitat conservation and restoration, ecosystem integration and assessment, nutrients and nutrient impacts, coastal community resistance and environmental education, among others," he said.

Headquartered at the MSU Science and Technology Center at Stennis Space Center in Hancock County, NGI is a NOAA cooperative institute whose members include the University of Southern Mississippi, Louisiana State University, Florida State University, Dauphin Island Sea Laboratory and MSU. In addition, NGI has an agreement with the Harte Research Institute of Texas A&M University-Corpus Christi to support joint research activities. (For more, see www.ngi.msstate.edu.)

Photo Caption:
Steven Ashby (left), co-director of the MSU-led Northern Gulf Institute, José Manuel Piňa Gutiérrez, Rector, Universidad Juárez Autónoma de Tabasco, recently developed a memorandum of agreement that will support international research collaboration in the Gulf of Mexico region. The MOA was signed by Robert Moorhead, director of the Northern Gulf Institute, and Piňa.