New Integrated Ecosystem Assessments are Completed by NGI Ecosystem Team
September 18, 2012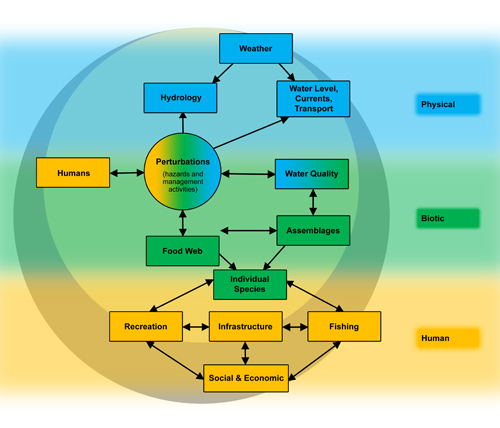 With support from NOAA, NGI's Ecosystem Team has just completed Integrated Ecosystem Assessments for four northern Gulf of Mexico estuaries: Galveston Bay, Texas; Barataria Basin, Louisiana; Mississippi Sound in Louisiana, Mississippi, and Alabama; and Perdido Bay, Florida.

An integrated ecosystem assessment is a fusion of information about relevant physical, chemical, ecological, and human processes in relation to specified resource management objectives, such as sustainable fisheries and recreation. It assists management with critical decision-making and policy matters. The four estuaries selected represented a variety of northern Gulf of Mexico estuarine ecosystems over a narrow range of latitude, and offered ample opportunities for contrast and comparison in the assessments.

The Ecosystem Team found that human-related processes dominated all four of the estuaries. Ecosystem stresses include increased fishing pressures, urban/coastal development, boat traffic, nutrients from runoff, and increased pollution. The results and models created by the Team can be used to evaluate strategies for environmentally and economically-sustainable development and use.

The NGI Ecosystem Team is composed of researchers from University of Southern Mississippi; Mississippi State University; Dauphin Island Sea Lab, Alabama; Louisiana State University, Harte Research Institute(Texas A & M), Florida State University, and US EPA Gulf Ecology Division. The team's contributions of the resource management assessments can lead to a sustained vibrant economy and a healthy environment.

For more information on this effort, contact Dr. William McAnally, Mississippi State University.
View the full Ecosystem Assessment Management Report.